Natural Hair is Unprofessional?!
Ever sat down and wondered what's wrong with morning people? What kind of magic alarm wakes them up? The moment my alarm goes off I get into a foul mood. I am not kidding. I know! I KNOW! It's a brand new day and I am grateful but am I mandated to smile? I am pissed that I haven't had enough sleep and the only good thing going for me is fantasizing about eliminating the ever happy morning people. My face screams BACK OFF!!I want to shoot anyone who tries to smile at me in the morning. Who are you? What kind of sorcery are you practicing? Why are you not grumpy?  Sometimes I wonder if there is enough coffee in Kiambu to make me a morning person.
Imagine this fine morning I wake up and after taking a shower, I unravel twist outs I had done the previous night. I fluff the twists and after looking at my afro in the mirror, I smile. I am almost sure that the afro has somehow managed to transform me into a morning person. Right before I leave the house, my mom feels pressured to ask "Are you really going to work like that?" I think about the struggle I went through during the twisting process and I almost say out loud, "Mom…do you know I have gained muscles from achieving this look?"
I will have you know that 4C hair is a boot camp for my arms. You know this DIY life (do it yourself) is not a piece of cake for some of us. Wait till I start flexing my biceps. Anyway I decide to ignore her and whisper to myself "positive vibes! Positive vibes only"
I get to the office all excited then my boss asks with a concerned look, almost a grin actually "what hairstyle is that?" That is when my self esteem shoots from 100 to Zero real quick. This twist out life can be unfair to some of us. Worry not though, practice makes perfect.
Then there are those random fellows who do not want you to rock your bomb afro in peace, please raise your hand if the following comments sound familiar.
      "Kairetu aki mbona huchanangi nywele?" (Miss, why don't you comb your hair?)
       "Niaje rasta?" (What's up rasta?)
       "Na hii nywele mbona inakaa msitu?" (So why does your hair look like a forest?)
        Unaeza kaa poa na chem. (I think you would look better in relaxed hair)
        Na hii hairstyle ni gani mrembo? Inaitwa aje? (What hairstyle is that? What do you call it?)
       "You go to work like that? It does not look professional"
      "I prefer my women in neat straight hair"
 It is comments like these that make me give people the "not today Satan look.
 Not today Satan. Not Today!!  
Remember when it was said natural hair is a journey? I would like to say it is a marathon.
Speaking of marathons, I have been on a marathon catching up on some TV series and movies. Anyone here watches Scandal? Man! Shonda Rhimes' work is absolutely impeccable. Agree or agree! Anyway I digress. Recall that time when Olivia Pope rocked this bomb afro when she went on vacation? Needless to say later when she went back to work she ditched the afro for straight hair. What about Viola Davis of How to get away with murder? Has anyone noticed she only reveals her natural hair when she is at home? Now do not get me wrong. Everyone has a right to wear their hair the way they want to. It's just hair right? However, it brings the question that has been around for some time now. Is kinky hair deemed unprofessional?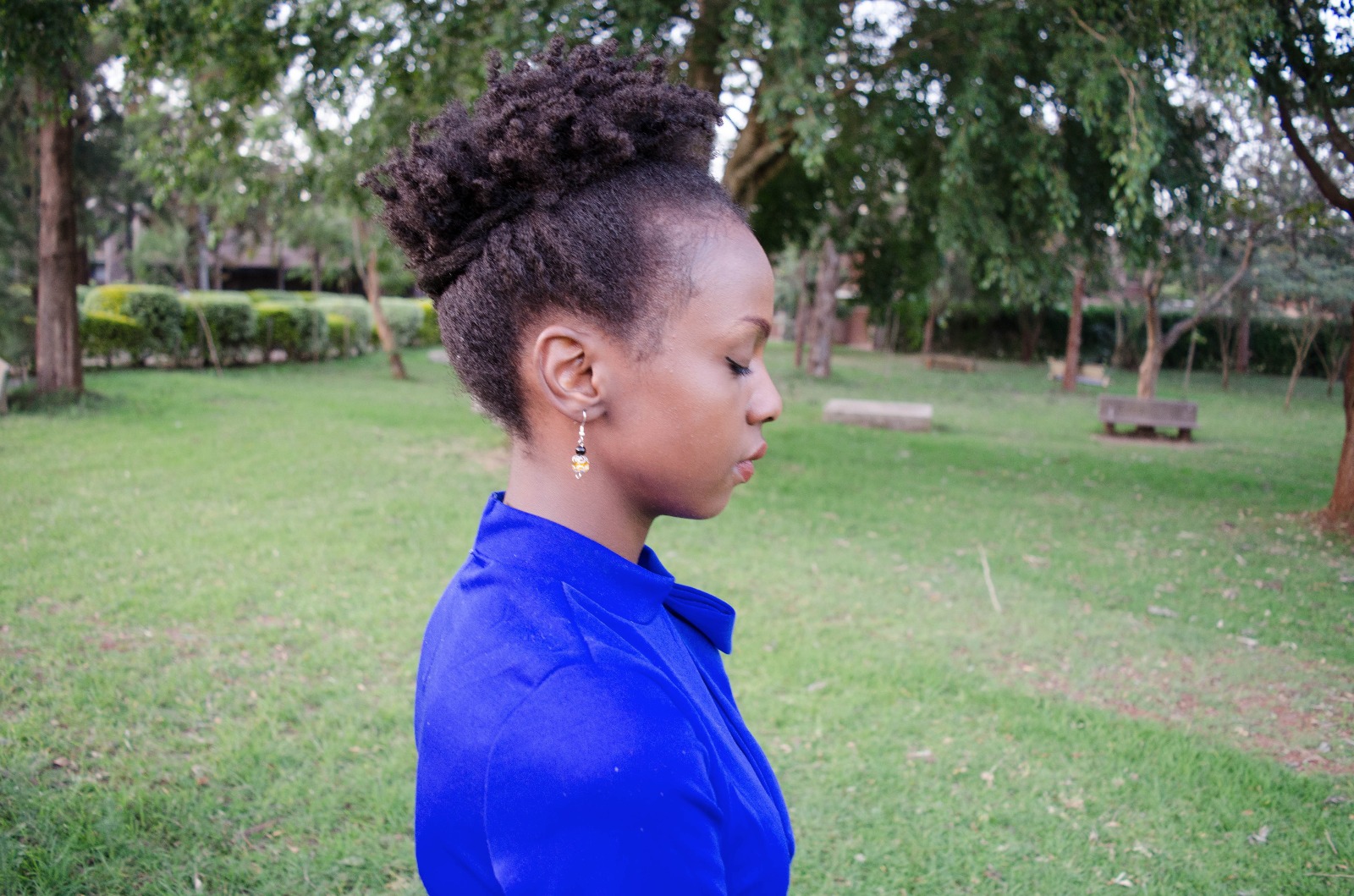 The High Puff is a to go look for most naturals especially in formal settings
There has been a heated debate about whether type 4 hair is professional. In fact, there have been court cases in regards to whether black women should wear their natural hair to work and school. Women have been dismissed from work and school kids sent home because their hair is not "proper" or "formal" for school. Do not get me started on dreadlocks. I hold this issue to heart because there is no way you are telling me my God given features are "Unprofessional" What? So God made a mistake?
Play with the puff to achieve a slightly different look 
 Let me point out that whether your hair is natural or relaxed, there are hairstyles that are generally considered unprofessional: For instance, you cannot be in a banking hall serving clients with hair that has colors echoing the rainbow. It also true that depending on where one works, afros may not always be considered appropriate though some employers do not mind them. Do not fight with your boss just because they have a problem with your afro while there are so many natural hair styles to maintain the peace. Besides, you can always rock your unruly afro over the weekends.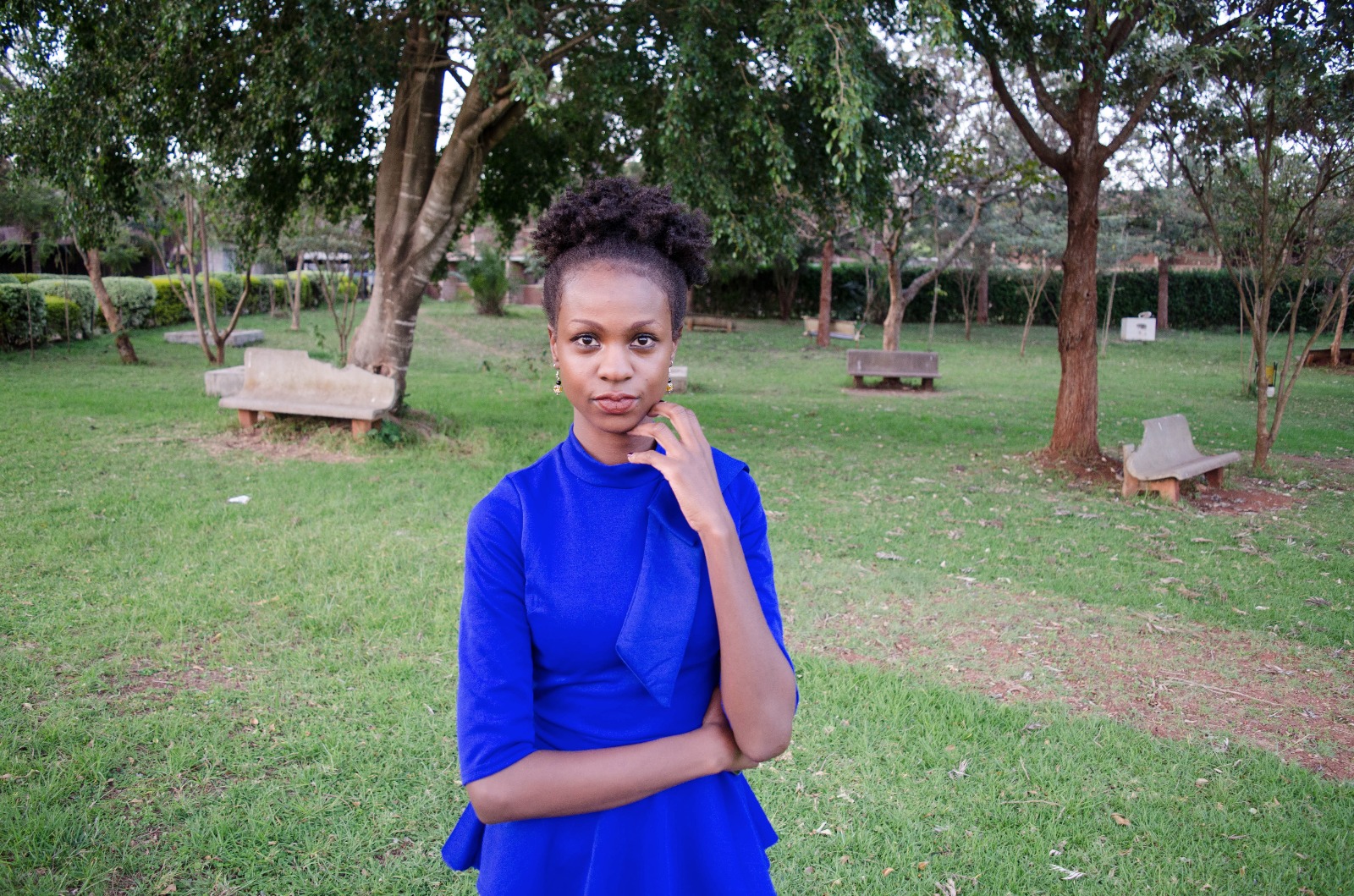 Front View of the high puff
Ultimately, depending on our profession, it is our hair, our choice…or is it our employer's choice? However, if you are struggling with whether you should wear your natural hair to work, try the above looks.
Feel free to post pictures of yourselves in the comment section with other "formal" natural hairstyles and protective styles.
Before I conclude, I'd like to tell you about something I picked from someone whose work i discovered a few weeks ago; the brilliant Nikita Gill. "My soul is a river anyone?'' I adore Nikita Gill. That Lady can write. So she shared a little fun fact about Sanskrit, one of the world's oldest languages. In Sanskrit people do not say "Good Morning" Instead they say "Shubh arambh" which means "good beginnings"
2017 is almost here you guys! I cannot account for the first half of 2016. Yaani I am ashamed of this fact. However, I can account for every single day since July 2016. The second half of this year has surprisingly been my best yet. For instance, it's when I finally commenced working on this platform. July 2016 marks my "Shubh arambh". I have learnt that cooperating with the inevitable makes life peaceful!
I hope you have had a great year. Not to worry if 2016 has not gone exactly the way you want, if things always went the way we want, life would be super boring. However, do not despair if things have been horrible, I believe good beginnings will be here and I do pray we all have a million good beginnings.
Have a 2017 full of Shubh Arambh!!!
XOXO!