Hair Crush
I keep telling Waithira that she is real life goals. Her physical beauty is directly proportional to her beauty upstairs. I met her about three years ago. She is incredibly smart and confident, as evidenced by some serious career moves she has made since I've known her. Her career, however, is just the tip of the iceberg. She is down to earth, genuine, humorous and full of hair – Sorry, I mean … full of life. Is it not a bonus that she is a naturalista?
I had the pleasure of talking to her about her natural hair journey.
Feel free to ask her any question. She will be happy to respond in the comments section.
Waithira returns natural.
1.How long have you been a natural?
I stopped using chemical relaxers on my hair about two and a half years ago. Back then, I hadn't quite made the decision to go natural, and was just looking to get a temporary break from chemical relaxers and heat treatment. I kept thinking to myself about how much I hated driers. I had always had really long hair, which took forever to dry when curled up in rollers. It used to take about one and a half AGONIZING hours on maximum dryer heat to get it to dry. On several dryer occasions, I recall trying to count how many of my brain cells I must have damaged so far with all that heat! During the break, I weaved and braided for about a year as I tried to figure out what next steps I could take to best care for my hair.
2.When did you decide to return natural?
I mentioned that I wanted a break from chemical relaxers and heat treatment. I wish I could say that this was a voluntary decision. Unfortunately, the break was forced by a medical condition. On one of my salon visits, my salonist noted two bald patches on my scalp. It was frightening to say the least. Where had my hair disappeared to? And how did I not even notice it fall off? For several weeks I self-medicated, convinced that I had ringworms. My friends offered all manner of advice on what I should apply on the bald patches – Kiwi, Aloe Vera, Mafuta ya nguruwe! Ha! Nothing worked. I finally decided to see a specialist, and was diagnosed with Alopecia Areata – a type of hair loss that occurs when your immune system mistakenly attacks hair follicles. The specialist's recommendation on treatment? Injecting my scalp with hair growth hormones! Poor brain, I thought to myself. After years of killing your cells with dryer heat, I now have to subject you to hormone injection? The recommended treatment scared me to say the least, and I decided not to get treated. I mean, it didn't really matter whether the hair on my head was actually mine or some horse's, right? That was my argument at the time – I would rather have horse hair on my head than go for hormonal treatment. Unfortunately, my scalp continued balding. There wasn't much hair left to relax, and I switched fully to protective styles. My salonist had to get creative about how to use what was left of my hair to make loose lines that could hold my weaves. I weaved, wigged and braided for about a year, waiting to see if it would grow back. It did grow back, albeit very soft and weak. I did not give up on it though. I kept wearing protective styles in the hope that it would grow longer and stronger.
A couple of months later, I relocated from Kenya. My first trip to the salon in the new country ended with me paying an equivalent of about 8,000 Kshs for a poorly done blow dry. The salonist also very politely (or maybe not?) pointed out that most of the salons in that area were only good for white people hair, and that I should consider looking for salons elsewhere that knew what to do with black people hair. I was so frustrated! So frustrated that on getting home, I chopped off my hair! I see you there like – after paying 8,000 Kshs you didn't even keep the blow dry for the night? Ha! And that folks, was the day that I went completely natural.
3.How often do you moisturize your hair and How do you moisturize?
I moisturize my hair every morning, except the morning after wash day. Moisturizing makes styling my hair easier. I start by spraying water on my hair, and then rubbing the moisturizer from the roots to the tips. Sometimes I apply the moisturizer on my scalp if it's a bit dry. Since I prefer curly styles, I use moisturizers that enhance curls. My favorites are the Shea Moisture and Curls Unleashed brand of moisturizers, which have coconut oil and neem oil that help restore moisture and create brilliant shine. The scent they leave on my hair? Amazing!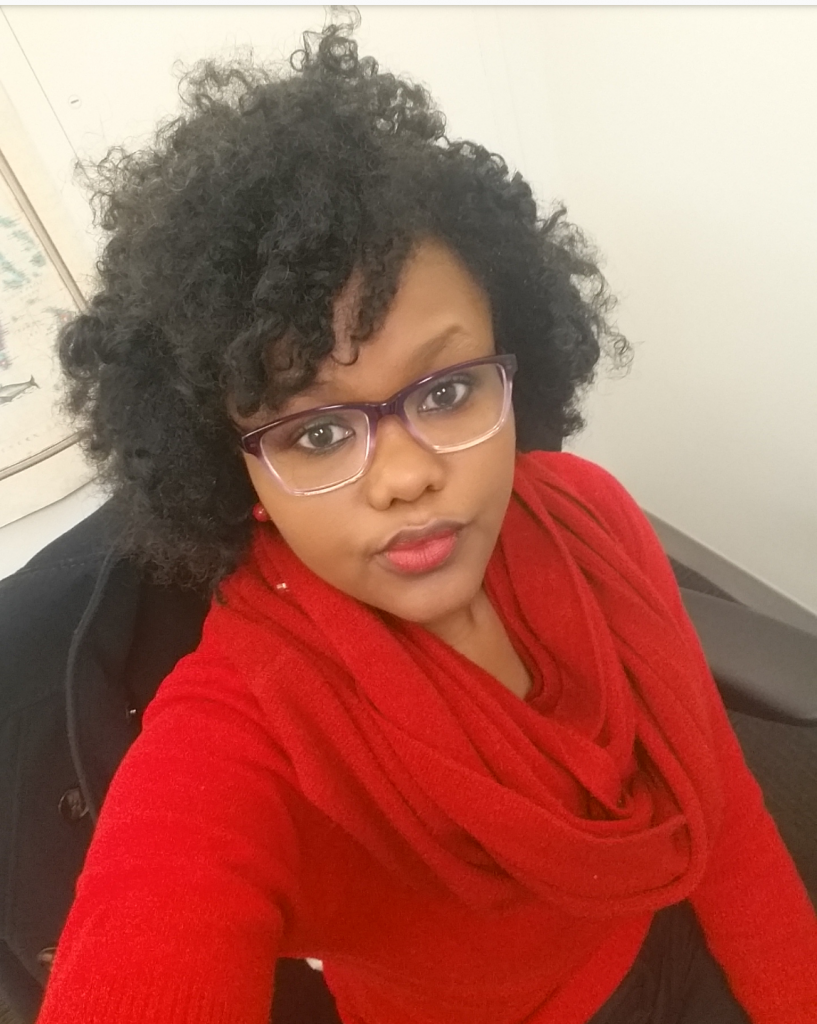 When your permrod game is too strong. 
4.Do you experience shrinkage? How do you deal with it?
I experience shrinkage depending on what I do to my hair on my wash days. On days when I let it air dry without applying any product after washing, it shrinks into a really short afro. I usually do this intentionally either when I don't have enough time to apply product on wash day, or when I want to rock a short afro.
When I want to change the short afro look mid-week before the next wash day, I deal with the shrinkage by spraying water (generously) on my hair and then applying a curl defining crème, which elongates my hair. I love the Curls Unleashed crème as it works great when it comes to elongating hair. The trick is to spray enough water before applying the crème to ensure my hair is wet enough to absorb the crème.
5.Do you use heat on your hair?
Yes, I occasionally straighten my hair when I want a break from my usual curly look. I rarely do this though – remember my theory about how several brain cells probably die every time I subject my scalp to heat? Ha!
In addition, my hair is naturally curly and it takes a lot of combing and detangling to get it ready for straightening. This is painful and time consuming, which explains why I don't do it often. I have also noticed that my hair starts to brown a little bit every time I straighten it. I have now decided that I will only straighten it when am getting it ready for protective styles such as braids.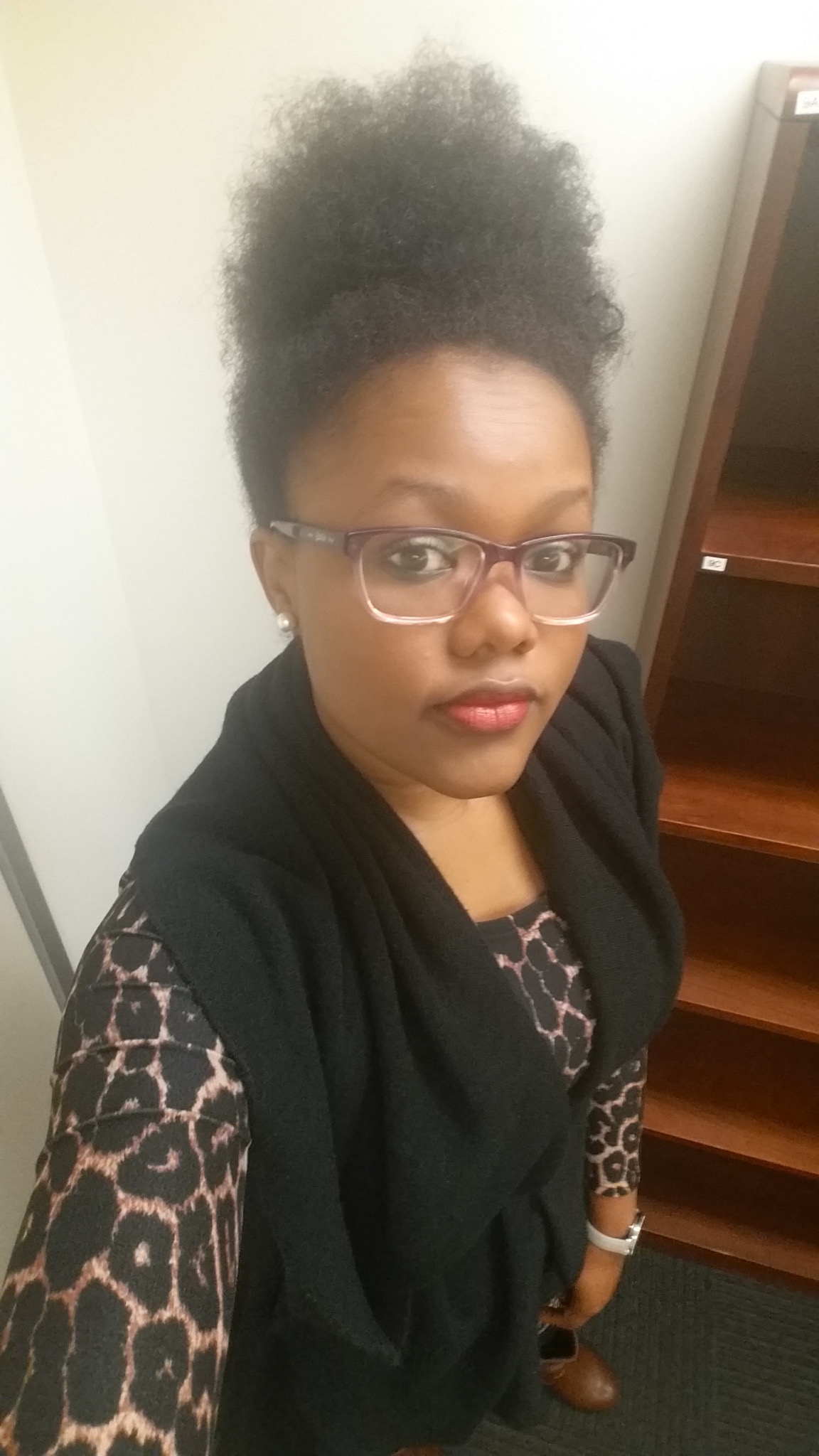 When she straightens her hair on low heat
6.How often do you wash your hair? Describe your wash days.
I wash my hair once a week. To be honest, wash days are no fun – they take too much time! What I do on wash days will be determined by the kind of style I want to wear that week.
My constant products on any wash day are the TRESemme naturals shampoo and conditioner. These are the only products I use when I want to rock the short afro that I mentioned earlier in the post. When I want to achieve a curly look, I complement these with the Shea moisture Curl and Shine Shampoo and Conditioner (for shorter curls) or the Curls Unleashed Shampoo and Conditioner (for elongated curls).
After washing, I lightly pat my hair with a t-shirt. You could use a towel, but a t-shirt helps avoid completely drying out your hair. This helps keep your hair looking hydrated through the week. I then section my hair and apply the Shea Moisture curl enhancing smoothie or the Curls Unleashed crème depending on how long or short I want the curls to be, do twist outs or use perm rods on the sectioned parts and let my hair air dry through the night. I undo the twist outs/remove the perm rods the next morning when my hair is completely dry, fluff out the curls with my fingers, and am ready for the day.
PS – The Shea Moisture brand of products is available locally at Lyntons Pharmacy and at Carrefour at the Two Rivers Mall.
Looking back, I can't help but think that the alopecia was God's way of pushing me into going natural … It's the best decision I have ever made for my hair!!!