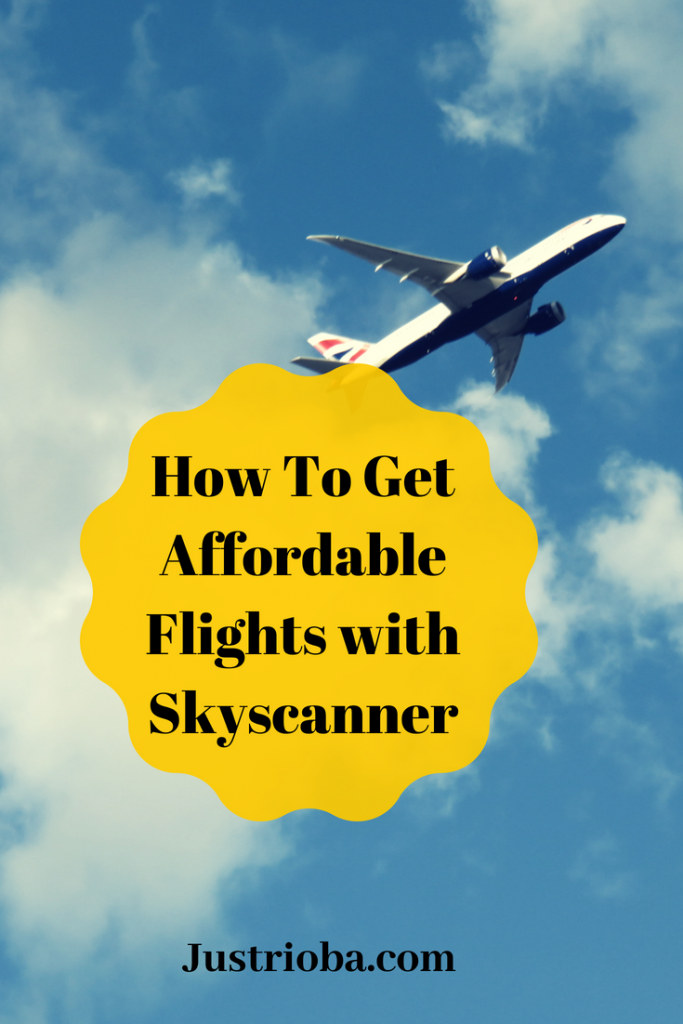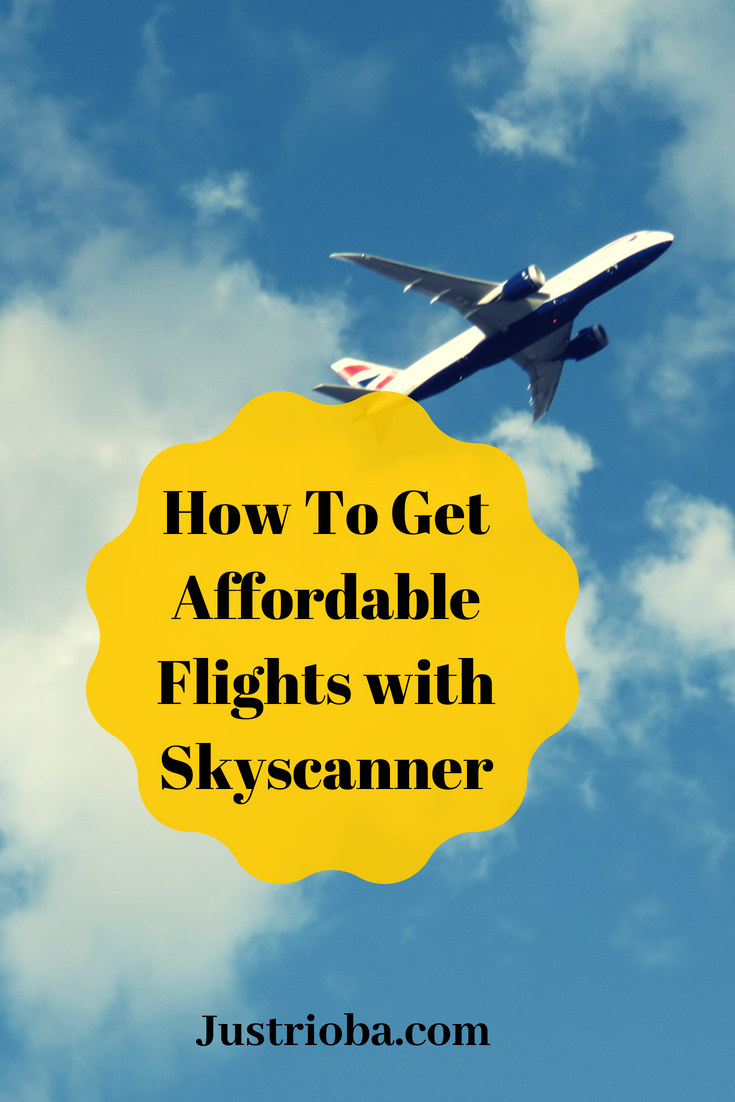 Most people find travel expensive, and usually, flights happen to be costly. However, you can manage to book affordable flights with skyscanner. This app can save you lots of money as long as you know how to play with the app's features and you are flexible with your travel dates. How does sky scanner help you get affordable flights?
1. Skyscanner helps identify the cheapest date to fly out
To determine the most reasonable time, log in to sky scanner and key in your destination. Select one way even if you are flying round trip, and then click depart but instead of entering a date, click on the calendar icon, and a standard calendar will pop up. This calendar shows several months in the future plus the amounts airlines charge on each day, and you can choose the date with the lowest price.  If you are using a computer, each date will show you the corresponding amount, and you can quickly select the cheapest date. Since I am using my phone app, the color green highlights the cheapest flight, and if I click on that date, it will show the rates. The best part is that you can choose any month you want for the whole year.  Green indicates the cheapest dates; yellow suggests fair prices and red is the most expensive dates to fly .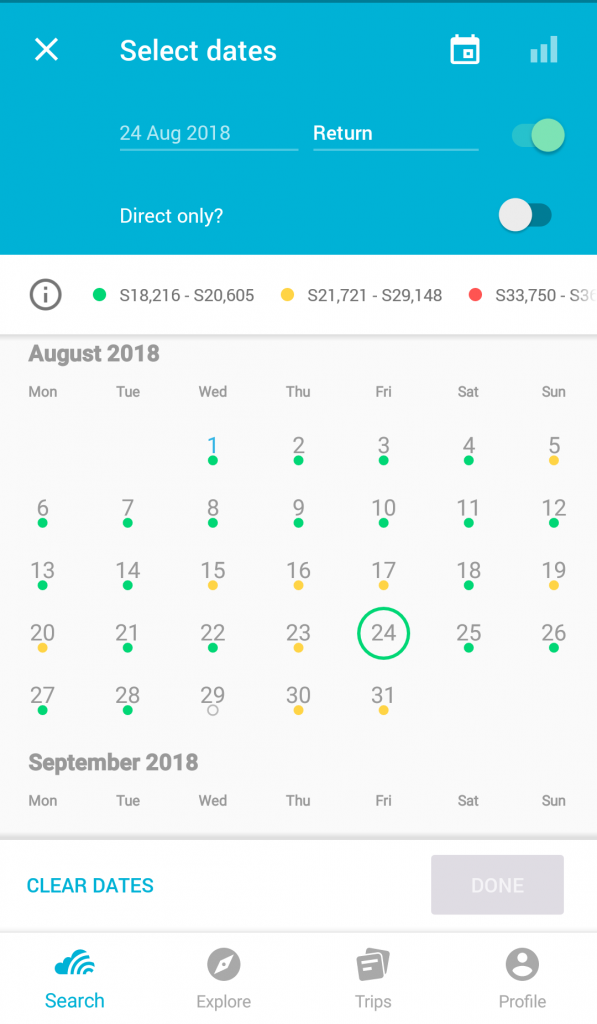 2.Indirect Flights option
This option goes hand in hand with the first feature above.
You can use Skyscanner to find out find out how much it will cost you to fly to your final destination through other capital cities. Most times it is cheaper to fly via Kigali or Addis Ababa from Nairobi hence why you should use Ethiopian airlines and Rwandair.  However, the downside of indirect flights is that it will take you longer than usual to arrive at your destination. Layovers are fun if you plan to explore another country as you wait for your next flight. Flight layovers can last anywhere between an hour and 20 hours or more so it will be up to you to decide what to do with that time. People like layovers because other than saving tonnes of money, they get to explore other countries in the process. Remember you can always get a transit visa if your stopover is in a destination that requires you to have a permit.
Another way of taking indirect flights is flying to other neighboring cities within the country you are flying. For example, if your destination is Dubai, UAE, and it happens that flying to Abu Dhabi is cheaper than flying to Dubai, what is stopping you from flying to Abu Dhabi then taking the hour's long bus to Dubai? It so happens that flying into some cities is less expensive than others. Ask sky scanner. Always do this comparison this no matter where you are going in the world, you will be shocked how much you can save.
The final way of taking advantage of indirect flights is flying from neighboring countries, but this tip is sufficient for long-term travelers. You will find traveling from Dar-es-salaam to Lagos via Nairobi is 150 USD cheaper than flying directly from Nairobi to Dar.
3.Use the everywhere feature
Sky scanner has an everywhere feature. This tool is for anyone looking to get away for a few days, has no idea where to go but still wants somewhere nearby at a decent rate. My home airport is in Nairobi, and if I click the everywhere feature, it will highlight the cheapest regions to fly to which are Tanzania, Ethiopia, and South Africa. Within the country, flights to Lamu, Maasai Mara appear to be the cheapest.
This feature is also cool for a long-term traveler that looking for her next destination.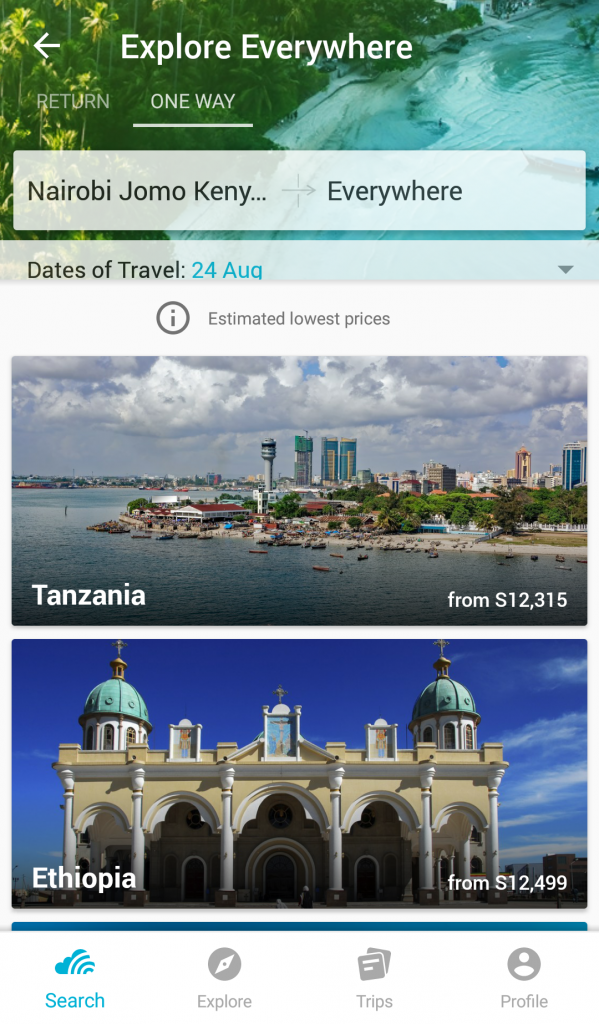 4.Flexibility with your date and location
Flexibility goes hand in hand with the everywhere option above.
It is a good thing because it comes with amazing flight deals. So if you see a too good of a deal and you have been saving for a while then take that trip. Airlines are always offering flight deals so subscribe to their mailing list, and you will continually be updated when they have deals. If you see a very cheap deal to say  Tanzania but you've always wanted to go Malawi, take that Tanzania deal. Malawi can wait as you take advantage of this very reasonable deal and trust me, sky scanner always comes through with monthly deals.
5.Add trips feature
If you are not ready to book you can add as many flights/different airlines as possible and sky scanner will send one email if flights have increased or decreased. This regular alerts will help you decide whether you will book the trip or not.
Remember to check the flight number because adding trips requires you to know the flight numbers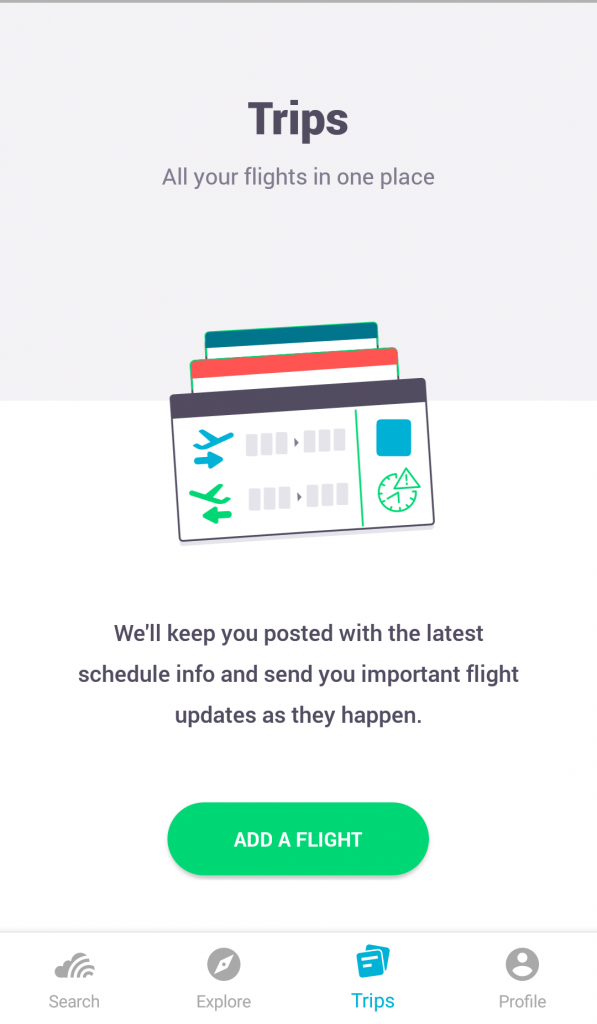 6.Booking flights early
How early can be two to three months before your trip. This tip is for those with tight work schedules and can take time off on specific dates. These individuals have been planning for months, and they know for sure that they have to travel on that particular date because they will not get another chance shortly. Skyscanner will show you the flight options you have, and you can add trips to be comparing flight prices for a while as they fluctuate until when you can pay.
The advantage of booking flights three months in advance is that the flights will be cheaper, but the disadvantage is that you will miss on great flight deals.
Do I book flights directly with sky scanner? Not really, I always do my research and after getting the lowest rate possible I end up booking directly with the airline and the price is usually the same or a little bit higher. Has anyone booked with sky scanner's agents yet?
As you can see, saving money on flights takes a lot of research. I hope this tips will come in handy as you prepare for your next trip. Otherwise, if this research is too much work, date a pilot, or a flight attendant. Hehe! Or become one. These job positions have perks for days.