The solo travel solo bug caught Dorcus and she's never stopped traveling since then. I caught up with her after her recent solo trip to Dubai. This post is for you that is looking to travel to Dubai solo or with friends. Dorcus is here to offer valuable travel tips.
1. Was your recent solo trip to the UAE your first?
Out of the continent, yes. However, my very first solo trip was in August 2019. I visited Jinja and Kampala Uganda. In November 2019, I traveled solo again to Zanzibar for my birthday.
2. Given the passport you hold, Did you require a visa?
Yes, I required a visa to travel to the UAE. I realized traveling Emirates made the visa application easier. The other airlines required me to use agents for the visa application which required me to deposit around 1500 USD, a refundable fee as assurance that I would be traveling back to my home country. I, therefore, opted to travel with Emirates Airlines.
Although pricey, the visa process was easier and straight forward. The documents required include: one passport photo on a white background, a colored copy of the biodata page of your passport, bank statements for at least one month, a return air ticket from Emirates, copy of ID for Kenyan citizens, proof of employment, booking confirmation for your accommodation and around 10k for visa application.
These are to be submitted along with a duly filled application form downloaded from the VFS global Kenya website. I got my visa after 2 working days. (applied on 23rd December got my visa on 27th December). The vsf global visa application can also be used by the passenger traveling by Air Arabia.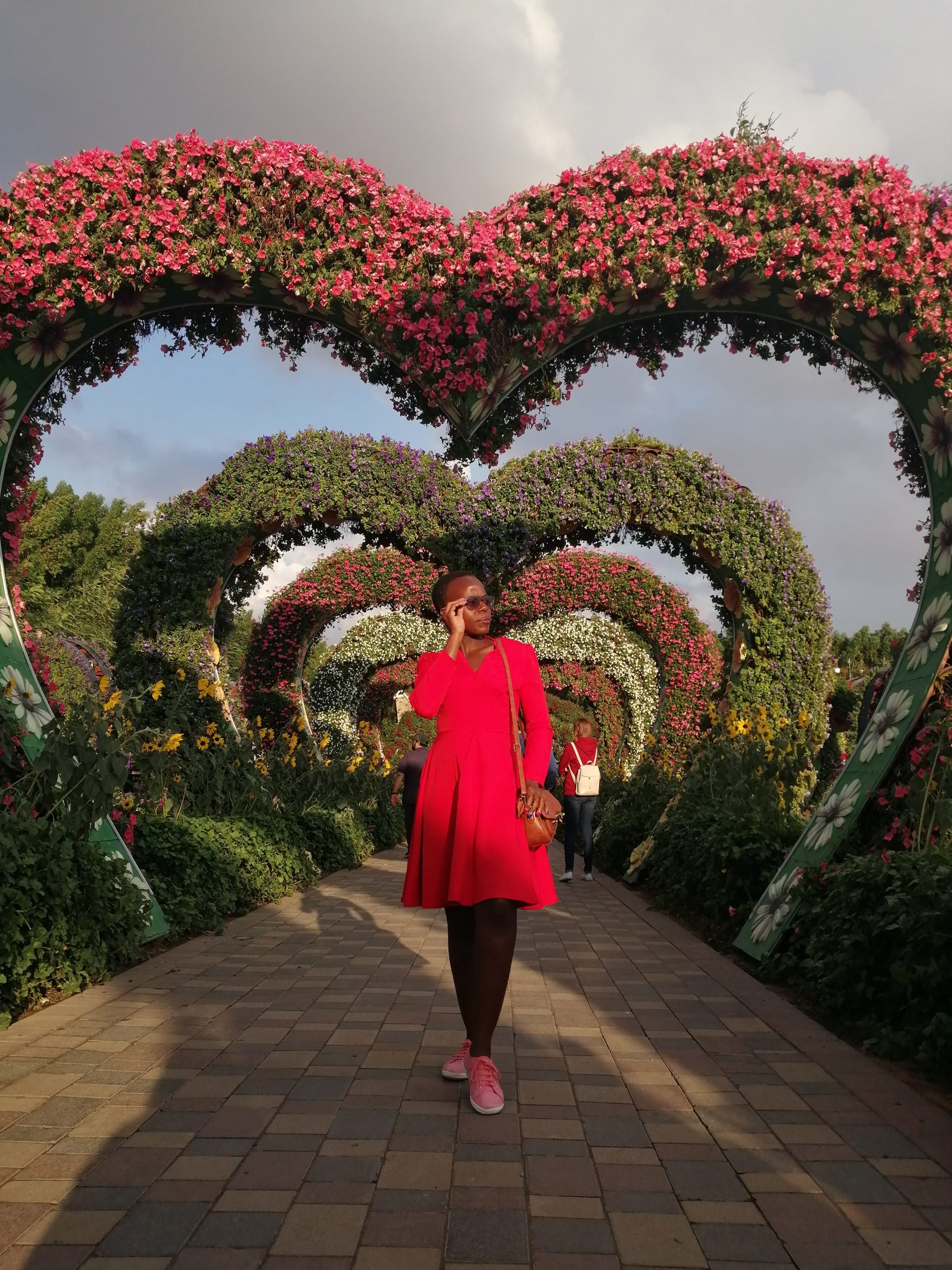 3. Would you recommend UAE to a first-timer solo female traveler? Is it safe to travel alone in the UAE as a woman?
I would recommend UAE anytime. First, the transport system is well defined( easy to move around) and secondly, it's very safe especially for women. I have never felt as safe as I did while in Dubai.
4. What steps did you take to ensure your safety in UAE?
First and foremost, I bought a local sim card at the airport for around 130 AED for data. This is a 14 day Simcard for travelers. This really helped me when trying to find my location, especially when using the local taxis.
Secondly, before my travel, I used the Facebook page 'The solo female traveler network' to connect lady living in UAE for tips whenever I felt stranded. She is a solo female traveler as well. We have become very good friends since.
On the metro, I kept to the lady's only carriage every time I was moving around solo ( Yes, ladies and children have their own carriage in the metro where men if found there, are charged up to 100 AED!.

5. Did you make friends during your solo trip? How did you go about it? Who took your photos?
Ohh, I made loads of friends. I stayed in a hostel. I choose a six-bed all-female hostel to be able to meet other ladies traveling solo. Anytime a newcomer came in, I would ask about their plans for the day. If they happened to visit where I hadn't been to, I would tag along. I also showed them around and gave them a few tips (after the third day, I became a pro moving around Dubai!).
Most of my photos were taken by the friends I made from the hostel. A few by random people I met whenever I went out alone. (Initially, I was scared of asking strangers to take photos of me but that feeling went away on this particular trip).
6. What should anyone traveling to Dubai know before going?
You will require the NOL card to move around Dubai. This card can be used on the metro, tram, bus, boat and also the local taxis. The card can be bought from any metro station. (This card is VITAL. It's cheaper moving around if you have the card) You can load it with as low as 5 AED at any metro or bus station).
For accommodation, I made my bookings via Booking.com. I like having my accommodation sorted early enough, So I booked my hostel in August 2019 while my trip was scheduled for January 2020.
For transportation, I mostly used public transportation. (metros and buses.)
For those that prefer moving around with taxis. You can use the local metered taxis, uber, or career. (I used the metered taxi twice and uber once. The pricing is almost similar although the locals prefer the metered taxis.)
Two apps that helped me a lot are Visit Dubai and Rome2rio. Both apps can be found on play store. The visit Dubai app has several key activities as well as key places to visit including directions from your location. Rome2rio gives you various options on how to get to a specific place. Including which metro to take, where to alight, the distance you may be required to walk, the bus number, how long you'll wait for your bus as well as the possible costs of transportation.
Many activities can be booked online. Be on the lookout for websites offering deals and discounts. There are several agencies online that often come up with good deals.

8. What was the highlight of your trip? Any must-do activities?
Must see – The Dubai fountain show at the Dubai Mall. Every day from 7pm. (i still can't get over it)
My whole trip to Dubai was epic. Cause everything was amazing. But must visit are the miracle garden, the gold souk (if you love jewelry, don't leave Dubai without gold), the underwater aquarium (you don't need to pay to go in), Sheikh Zayed Mosque in Abu Dhabi and of coursew Burj Khalifa. (I couldn't book my ticket to go up online while in Dubai. Would advise you book before you travel cause you can book up to 60 days prior)
Must do – Dinner cruise at the Dubai Marina and the desert safari
Things to remember
Alcohol is illegal in the UAE unless you are purchasing at licensed stores which is super expensive. A bottle of black ice costs around 45 AED in a BAR!
On dressing, whereas Dubai is liberal, be modest to avoid attracting unwanted attention.
9.Is there anything that you did not like about the UAE?
In my opinion, UAE, dubai specifically is really expensive. From accommodation, to food. For those of us obsessed with healthy eating, its a challenge to get cheaper yet healthier options. This basically left me eating fast food every single day I was in Dubai.
10. Will you be travelling solo again? Would you advise people to travel solo?
YES!! I realized the only way to make new friends was getting out of my comfort zone and traveling solo. So far, I love it.
I would encourage anyone to try and travel solo. Its a good way to unwind, make friends. Additionally, you won't have to postpone your trip simply because someone else pulled out. The moment you are ready, off you go!
Catch Up: UAEven Know it
Find Dorcus on Instagram: @kweenbee2
P.S: At an affordable fee, I help travellers create customized itineraries to different destinations. If you would like help with your itinerary, contact me: winnie@justrioba.com