Most people visit Zambia to see the natural world wonder; Victoria falls also known as Mosi- Oa -Tunya which translates to the "Smoke that thunders." To plan your idea budget trip to Zambia, here are some of the things I feel anyone planning to go to Zambia should know.
What to expect in Zambia
Lusaka is the capital city, and Livingstone is the central tourist attraction town.
Zambia's currency is the Zambian Kwacha. Use XE currency App to find out the day's rate. Banks and ATMs are pretty much available in Lusaka and the most towns.
Most Zambians speak English as it is the official language although they also communicate in Bemba and Nyanja. Nyanja is almost similar to the chewa Language in Malawi.
Depending on your first stop, you can choose to fly into Kenneth Kaunda International Airport in Lusaka or to Harry Mwanga Nkumbula International Airport in Livingstone.
Kenya Airways, Ethiopian Airlines, and RwandAir have regular flights from Nairobi to Lusaka. Use this link to find out the cheapest dates to fly out. A direct flight will last about three hours from Nairobi.
Please note that I did not fly from Nairobi to Lusaka. Since I was in Malawi, I took a bus to Lusaka from Lilongwe. I then explored Lusaka before proceeding to Livingstone by bus.
If you would like to travel by bus from, check my travels by bus from Malawi to Zambia.
Visa
I did not require a tourist visa as a Kenyan.
You need to check your country's requirements, but a single entry visa is 50 USD valid for 30 days.
The best time to Visit Zambia and things to do
I went in Mid November, and it was too hot for my liking. I understand it gets unbearably hot from Mid August to November. If your main interest is to see the falls at full force, then the best time to visit is between Mid January and April during the rainy season.
If you are interested in the best game viewing together with a couple of the fall's activities, then the best time to go would be between May and July. At this time, the falls are a bit low but still majestic, and you get to engage in intense adrenaline activities.  I wrote about things to do in Lusaka and Livingstone here. These activities will determine your length of stay in Zambia.  In addition, there are several pages on Instagram to inspire you Zambia Wanderlust . An example is discovering zambia.
Zambia Transport System
Here is an estimated time to some main towns in Zambia.
• Chipata to Lusaka -7 hours
• Lusaka to Livingstone – 7 hours
• Lusaka to Copperbelt – 7 hours
Use this site to calculate how long it may take you between two points. If you are traveling in a group, you have the option of renting a car in Lusaka. If you are unable to rent a car, there are buses from Lusaka to all the main towns. However, it will be best to set a full day aside if you are traveling by bus since African transport system do not operate on strict schedules. If you have any questions about bus timetables then find your way to the main bus terminus in Dedan Kimathi road Lusaka.
There are several bus companies in Zambia.  Use this link to find the several buses that operate in the country and their respective routes.
If you are traveling within a town say Lusaka, mini-buses are readily available for use although they get overcrowded and like most parts of Africa, recklessly operated. They are the cheapest option for anyone on a tight budget. However, you can choose to move around with the readily available taxis. I often used the Ulendo Taxi App in Lusaka, but in other parts of Zambia I had to use the non metered taxis, and my bargaining skills came in handy. It also helped that I knew the standard rates before hailing a taxi to avoid being overcharged.
By Train
You should know traveling by train is very cheap but also takes a lot of time. I recommend commuting via trains to those with lots of time. I did not use the train, but the locals were kind enough to share the train details with me.  You can get a train from Livingstone to Lusaka, Lusaka to Copperbelt and from Kapiri Mposhi to the Zambia-Tanzania border. Find further details here.
How much should you budget for your trip to Zambia
The budget highly depends on the type of accommodation you choose and the activities you do. Use booking.com to find a hotel within your budget. Remember to always check the hostel/hotel reviews from other travelers before deciding to stay there.
Hostels – budget around 15 USD per person per night. Check Jollyboy backpackers, Fawlty Towers, Livingstone backpackers and Lusaka backpackers.
Hotels- from 40 USD per people per night for those on a fair budget.
If you chose to stay in a hostel, check this packing list, it  will come in handy. Here's the other list for anyone living outside Africa.
As for the activities, Livingstone is the main towns for all game drives/safaris and extreme activities. A helicopter ride over the falls cost 200 USD, a microlight flight also goes for 150 USD, swimming at the devil's pool is at least 90 USD and bungee jumping costs 210 USD.
If you are traveling on a tight budget, then set aside around 30-50 USD per day but if you are going with a fair budget, then set aside around 100 USD per day. This price can be lower if you are couchsurfing, hitchhiking, doing your cooking and getting deals on activities.
Game Drives in Zambia
There are a couple of game drives that happen in Livingstone. I did not go on any game drive. However, this guide will have all the answers you may have.
Safety
I never felt unsafe at any point in Zambia. I exercised safety travel tips that I wrote about here.
Internet in Zambia
Wifi is pretty much available in most cafes and restaurants. Most hostels will have wifi in the common areas like the lobby. If you need to work from your room, then you are better off purchasing a sim-card to buy data or look out for cafes with an excellent internet connection.
I bought by MTN sim card at a mall in Lusaka. All I needed was a copy of my passport, and I got it in less than 20 minutes. Other mobile providers in the country include Zamtel and Airtel.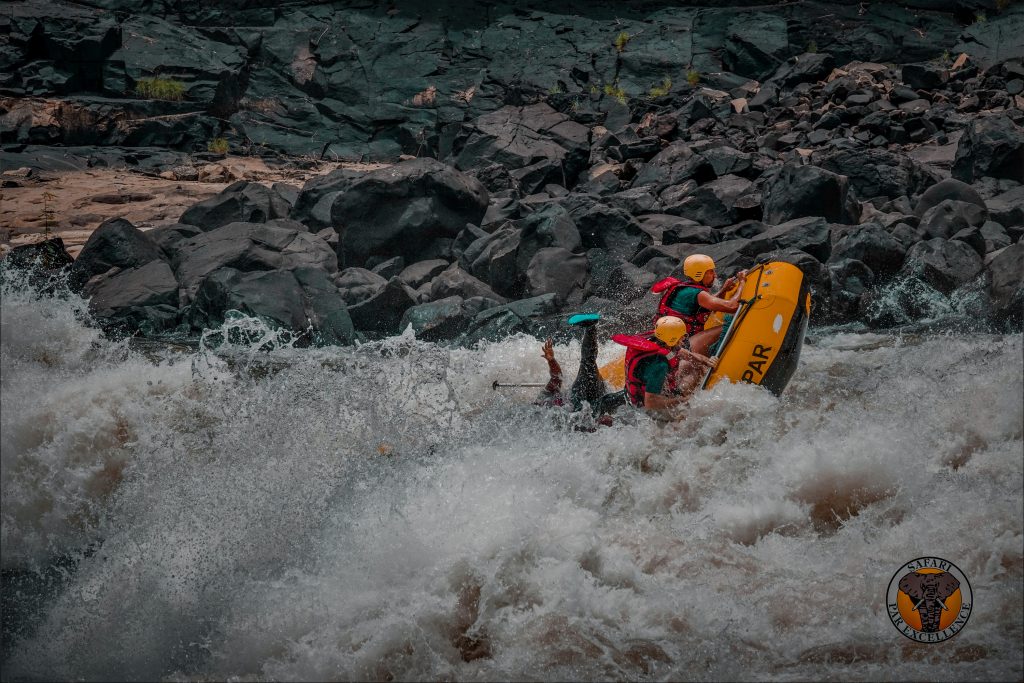 Electricity
I stayed in hotels and hostels and never experienced power cuts although I understand some areas experience daily power cuts.
Travel Insurance
Travel insurance is very important to have especially if you will be taking part in the extreme activities in Livingstone. Also, you might end up losing your stuff or getting robbed, and insurance will come in very handy.
I know this might come as a shocker to some of you, but there is much more to Zambia than Livingstone.  Do not hesitate to travel to Zambia should you get the chance.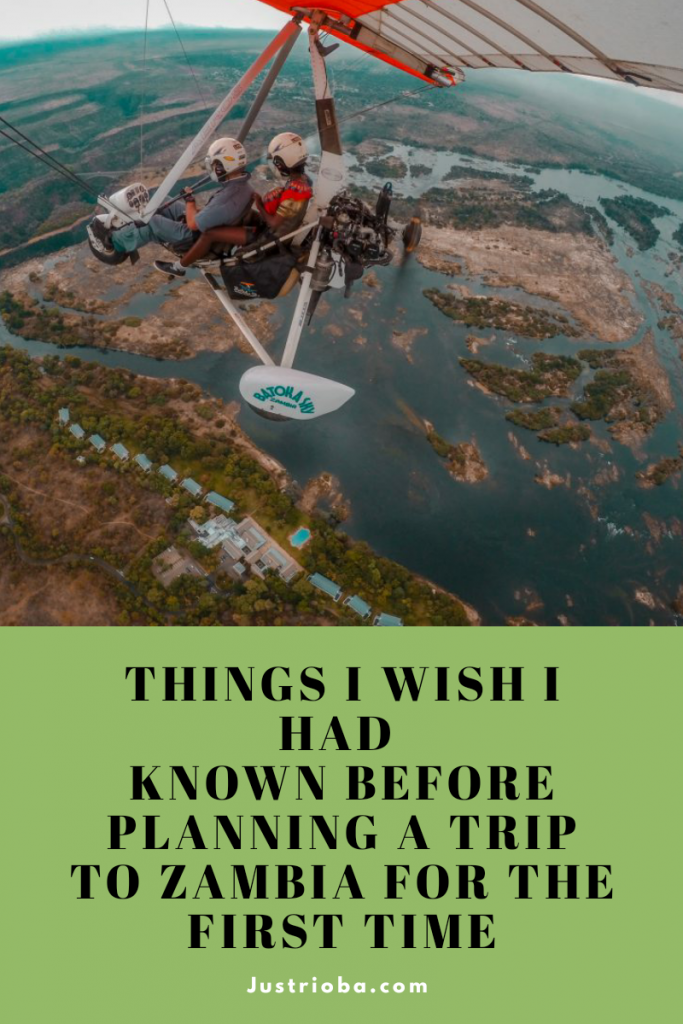 Like Justrioba on Facebook and Instagram for weekly travel updates!