WHAT TO EXPECT IN JOHANNESBURG
You will land at O.R Tambo International Airport in Johannesburg.
Language-South Africans speak several languages from Xhosa to Zulu to Sotho but most people speak English in Johannesburg.
Currency-The South African Rand. The XE currency app will come in handy here.
Money- You can use your credit and debit card. However, if you need to rent a car, most places accept only credit cards.
Weather-I visited Johannesburg in March right after summer and just before winter. It wasn't t too hot or too cold. Winter falls from July to August and summer falls from December to February.
Stopovers: I was flying from Nairobi. For cheaper flights, you will have stopovers/ layovers in Kigali or Addis Ababa. To save time, you can fly directly to Johannesburg at a higher price
GETTING AROUND IN JOHANNESBURG
Johannesburg's transport system is efficient and offers travelers taxi apps, minibus taxis, bus services, sightseeing buses, trains, Gautrain, tuk-tuks, and metered taxis to help you get around the city and beyond. Public transport is suitable for the budget traveler since you have a lot of options and you end up paying low as R8 per ride.
P.S if you ever use minibus taxis, do not seat at the front next to the driver unless you want to become the resident fare collector/conductor.
I made the mistake of seating next to the driver in a South African Taxi./jav

Now these taxis don't have conductors because God knows why.

I'm In the middle seat then Everyone starts passing money from the back to me at the front.

The entire time I was like pic.twitter.com/8JOoviolAy

— Mother of Passports (@justrioba) April 3, 2019
I always pick evening flights because I prefer traveling after work to avoid wasting a leave day in transit. On this day, had I not checked in online that morning, I would have missed my flight to Johannesburg. ALWAYS CHECK IN ONLINE and you know, try getting to the airport on time.
I landed in Johannesburg at 3.50 AM on a Saturday. Before alighting, it was announced that passengers should cover their faces because the cabin had to be air sprayed to ward off evil spirits. I joke. I gather the spray is a disinfectant.
Soon, I was out of the plane heading to the immigration's which was a swift process. Another perk of traveling during ungodly hours. After traveling to 10 countries solo, I can confidently say I hate airports. I do not think there is a place I feel alone like an airport. Even at that ungodly hour, I could see families walking together chatting and laughing, couples hugging, perhaps reunited and others walking hand in hand after the 5-hour flight. I see this all the time but I have never gotten used to it. Man, I hate airports.
The first word I heard after picking my carry on was a woman yelling "HEBBANA" after someone ignored her instructions. You see, if you are on twitter, you get to interact with people from different parts of the world and naturally you become familiar with their lingo. South Africans use haibo, hebbana and wena. So at that moment even as she was speaking furiously in the local language, I felt ready for Mzansi.
Thanks to the WiFi at O.R Tambo International airport, I was able to use WhatsApp to call my host and friend Khali who would pick me up less than 15 minutes later.
Travel Tip: When you travel solo overnight, make plans to have someone pick you up at the airport whether it's someone you know or someone from the hotel you will be staying at. Even if you will be using taxi apps, It's also good to be connected at all times and in case the WiFi is not working, your portable WiFi will come in handy.
I barely slept since I had to go hiking with Noxolo of the black case girl. We connected via twitter.
Travel tip: Ladies and gentlemen, social media has made the world a global village. Use it to meet awesome travelers from around the world. Make sure the people you meet are part of the travel community.
My host Khali lent me one of her SIM cards, it was a Telkom line and soon I had bought data which I then used to request for a taxify to Noxolo's place.
Travel tip: If you buy a sim-card in South Africa, let it be anything but Telkom which is effective in major cities but becomes useless when you travel to off beaten paths. As for taxi apps, Taxify and Uber are available in Johannesburg but the former happens to be cheaper.
On the way to Noxolo's, I remembered I needed to buy some snacks and water for the hike and so I passed this information to the taxify driver who then said: "There is a garage nearby so we will stop there." In my head, I was left thinking, why the hell would we stop at a garage to shop? Back home, most garages are places where car mechanics get their hands dirty in rugged overalls mixed with oil and dirt. On the other hand in South Africa, a garage is what we refer to as a petrol station in Kenya. You should have seen my relief as he drove me into the petrol station as I said out loud "THIS IS WHAT YOU MEANT BY A GARAGE?"
He smiled at my astonishment and said "yeah. This is the garage I meant ma'am."
I didn't bother explaining myself. I quickly walked in, picked water and a few snacks then stepped out. My throat was drier than the Sahara so you can imagine I took a big gulp of water which I almost spat out and found myself saying, "WHAT THE HELL DID I JUST DRINK? THIS IS NOT WATER!!!"
The guy gave me another bewildered look and said "Ma'am that is water. It's sparkled water"
Travel tip: In South Africa, soft drinks and water are either sparkled or still so be mindful when shopping.
THINGS TO DO IN JOHANNESBURG
1. Hiking at Groenkloof Nature reserve
For the most part, this hike was easy except for the first two kilometers and the last two kilometers where the trail becomes a bit steep with loose rocks. Except for the noise from the highways, this nature reserve is quiet. You can even choose to have a picnic at the reserve. The hike is 10.5 km long and it took us about 5 hours. I recommend doing the hike in the morning. The signage is very clear but if you feel like you will get lost, you can get a guide.
LOCATION: Groenkloof nature reserve is in Pretoria. Pretoria like Johannesburg is part of Gauteng province. The drive from Johannesburg to Pretoria is less than 45 minuteS.
WORKING HOURS: from 6 AM to 7 PM during the summer and 6 am to 6 pm during the winter. It's a 10.5km hike that took us 5 hours
PRICE: As adults, we paid R43 each for the day. Prices differ if you are going to camp and if you prefer driving within the reserve.
HIKING GEAR: Do not be like me and go hiking in jeans for heaven's sake. That was a rookie move. Jeans are uncomfortable. If you love hiking, check out proper and durable hiking gear on Amazon.
Would I hike at Groenkloof again? Yes, I would. I also carry drinks, the food so that my friends and I can have a little picnic party after the hike.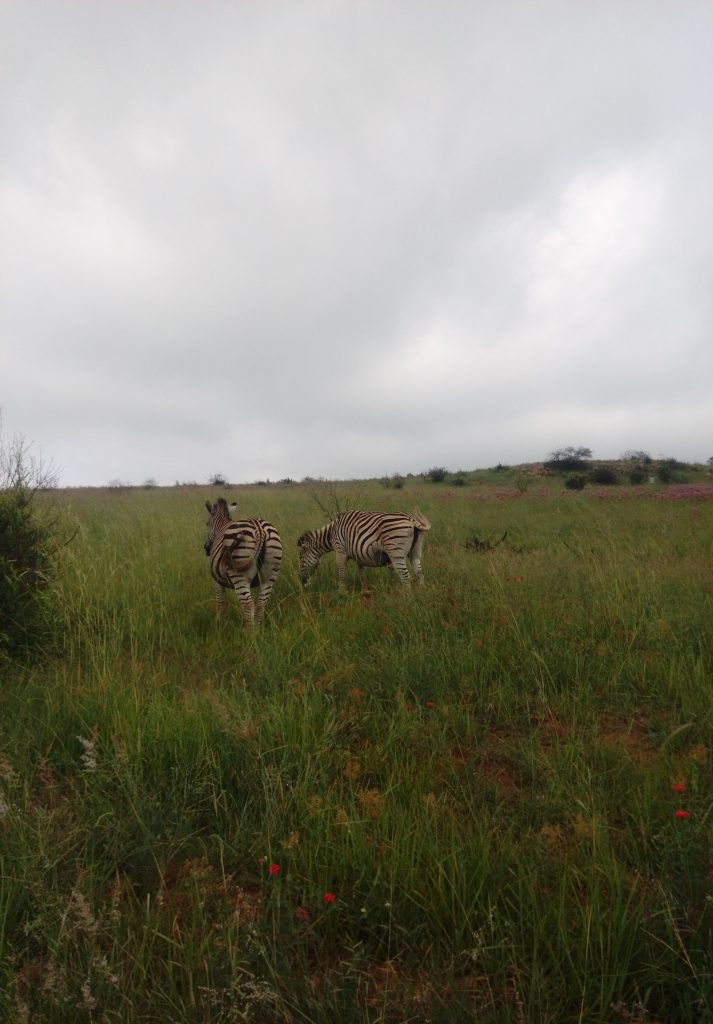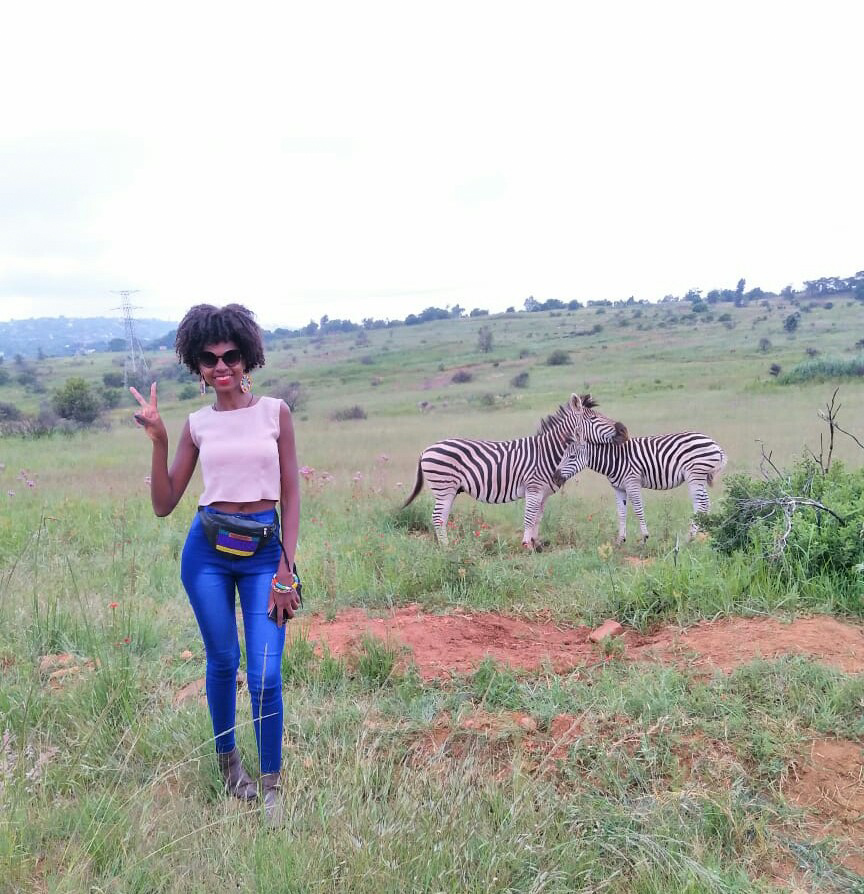 2.A Tour of Soweto on a bicycle
This activity usually lasts four hours. If you cannot ride a bicycle, you have the option of taking the tour with a tuk-tuk. You will have a great insight into the lives of South Africans that live in Soweto. Your guide will take you to several places including Mandela's house and Orlando towers.
3. Chill at the Maboneng Precinct
Did you even go to Johannesburg if you did not visit Maboneng precinct? Maboneng is an artsy and vibrant place to chill especially on a weekend. Maboneng might not be your cup of coffee if you find crowds overwhelming. However, there are so many things to do from eating at the Ethiopian restaurants, having coffee or tea while reading books at the quaint cafes, live music and exploring the nightlife. On the streets, you will come across bands playing and inviting the audience to sing and dance with them. If you are a foodie, definitely check out the food market on Sundays.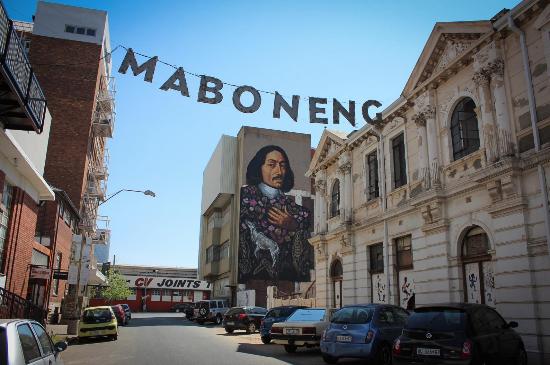 4. Road Trip Mpumalanga Province
Long before I decided to travel to South Africa, I knew for a fact that the day I will visit, I will travel to Mpumalanga thanks to the pictures I saw of the Blyde River Canyon on Linda Matama's Instagram page. Mpumalanga is 4-6 hours from Johannesburg depending on where you are going and you can easily turn this trip into a weekend road trip. We drove along the scenic Panorama route which will forever be one of the most beautiful drives I have ever taken in my life. Once again, I was in awe of Mother Nature. The road itself is a tourist attraction and a photographer's dream. On this road trip, you must visit the god's window, the three rondavels, and Blyde River canyon. If there are things to miss on this list, this road trip is not it.
Here is a detailed guide by travel blogger Farirai on exploring the Panorama route, Mpumalanga in one day that includes prices-.
Things to note when going to Mpumalanga
If you are driving, prepare to pay toll fees
Check the weather forecast before setting a date as the mist can make underwhelm your experience
Make sure you know exactly where you are going or possibly get a guide at a fee since it's easy to get lost
Drive a four-wheel-drive if you decide to take this route. Some roads are not in the best condition thanks to potholes and gravel
If you wish you go with public means, there are public mini taxis that go to Nelspruit but from here, you will have to figure a way to visit the tourist sites. You can either go with a tour group or a taxi which are both expensive options.
Day trips from Johannesburg Fari's blog post
If you're staying in Johannesburg for a while, here are amazing weekend road trips to consider taking from Joburg by Farirai.
read more: Weekend road trips from Joburg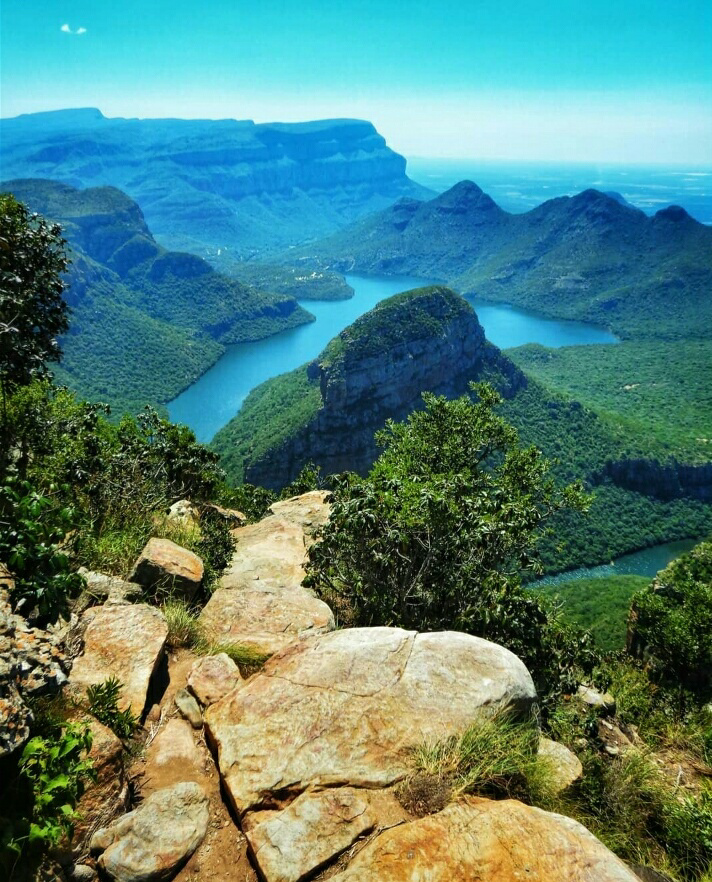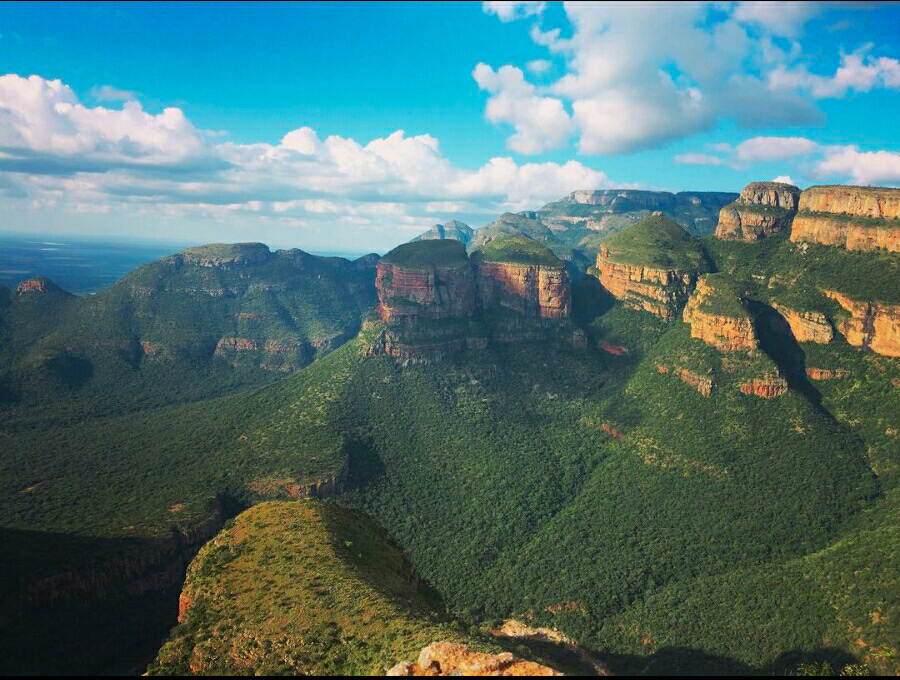 5. Eat Biltongs
Biltong is dried meat native to Southern African countries. The meat is marinated in spices and vinegar which adds flavor to the meat. I loved biltongs and probably ate more than I should have. I am currently suffering from withdrawal symptoms.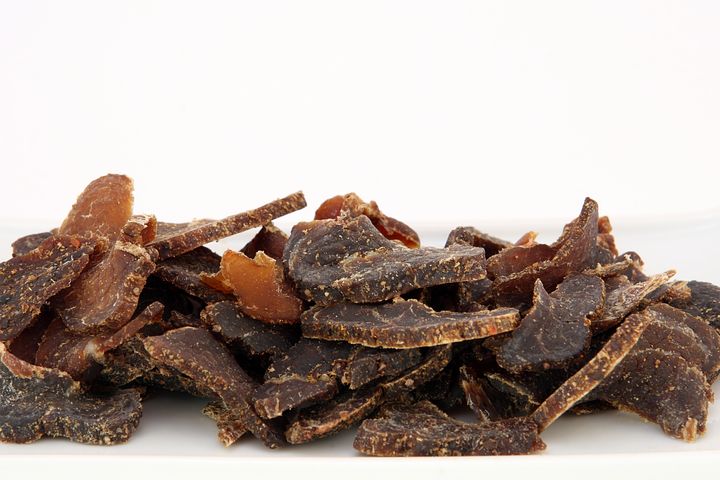 6. Get introduced to South Africa's beer
Every time I travel to a new country, I sample their beer. In South Africa, I tried Sol and red label. The later sounds like a lethal whiskey sold in Kenya but in South Africa, the red label is just beer that I happened to like.
7. Wine Tasting
First of all, wine is super cheap in South Africa and did you visit if you did not take part in some authentic wine tasting?
When I tell you I just bought wine I buy for 1600 Bob in Nairobi for 350 Bob in South Africa. Gai 😂

— Mother of Passports (@justrioba) March 4, 2019
Most vineyards and epic wine tasting locations are in Cape Town but if you cannot make it to, do not worry as you can have an epic wine tasting experience in Johannesburg.
Several wine tasting events take part in Jozi and Pretoria.
Are there any wine tasting tours in Johannesburg?

cc @MadamAfrika @shirley_lebelo @Senzi_M @GophariTravel

— Mother of Passports (@justrioba) July 31, 2019
8. The red tour bus
I recommend this activity if you are pressed on time. It's a quick yet effective way of seeing a lot of tourist attractions in a day or two. Affiliate link? Book your bus tickets here
Other things to do in Johannesburg
9. Jumping off the Orlando Towers in Soweto

10.Sky diving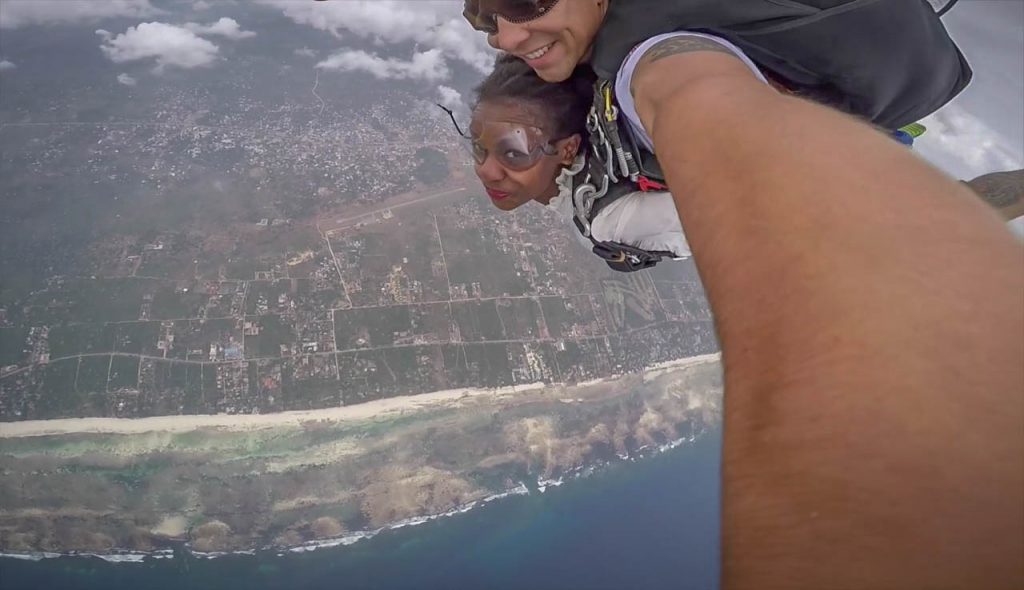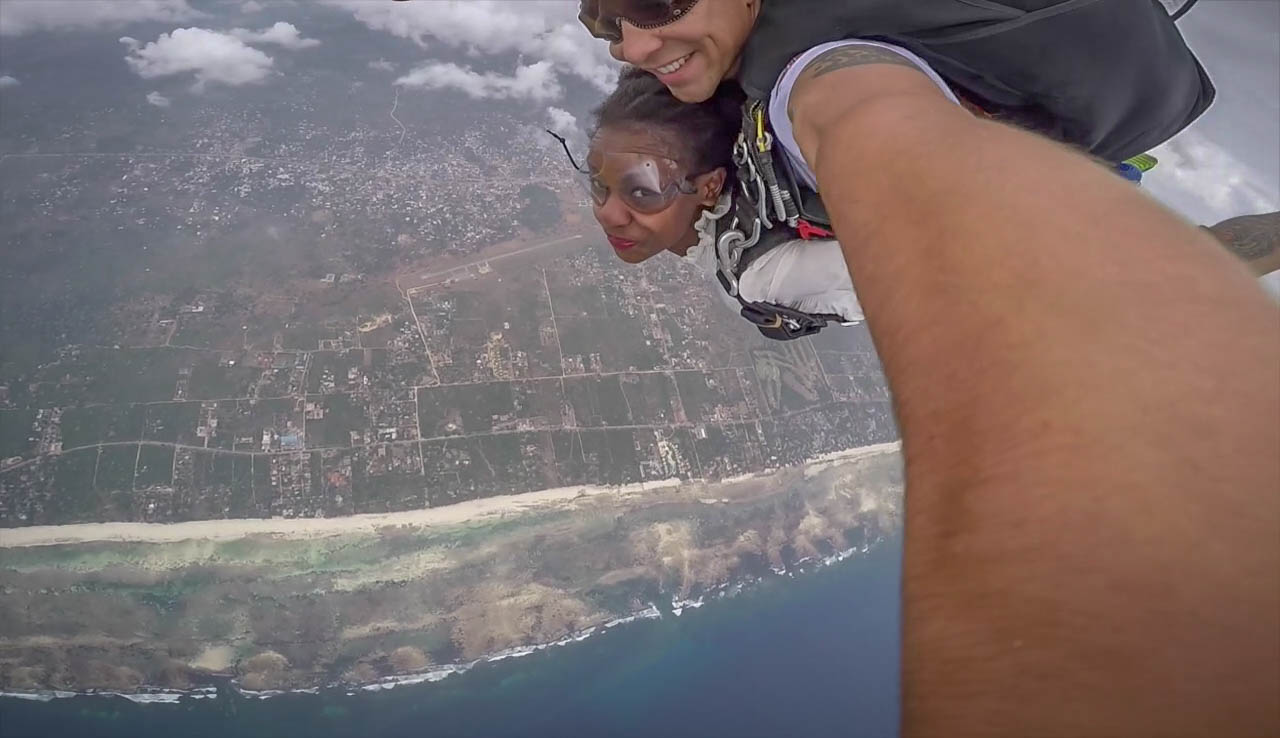 Read more: My Skydiving experience in Diani, Kenya
11. Water skiing and Jet Skiing
Free things to do in Johannesburg
12. Hike at Melville Koppies
13. Catch the sunset from Northcliffe Hill
14. Visit the Multiflora Flower Market
15. Visit the Museum Africa
16. Take part in one of the free walking tours
17. Visit the James Hall Transport Museum
Is Johannesburg Safe?
Jozi has a reputation for crime. This is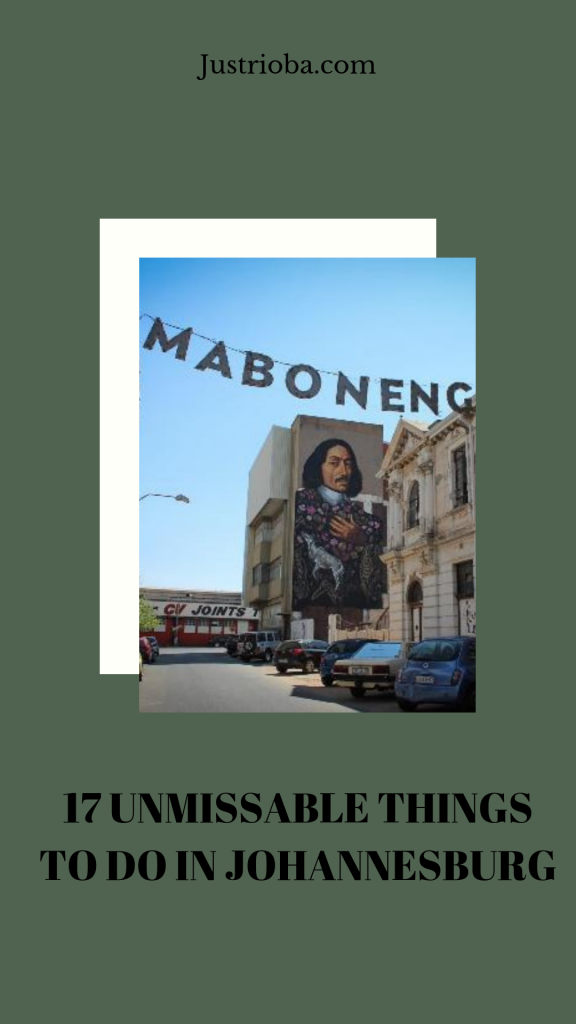 one of the first things the taxify driver mentioned. He says he does not work at night because of fear of being carjacked. Another friend mentioned that she rarely goes out in Jozi because she prefers not to drive at night for the same reason. When they saw my Instagram stories out at night, the first thing they said was to be very careful. Most of the crime things were hearsay, so I would suggest reading this blog post on how to stay safe when traveling. The ideas can be applied anywhere and everywhere. Research the neighborhood you choose to stay as they say this is important.
Conclusion
Have you been to Johannesburg? I hope you liked my list of Top Things to do in Johannesburg, South Africa and, as usual, you can ask me anything in the comment section below.
Related articles
30 Pictures to inspire your visit to South Africa