Congratulations on choosing to travel beyond Johannesburg and Cape Town when in South Africa. These two cities are where most travelers check out but South Africa has so much more to offer. This blog post will focus on an itinerary that involves the best hike in the Drakensberg.
Catch up: Things to do in Johannesburg
Getting to Harrismith from Johannesburg
My journey started from Johannesburg and my next stop would be Harrismith.
If you prefer renting a car, read all about renting a car in South Africa here.
For this leg, I choose to use public transportation seeing I was solo. However thumbs up, if you still have your rented car from Johannesburg.
Public Transport
I took an intercape coach on an early chilly morning from Johannesburg to Harrismith. As I was boarding, the person checking the tickets spoke to me in Xhosa and of course, I understood everything. By everything, I mean the clicking. He figured that I was not following and it led to the usual where I am from and oh can I pay lobola to your father because our people do not take wives for free. I just stared at him with an awkward smile on my face, as I always do when men make such unwelcomed statements.
Anyway, I digress; the bus was well-conditioned, too cold for my liking but with very comfortable seats. I sat next to a woman who would introduce later in the journey offer me biltong. And folks, that is how I become addicted to biltongs. The journey to Harrismith is 4 hours with stunning exhibits of nature. The landscape glows green with or without the sun. It is inviting, charming and makes you feel right at home. It smiles, hugs you and I promise you, you will never want to leave. This is exactly how I felt for the rest of my road trip across South Africa's countryside.
4 hours later I was in Harrismith so I made a quick call to my driver. As I waited for my driver, I decided to grab a packet of my newest addiction, biltongs and you can imagine my surprise when I saw bottles of wine going for ridiculously cheap rates!
Cost of the bus tickets R177- R190 depending on the class. You can book your tickets online.
Driving around Free State Province
My driver had a face to match his name, Innocent. As he drove me from Harrismith through atown Qwa Qwa, I kept repeating how beautiful South Africa is. He must have thought I was mad because I kept asking him to stop the car for me to take photos of everything that struck me as beautiful and as you can imagine, everything did.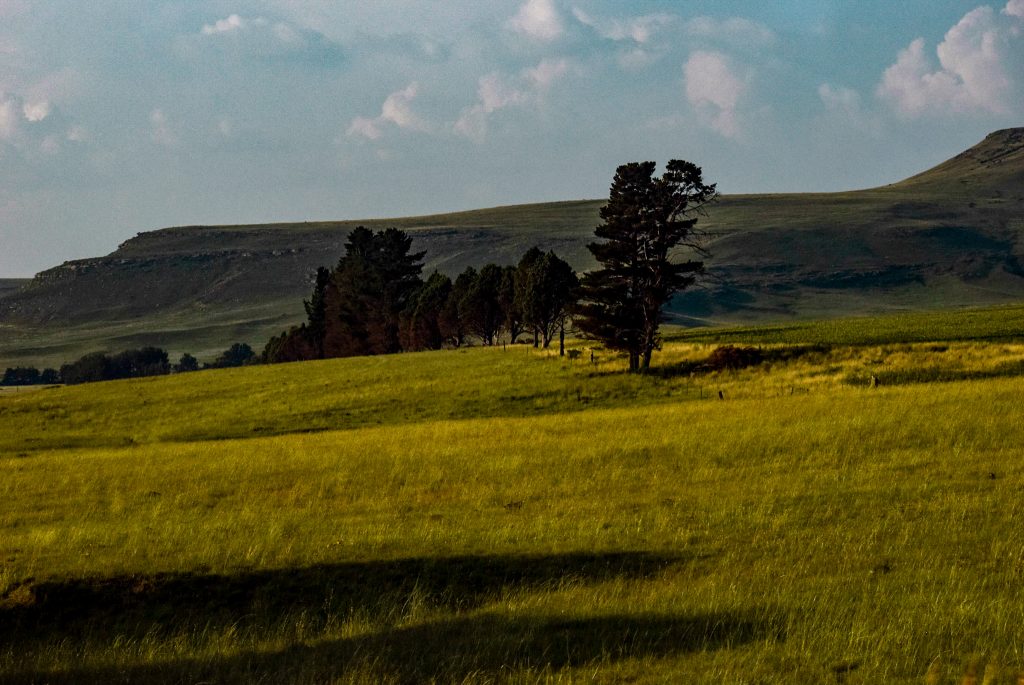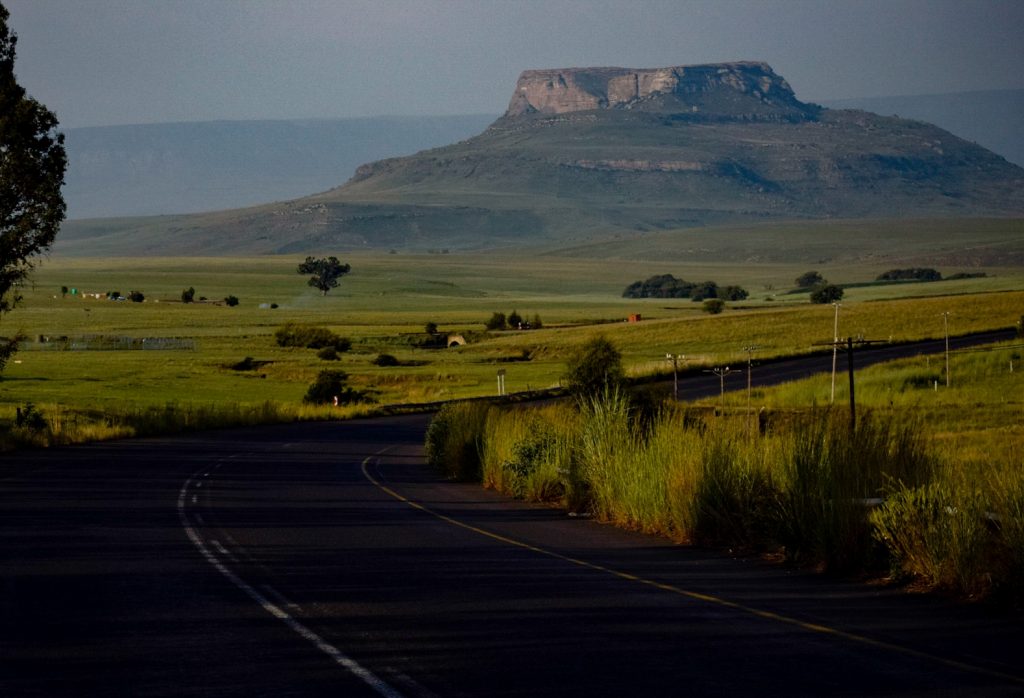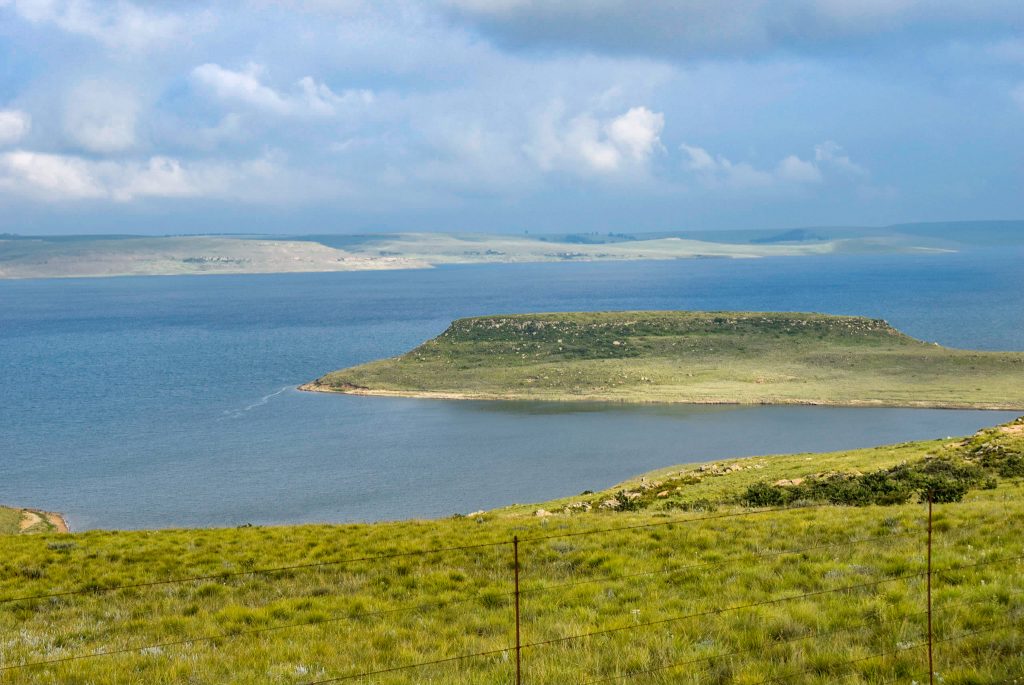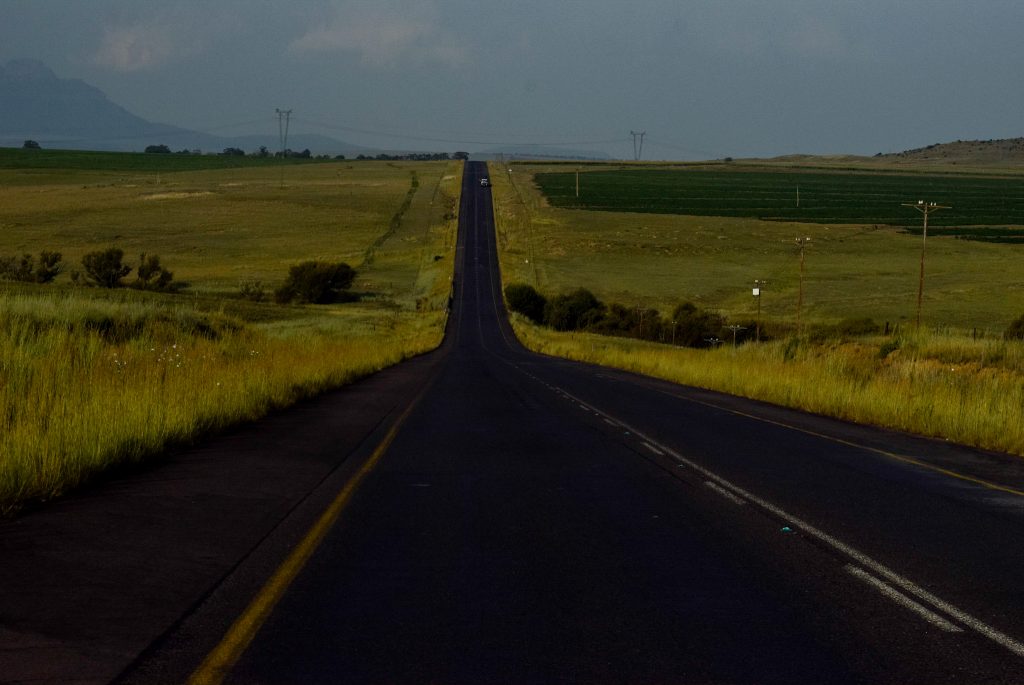 Mini taxis passed by, people run their businesses and I saw kids in uniforms that took me all the way back to the Sarafina film. Yes. I watched Sarafina and your -you should be married with kids jokes are welcome. I wondered how people went on with their lives as if they were completely oblivious of the beauty that surrounded them.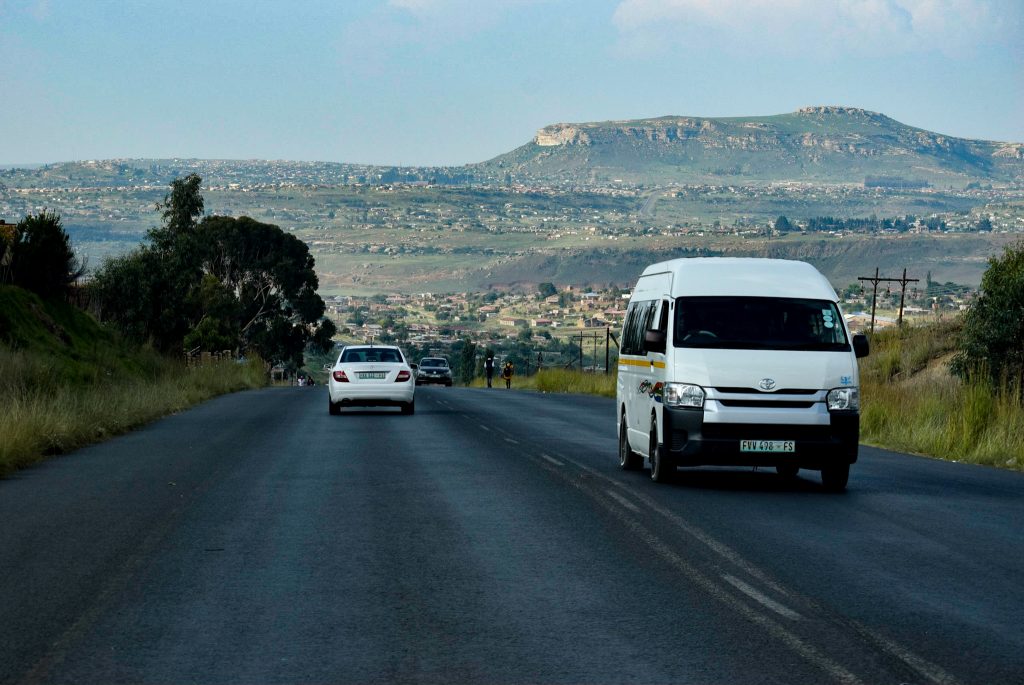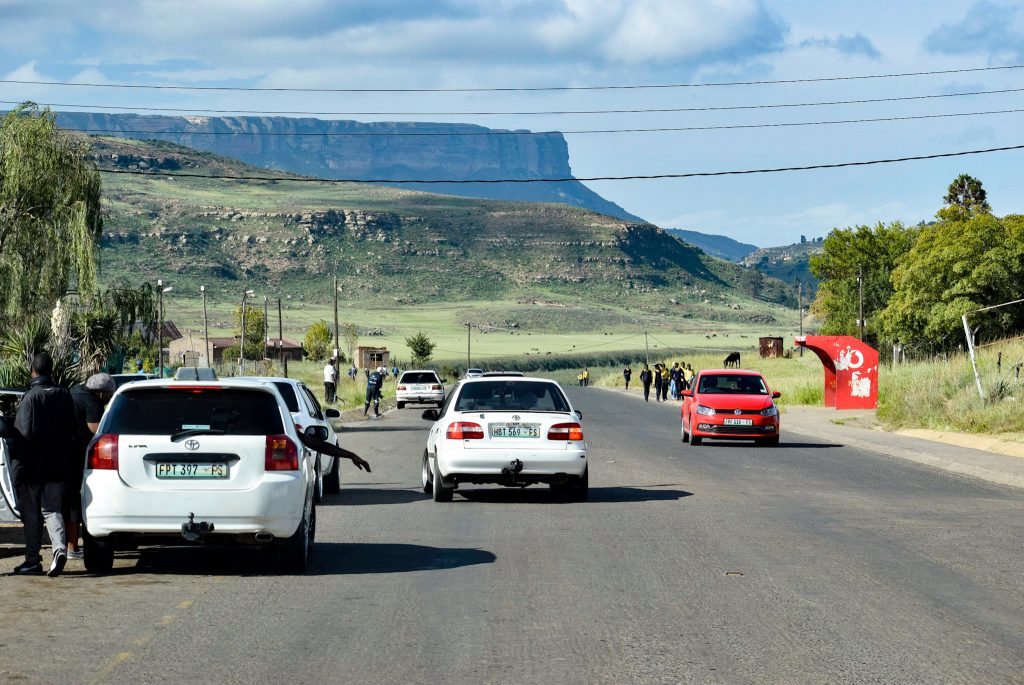 Later we drove to my hostel in Bergville in Kwazulu Natal province where I sat down with a book and my camera waiting for the sunset and you bet little reading was done. It's safe to say that this part of Kwa Zulu Natal known as Bergville, is my favorite part of South Africa. Here, public transport is nonexistent as your typical rural area. And oh it's Very GREEN. That night, I slept earlier on purpose to get enough rest in preparation of the most anticipated hike of 2019. Northern Drakensberg!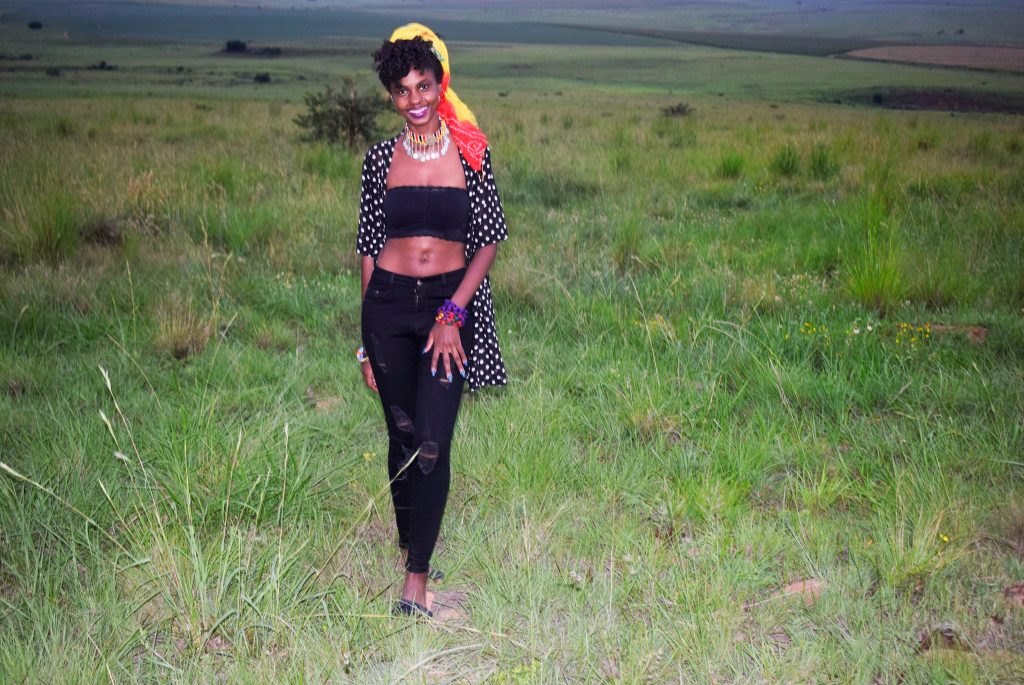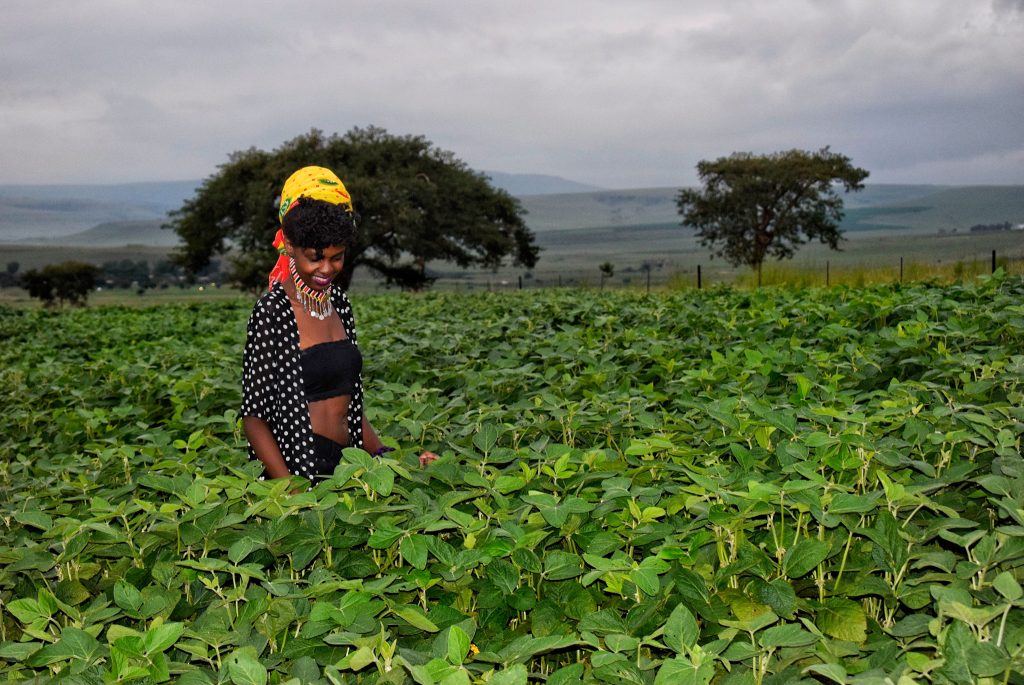 Drakensberg Amphitheatre Hike
Finally, we got to the main reason why I came to South Africa, hiking the Northern side of the Drakensberg. Our hike started at around 9am. Our starting point was at the Sentinel car park.
This particular hike is also known as the sentinel peak or Tugela falls hike. If there is anything you must-do when in South Africa is hike the northern side of the Drakensberg Mountains. Listen, words fail me. The pictures fail me. Nothing and I repeat, nothing will ever come close to describing the rewarding views. The tips of the mountain range stick out like a row of endless thorns. You will snap photos until you drop.
Overview of the hike: 12-14 km
Month visited: April
Location: Royal Natal National Park
Time: 8 hours
Price: R80 for day hike fee and R50 for the national park if self-driving, a total of R130 with no guide
Difficulty: moderate with a very steep gully that goes 250 m up and two nerve-wracking chain ladders
Guided hike rates: From Witsieshoek R650 for up to 4 people and from amphitheater backpackers R750 per person (includes park fees, lunch & transportation)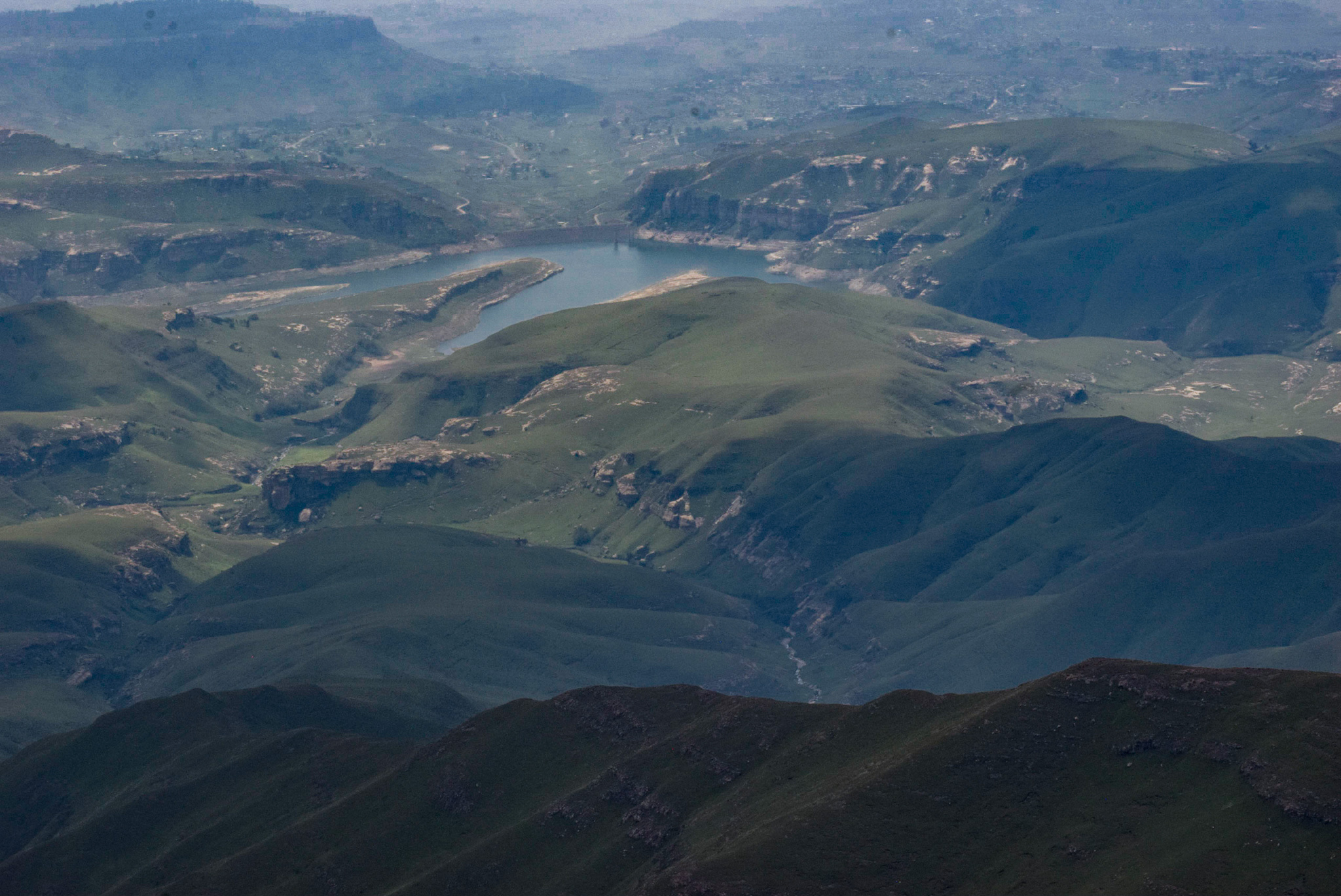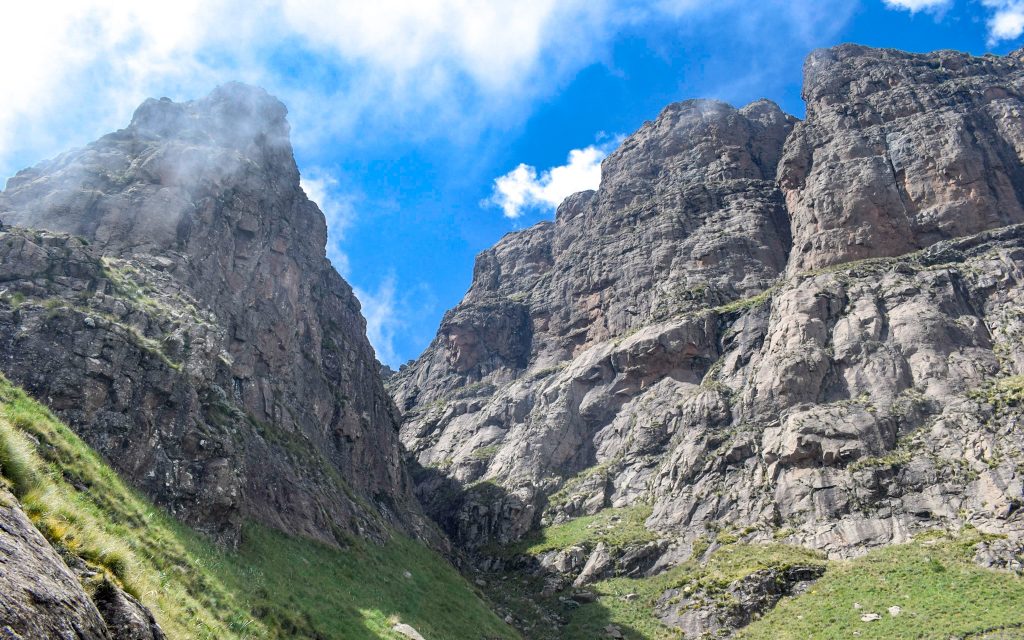 What you should know about Hiking Northern Drakenberg
I won't lie and tell you that it is hiking northern Drakensberg is easy, there are parts of the trail with loose stones that inhibit walking and it is best to have a guide accompany you. Although, some people do it without guides.
If you are self-driving, be aware that the road leading to the start of the trail is in a horrible condition so you better go with a 4×4. Our guide, Searchmore kept telling us we were getting the African massage seeing how the road made us dance unwillingly in the shuttle. Also yes, his name is Searchmore. Getting there depends on where you stay which I will cover later in the post.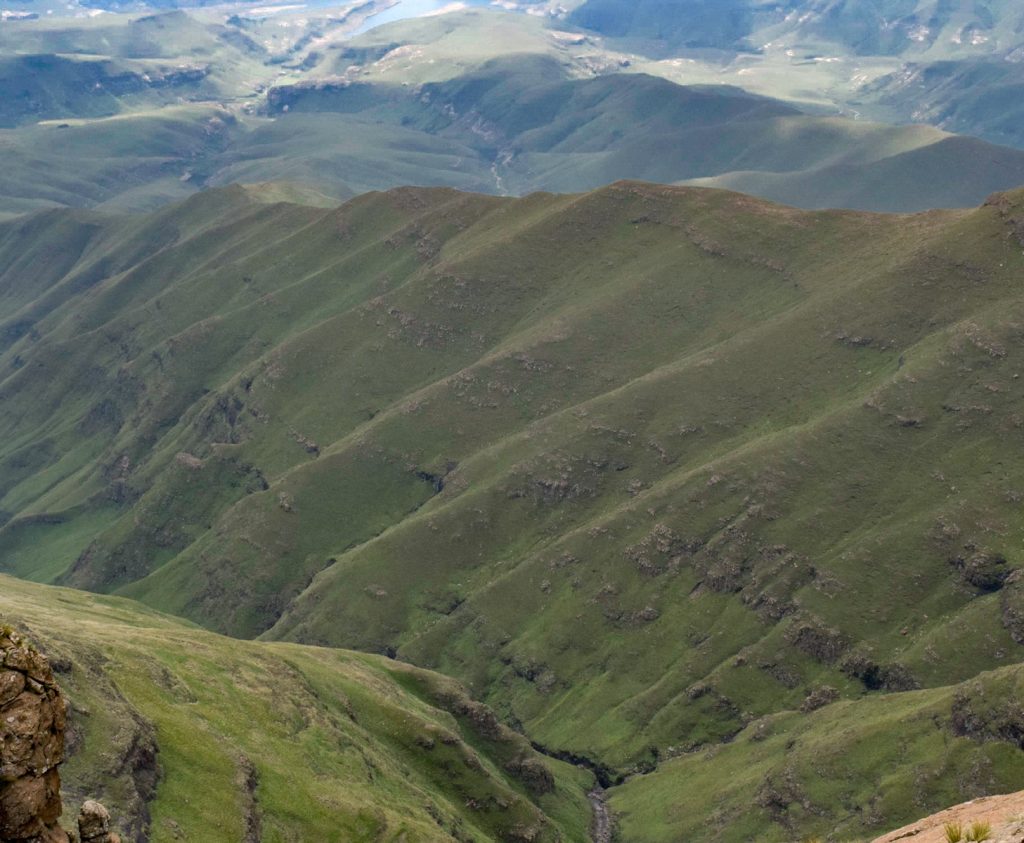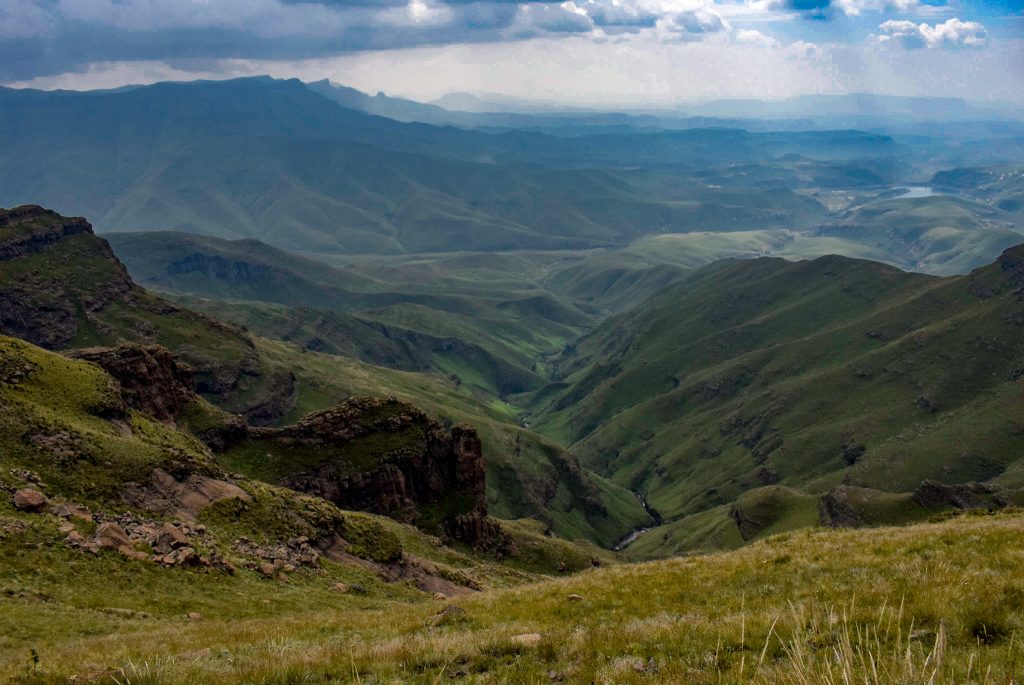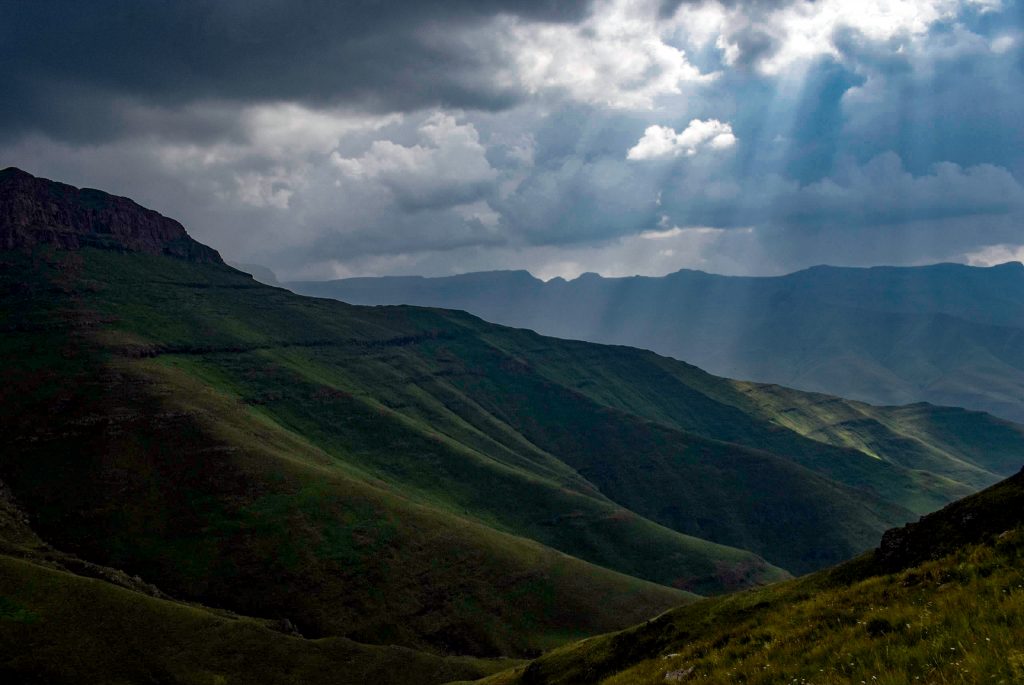 The trail to the Sentinel peak- Drakensberg
One of the rules of hiking, I realized was to go at your own pace. It's not a competition. The start of the trail starts with what Searchmore referred to as the hardest part of the trail which is known as the Zigzag. He lied. It's not the hardest part. At least to me, it wasn't. After the Zigzag, we relaxed for a few minutes before walking to what would be the most challenging part of the hike, the gully.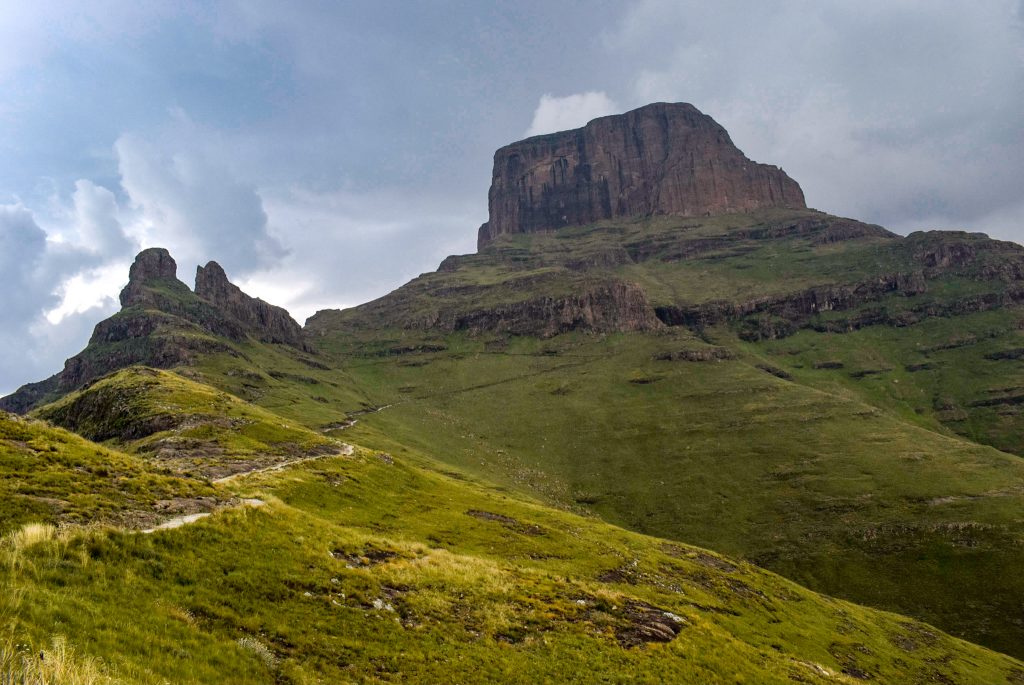 The Gully
The gully is located between the Sentinel peak and the Beacon buttress. Let me tell you, climbing up this gully took a little over an hour but it felt like ten hours. First of all, that thing is steep (angle of 45 degrees) and full loose stones. However, as with all hikes, the top has breathtaking views. We saw the Royal Natal Nature reserve and the Amphitheatre wall. It is here that we had our packed lunch.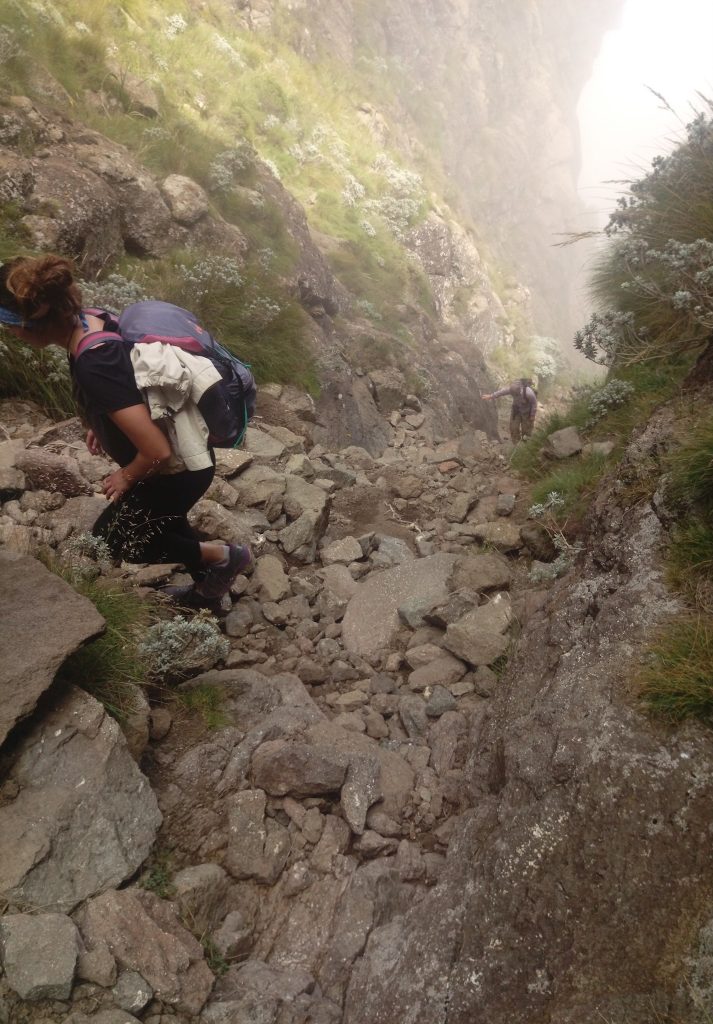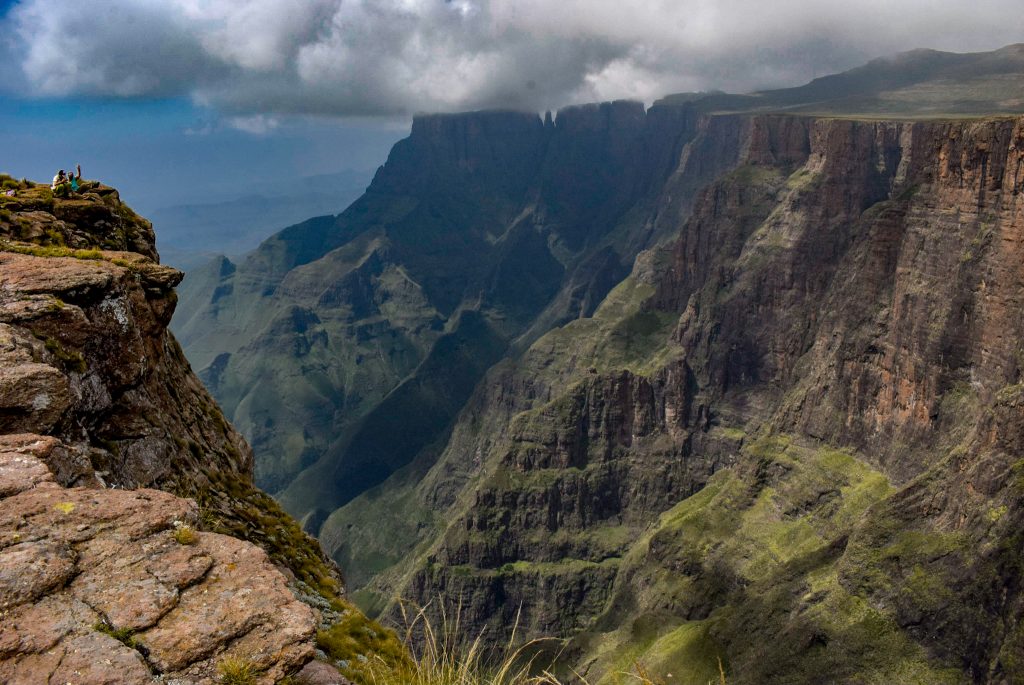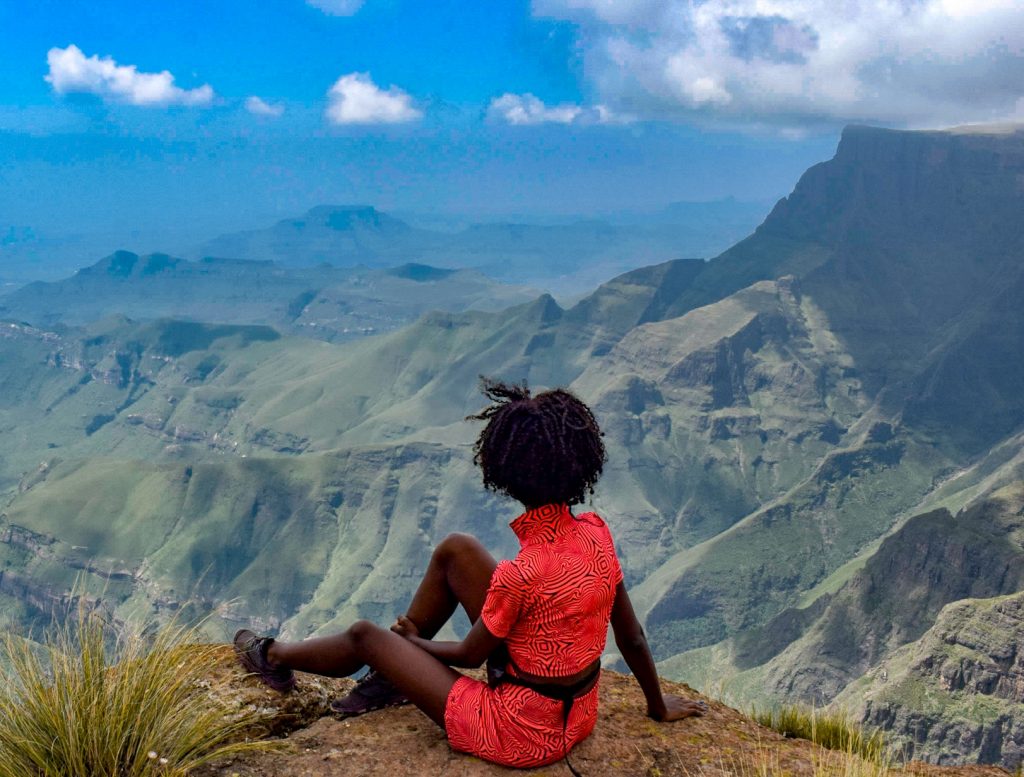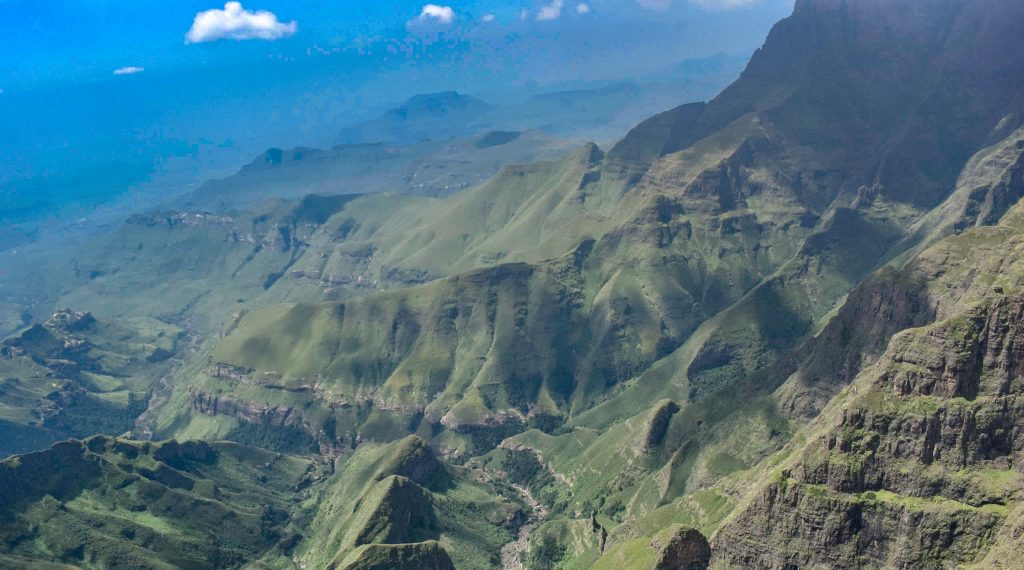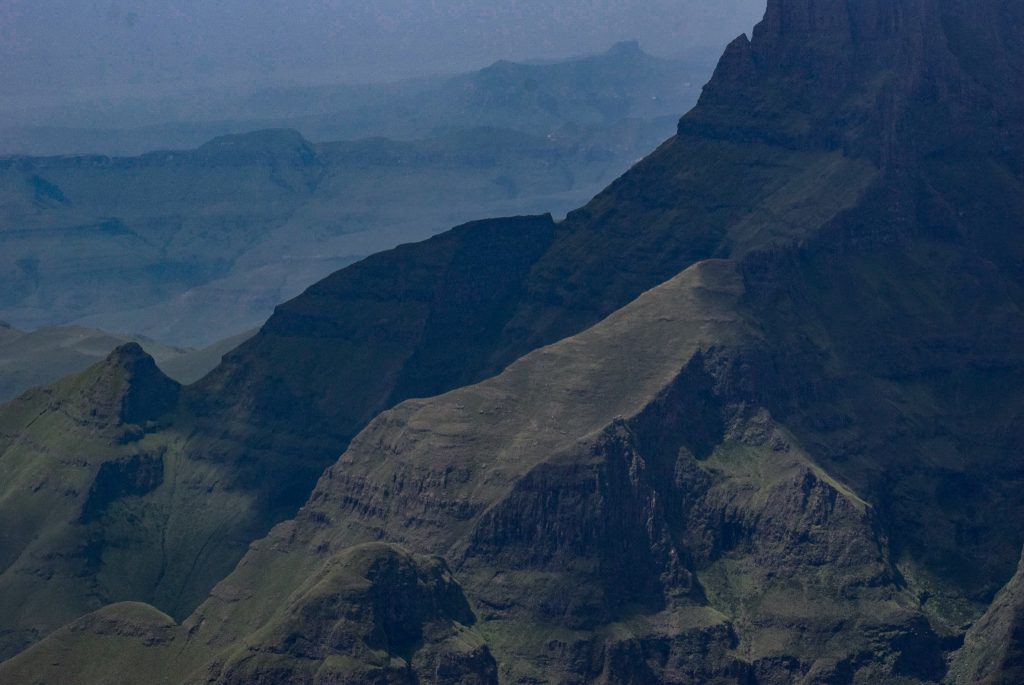 Tugela Falls-North Drakensberg
After lunch, we walked a few km and as per usual, I was left behind snapping photos. We got to Tugela Falls, the highest waterfalls in Africa. The brave at heart changed into swimsuits and took a dip in the water from the falls. Yeah, I love a good swim but did they tell you that the cold water in South Africa hits different?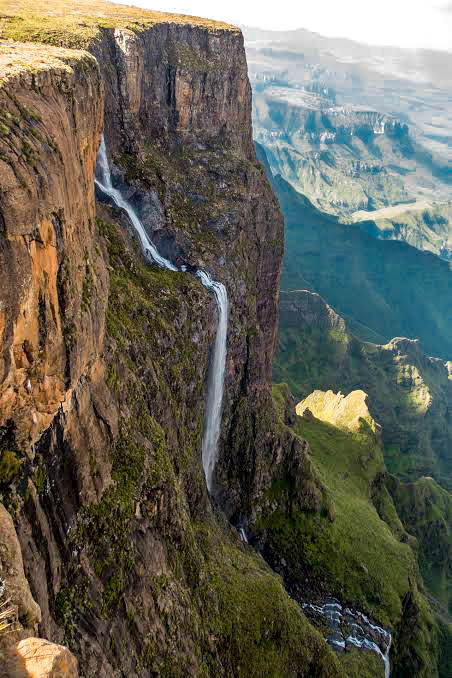 The men in Blankets
After the swim, we went back to the trail where we bumped into men wearing blankets with rifles. Searchmore told us they were policemen from Lesotho. I was particularly curious about the blankets most of them were wearing. I later found out these blankets are actually tribal blankets worn by the Sotho people and unique to the Kingdom of Lesotho.
Initially, they addressed me in the Sotho language and for some reason, they were surprised when I told them I was Kenyan. Later Searchmore would tell me, they had assumed I was his wife. Because who comes all the way from Kenya to hike the magnificent Drakensberg. Right?
Most likely, you will bump into the Sotho men on this hike, do not be scared. They mean no harm at all.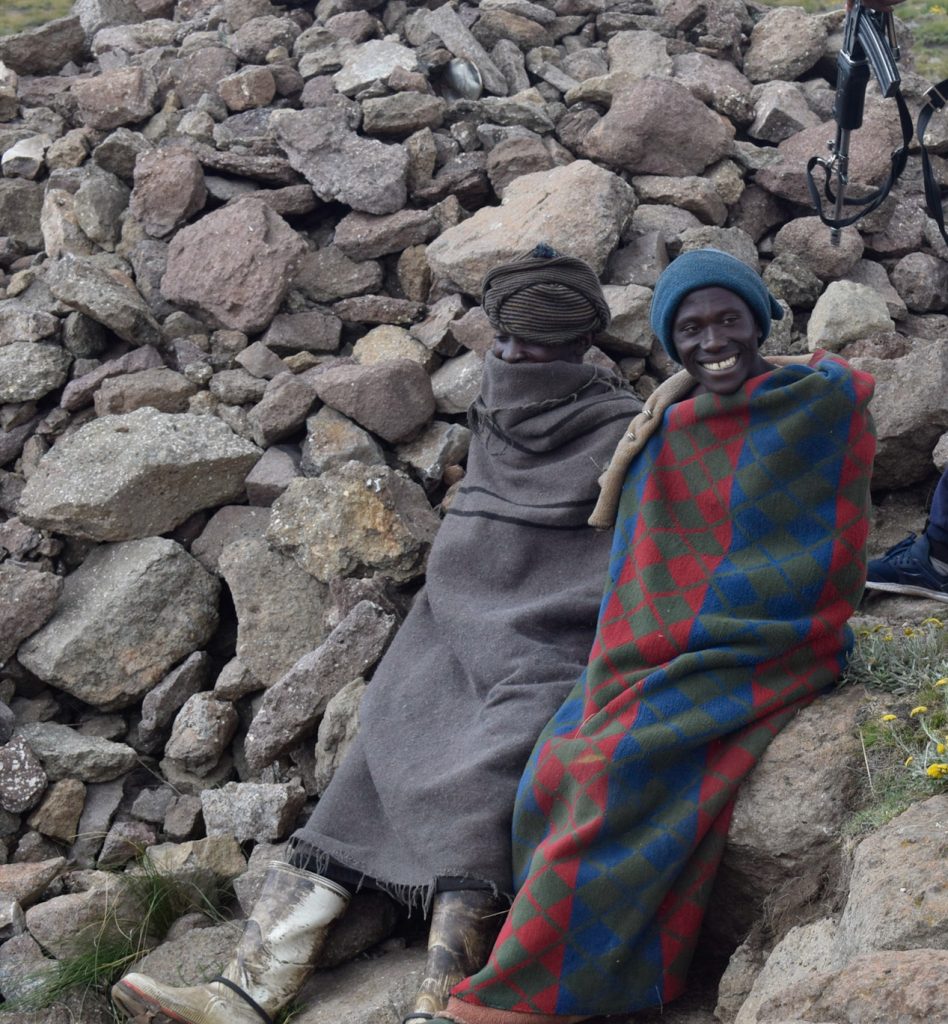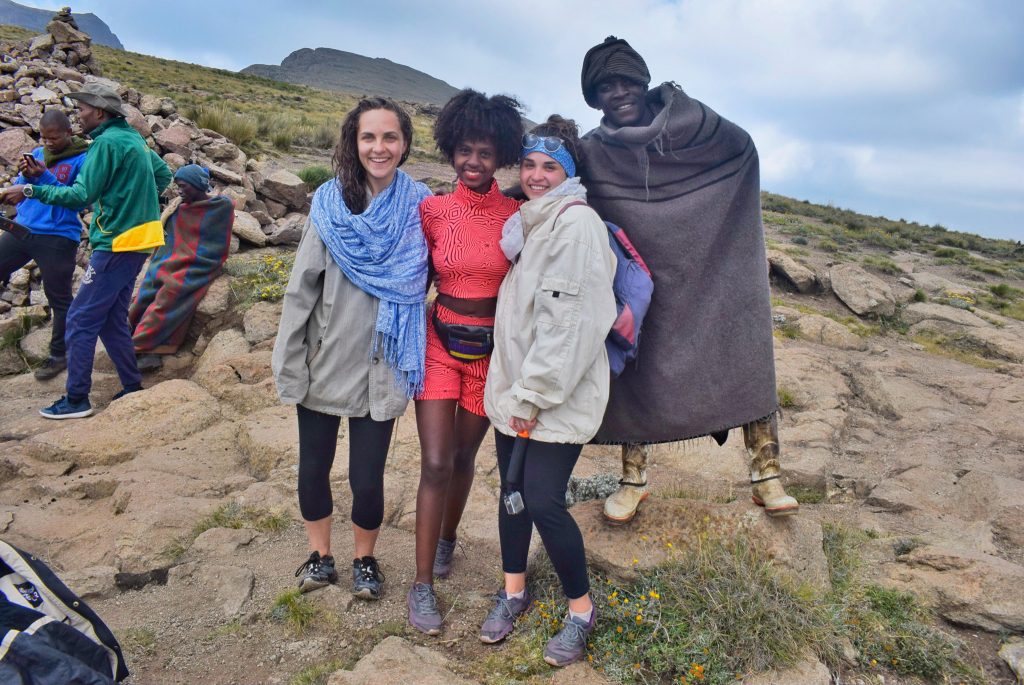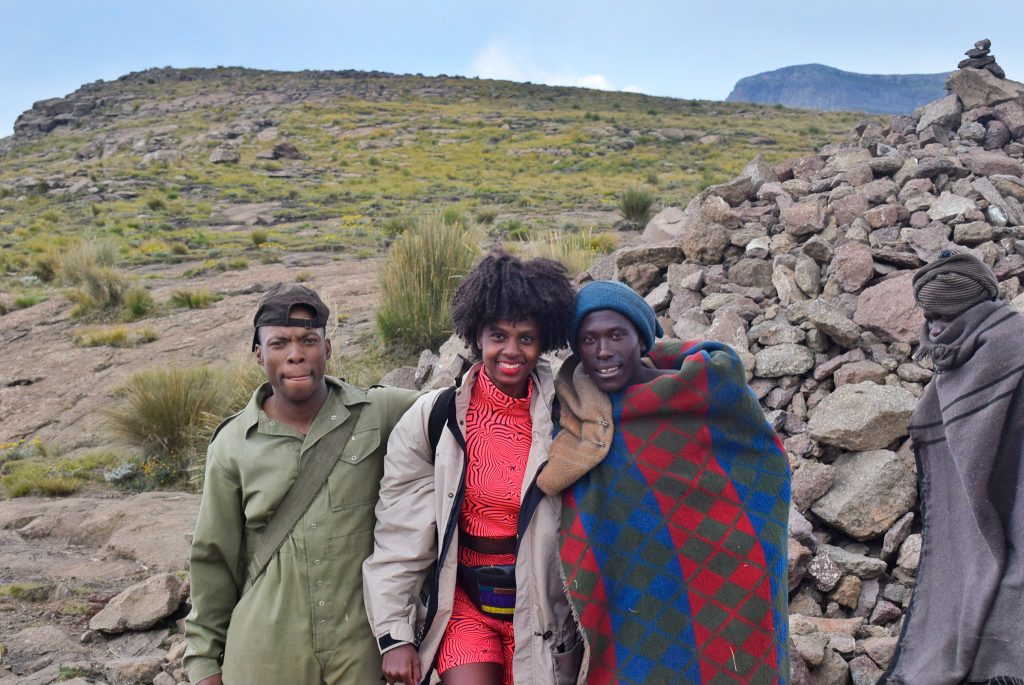 Down the Chain ladders
I had heard stories about these chain ladders but after the gully, going down these vertical chain ladders was a walk in the park. Although, if I am being honest, the ladders can be intimidating to anyone with height phobia
After the chain ladders, we were back to the Zigzag trail which then marked the beginning of the end of our hike.
P. S There is another absolutely stunning peak known as the Cathedral peak. This hike is apparently gruesome and is left for the experienced hikers. However, you can take a chopper over the peak. Otherwise, the hike is 21km.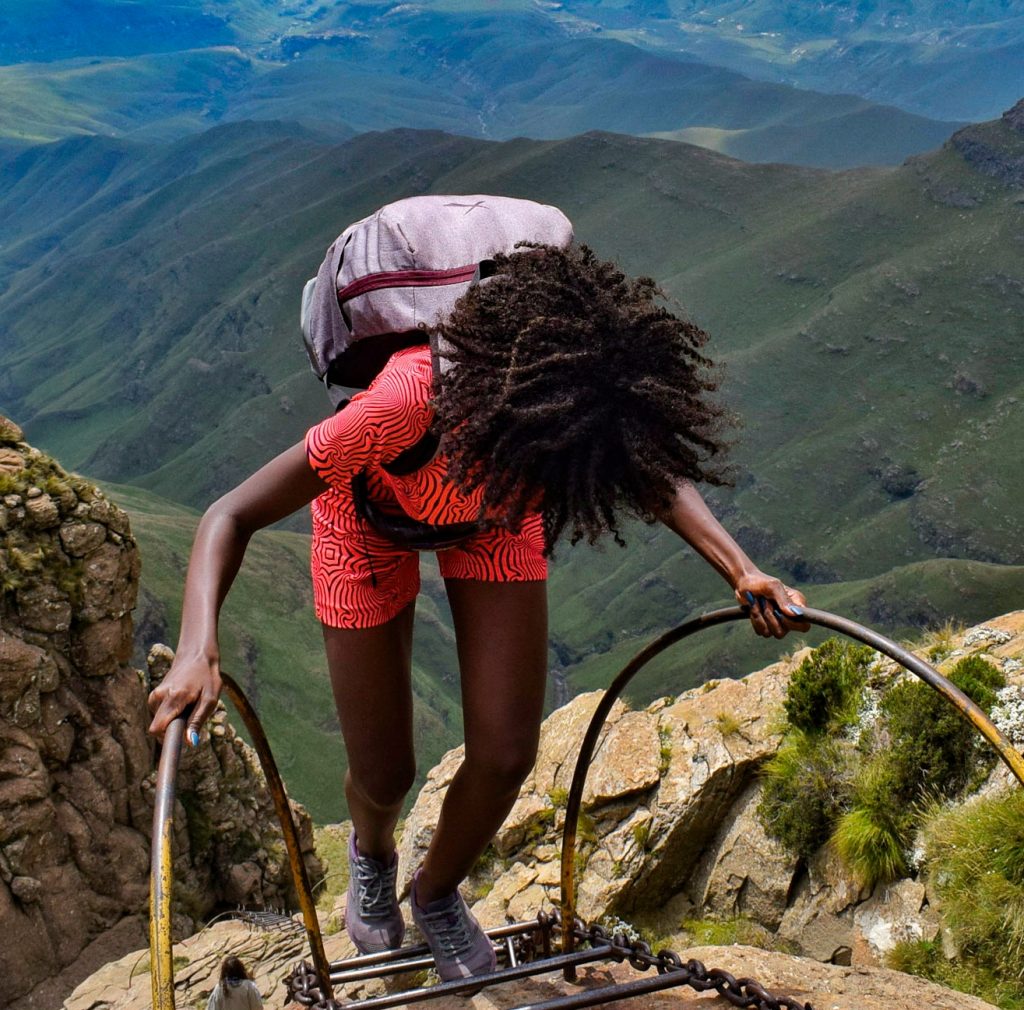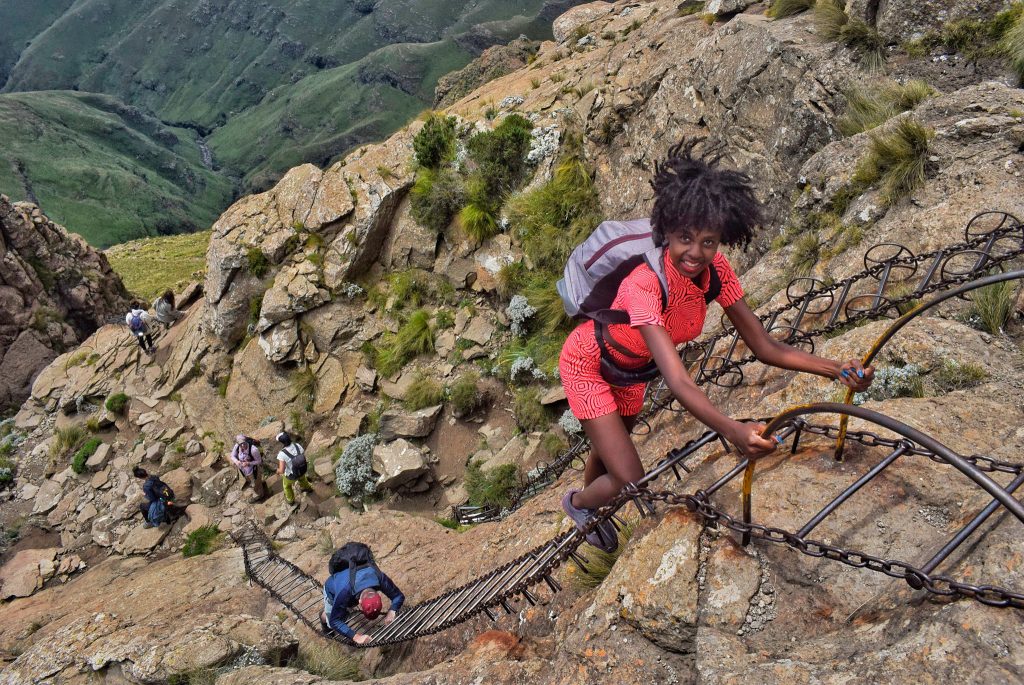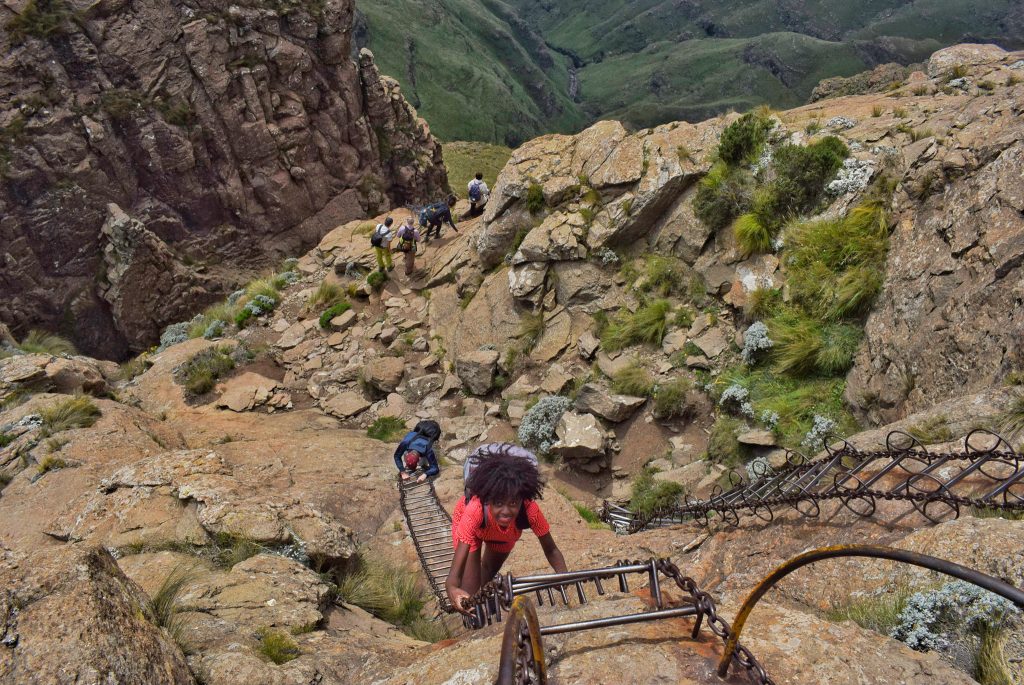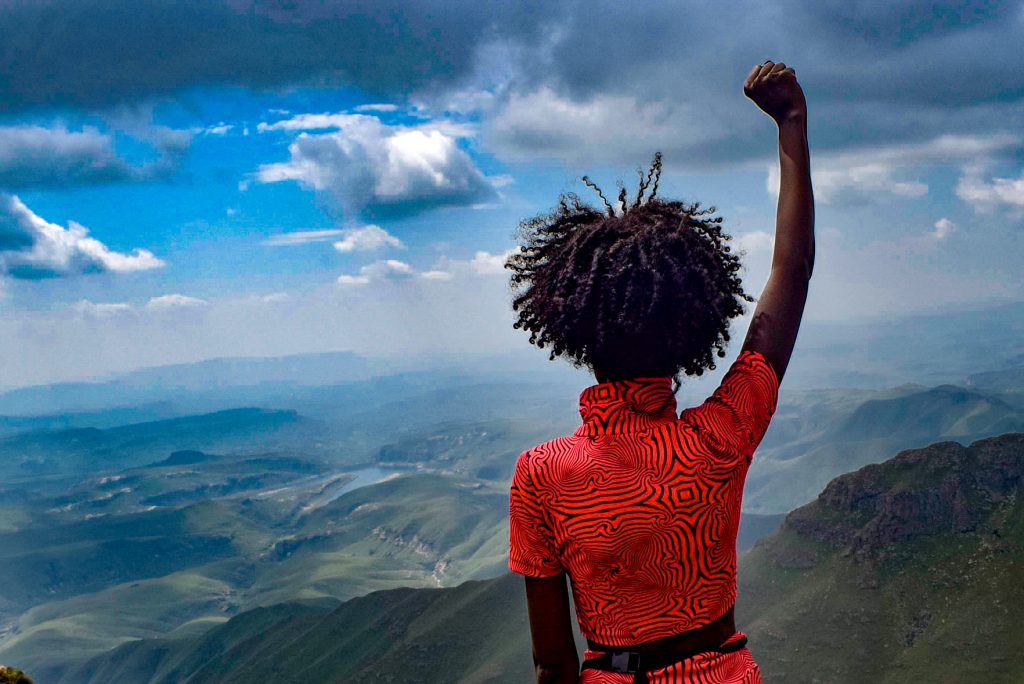 WHERE TO STAY FOR THE NORTHERN DRAKENSBERG HIKE
Amphitheatre backpackers lodge for R240 per person in a dorm- complete with views, a jacuzzi, and an amazing crowd. This is where I stayed mainly because I was on a budget and I did not have a car.
If you go with this option, remember it's a 2-hour drive to the start of the hike so you have to wake up as early as 7am to be at the start of the trail by 9am.
The food here is overpriced. However, you can bring your own groceries to cook in their self-catering kitchen as there are no shops around.
Always remember to read reviews of what other travelers are saying before choosing a place to stay
Amphitheatre arranges tours to the trail for around 750 per person which includes transport, lunch and entrance fees. However, it will be less cheap if you are self-driving since you can take yourself.
Another hostel option is Karma Backpackers incase Amphitheatre is fully booked.
Witsieshoek Mountain Lodge R 1135 per night for one person is the perfect accommodation since it's only a few kilometers from the sentinel car park which is the start of the trail.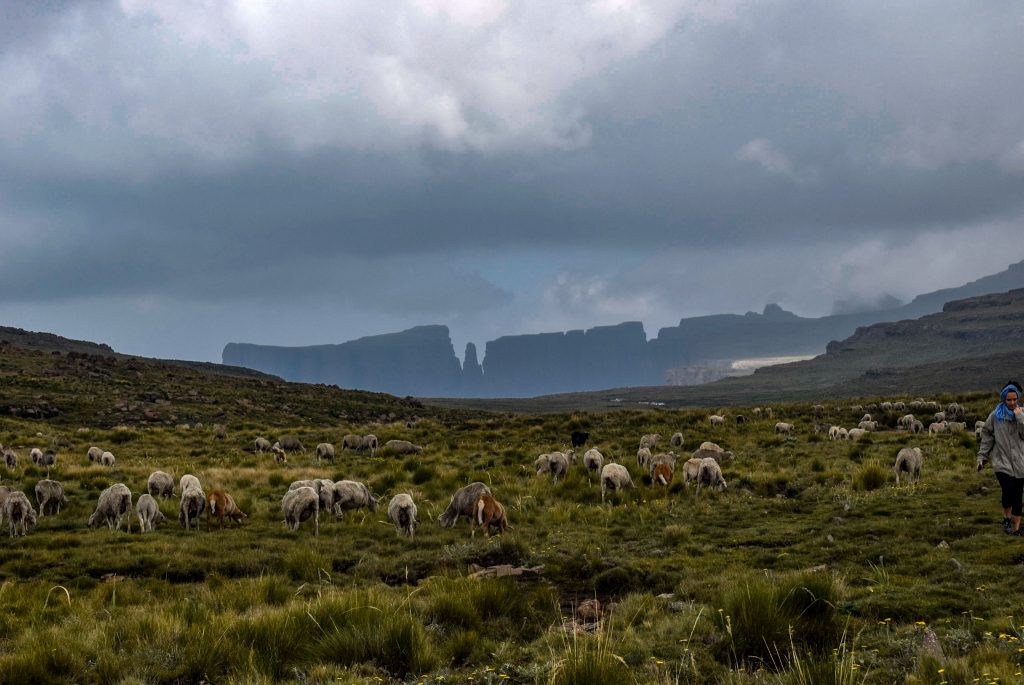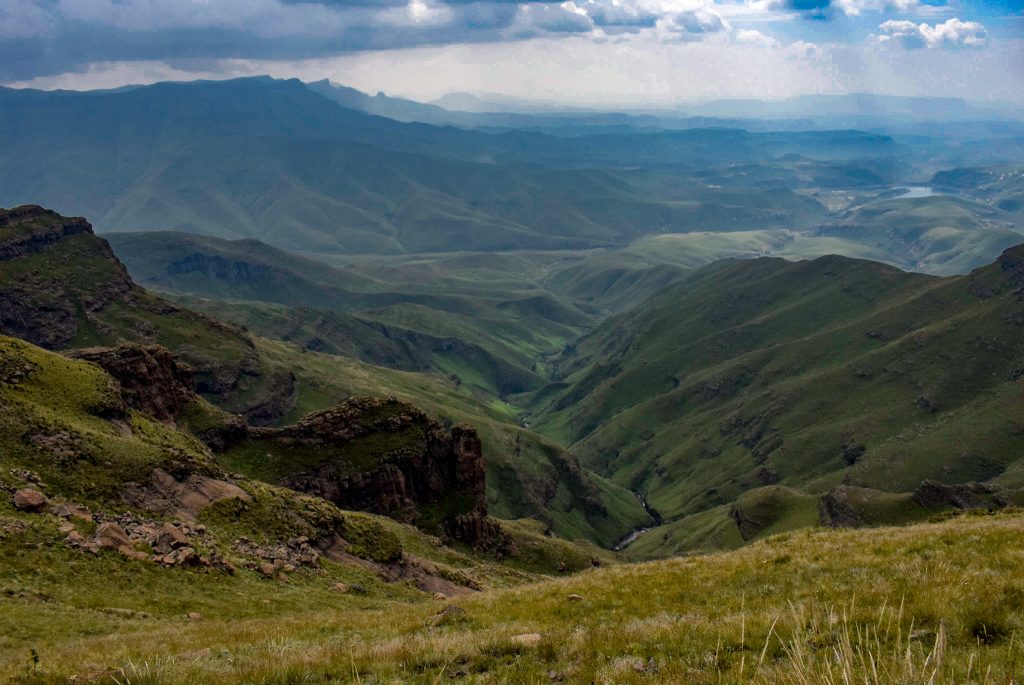 These are the things you should not forget to pack if you plan to stick to this itinerary
The weather is unpredictable so it's good to have a waterproof windbreaker jacket

Water Bottle

Packed Lunch

A swimsuit if you are going to swim by Tugela falls

A GPS device for those that will be driving

Hiking boots since the Drakensberg offers so many hiking trails

A stylish fleece jacket to rock throughout the trip