A game drive at the Nairobi National park, shopping at the Maasai markets, a visit to David Sheldrick Elephant Orphanage or the giraffe center are some of the things that most travelers engage in when in Nairobi. I decided to create a list of unique yet fun and cheap things to do in Nairobi that you as a traveler might overlook.
1.Banana ride
The first time I went for the banana ride I saw a full grown man scream, begging the operator of the banana ride to stop the machine. It was a hilarious sight until I got on the banana ride. Six years later after skydiving, swimming at the devil's pool, being on the fastest roller coaster in the world, the thought of being on that damn banana ride terrifies me. Yes. It's that intense.
The banana ride humbles everyone. You swear you will not scream and embarrass yourself in front of the hot men watching and a few seconds into the ride, you forget entirely about the hot spectators and let out a loud, piercing shriek which may or may not turn into crying.
The banana ride is not for everyone but if you are feeling adventurous. Why not?
Location: Lunar Park, Pangani
Charges: 100 kes per person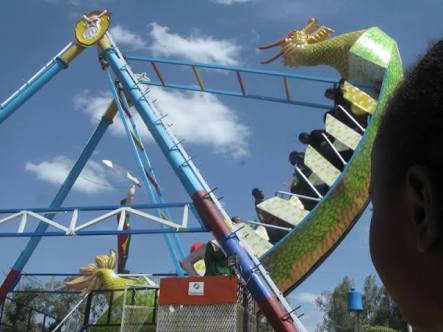 2.Rock climbing
I went for this indoor rock climbing activity with a group of friends.It's a fun activity with a bit of work out. Different categories include beginners, intermediate and advanced. The activity is also child-friendly. This activity can form the perfect bonding time for family, friend or even a team building.
Charges: Members pay 4000 KES monthly, A one time visitor will 800 KES or 1200 KES that includes renting shoes
Location: 6th floor, old tower, Diamond Plaza, Parklands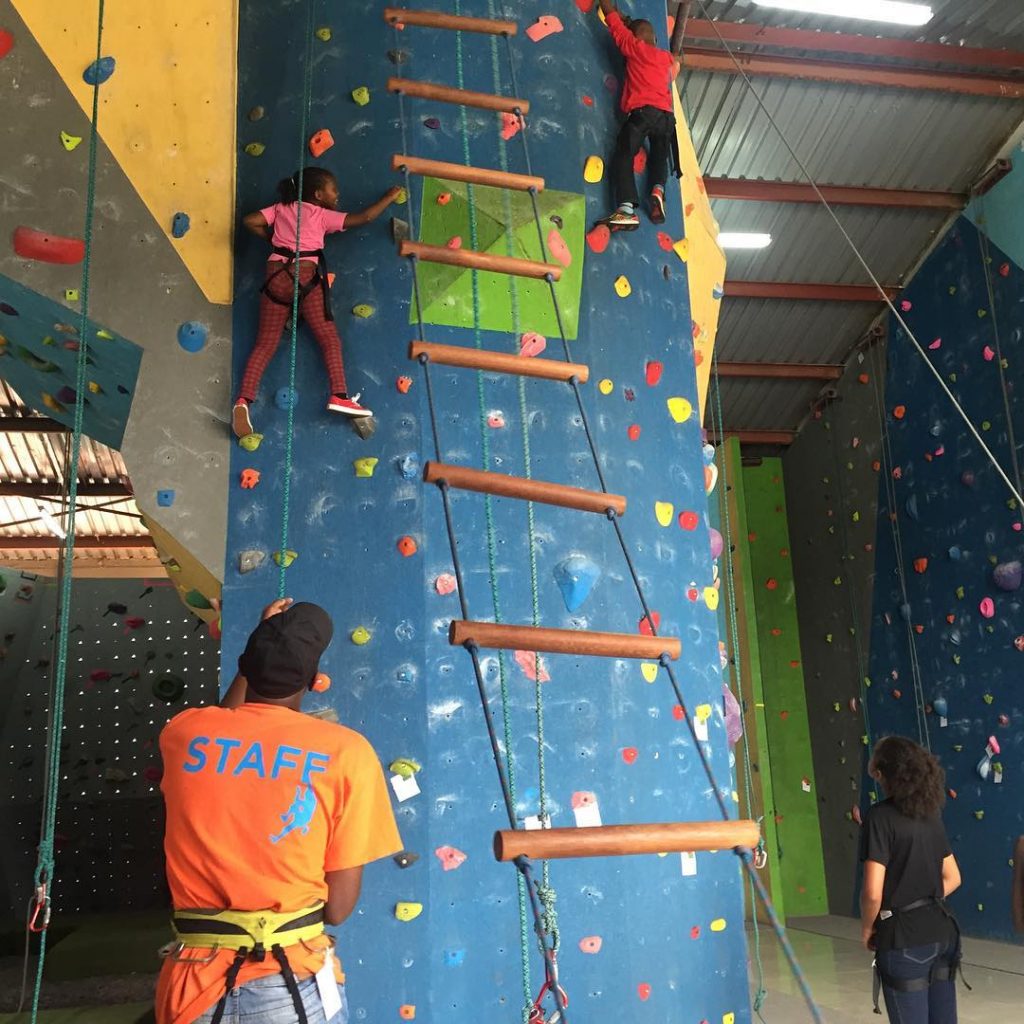 3.Paintball
Have you been silently beefing with your sibling or friend? You know how we love to hate people that we hold dear. Paintball is the perfect activity to settle scores in a fun way as long as you ensure you and this person are on opposing sides. Paintball is viable for a group.  I am a big fan of paintball although I don't understand why I would love an activity whose end game is to "shoot to kill."
Location: Paintball fury at the Nairobi show grounds and another one at the GP Karting near Carnivore in Lang'ata. You also choose to go to Purdy arms in Karen.
Charges: 1000 kes that comes with the"gun" full of ammunition, safety goggles, and protector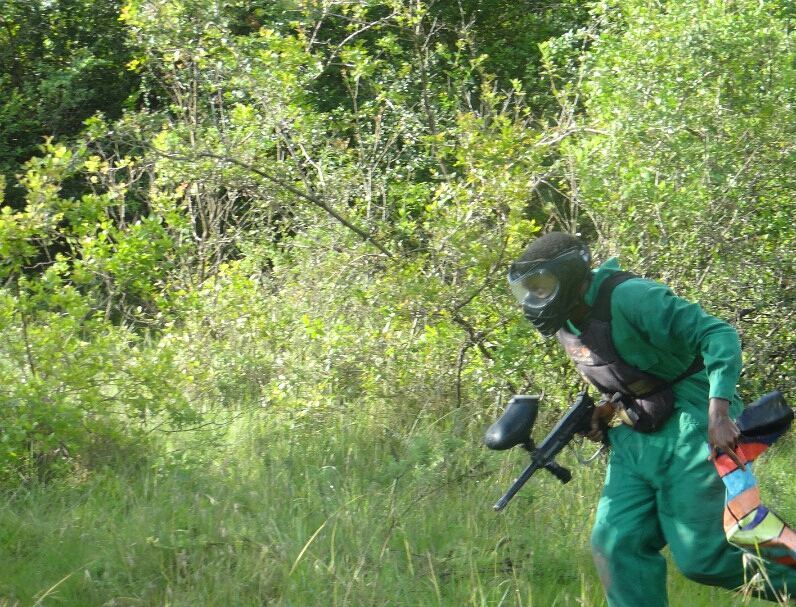 4.7D Cinema
My friend Nicole took me to a 7D cinema, and I silently wondered what kind of cinema lasts only 15 minutes until I got to experience it.
Have you been to a cinema that allows you to feel the physical effects of the actors? Well, if you have not, you have to try this. I felt everything. I laughed from the leg tickling, the water sprays and even the strong winds that were blowing.
We were asked to fasten our seatbelts and hold tight. This tip came in handy because our seats moved in all directions. It was a wild experience!
Location Thika road mall
Charges: 350 KES per person for 15 minutes inclusive of 7D glasses
5.Kenya Regiment Rifle Club
If you want to experience the thrill that comes with firing a rifle, then the KRRC is the place for you in Nairobi. You can choose to be a member of the KRRC club or make it a one time experience. It's an indoor shooting range. It's opened every Monday to Saturday from 12.30pm -4.00pm.
Location: Sailing Club, KRRC Range, Lang'ata
Charges
Overall costs include ear muffs and protective eyewear
Adults: KES 1100 (carry national ID)
Students: KES 600 (with IDS)
There is the extra ammunition cost, so it is best to go with a group of friends to cost share. You are not allowed to take pictures.
Remember you can quickly get an uber or taxify to these locations. Otherwise depending on where you are based, you can choose to go with the cheapest option which is grabbing a matatu most likely from the Nairobi CBD.
6. Epic Night outs
Anyone that has experienced the Nairobi nightlife will tell you with no doubt that Nairobians know how to turn up. The availability of clubs is endless and the music is epic.
You can choose to pregame before going out since drinks can be expensive for the budget traveler. I recommend this app called Mo-Bar. Look at it as an uber for drinks. If you are looking to pre-game then try Mo-Bar seeing they have all types of drinks at affordable prices. I have used this app within Nairobi  and I can guarantee it's efficiency.
Use this code ETSBFS to get KES 250 discount off your first purchase via Mo-Bar. You're welcome!
7. KICC Helipad
Catch a 360-degree view of Nairobi from the KICC Helipad. Trust me, the view from the rooftop is breathtaking and what's more, the KICC is located within the CBD and it takes a few minutes to access the rooftop. The rates are cheaper for citizens at Kes 150 and I believe Kes 300 for noncitizens.  If you are a photographer, please visit the KICC Helipad.
If you are interested in local talent then check out the speaker box event hosted by Patricia Kihoro. You will have a blast. Other unique things to do checking out dagoz for awesome live Kenyan music from Wednesdays to Sundays, go to Kioko Mwitiki which is a new art gallery in Lavington and Burma market for the ultimate street food experience.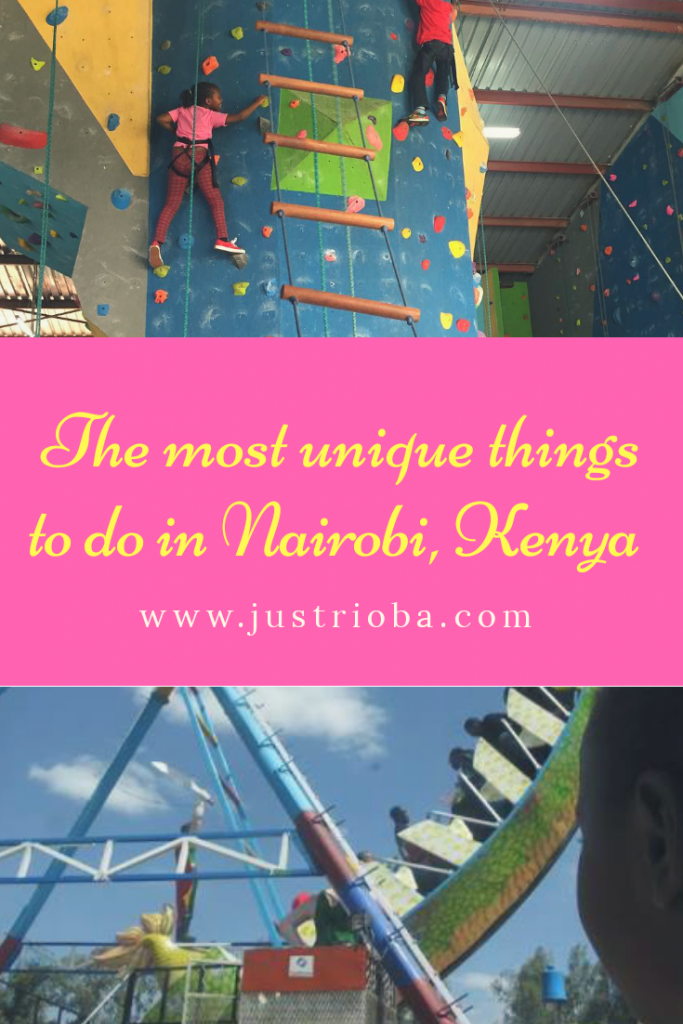 If you loved this post, feel free to share it with your friends.
Check out my Instagram or Facebook for more travel inspiration.