I have never had a bucket list in and even If I did, something that had the name devil would not make it to the list. Imagine telling your African/Black parents that you want to swim at the devil's pool ? They will have you swimming in holy water instead.  I arrived in Livingstone after spending 48 hours in Lusaka .  I met this Irish couple that had been traveling through Africa for a while and they were talking about their experience at the devil's pool. I remember asking them,  "Isn't swimming at the edge of Victoria falls cheating death? What if my butt slides when I'm seated on the edge them I fall?"  To which the lady responded " Trust me. You will not topple over. And besides, you do not have to sit at the edge if you do not want to. "
If you think I was going to sign up for something that potentially put me in death's way based on the word of random travelers I had just met, then you are absolutely right. I immediately signed up.
However, I had a lot of questions that needed answers and I had two days to find out what I was getting myself into.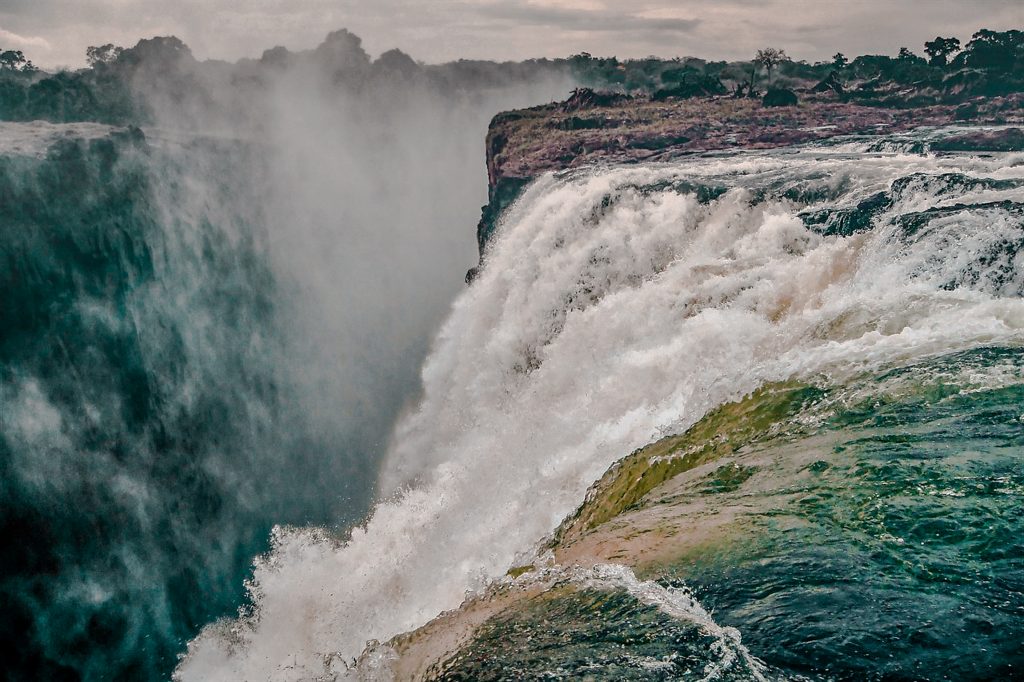 Defining Devil's pool
Devil's pool is probably got its name from the fact that it's  a natural pool located on the edge of the Victoria Falls. The only thing that protects adventure seekers from toppling over is a rock ledge. Now that I think about it, human beings joke too much. How can we trust that little piece of rock?
Location of the Devil's pool and Signing Waivers
There are two ways. The first is the walking tour. It's a 20 minute walk through Victoria falls park. This will cost you USD 75 and an extra USD 20 as park fees.
The other way is accessing it through Royal Livingstone hotel. This is the option I went with.  I arrived at around 8.30am seeing the tour was scheduled for 9 am. I cannot believe I was early for this seeing I'm always late in other important aspects of my life.  At the reception you will be asked to read and sign the waiver that sets the hotel free from any liability if anything happens to you. You do realize anything can mean falling over. yes? If you are like me, you might panic. My nerves were on steroids and I wanted out but then I remembered I had spent 90 USD on this activity and I calmed down. Not that my life is worth 90 USD. Okay maybe at that moment, my life was worth 90 USD. Hehe.
A few minutes later,  two more couples arrived and all 7 of us were ready to leave not before  the guides asked me with surprise on their faces, 'Are you alone?' to which I  responded with "No, There are seven of us in total" Everyone laughed. It was obvious I stood out. Although, I am not sure if  its because I was alone or because I was the only black person in the group.  Seriously though, everyone seemed relaxed except I wasn't. Why are they not scared? Have they done worse? Wait. Is there anything worse than the devil's pool? You see how in horror movies black people are always the first to die?My mind was kind enough to remind me that I was the black person in this scary event.  Feel free to tell me, this is why black people don't do white people sh*t.
Soon we were on our way to the Island. The boat ride to Livingstone Island did not take long. From a distance, we could see the smoke from Victoria falls and a beautiful Lunar rainbow that made the island picture perfect.  I was mind blown. Is it possible for nature to get more beautiful than this?
Is it safe?
We started by  swimming across river Zambezi headed towards the devil's pool. I made sure I swam next to the guide, Omega. Yes really, his name is Omega. I swam next to him because I am not the best swimmer and plus everyone was swimming in twos so why not? The pool is about 6m deep according to the guide and we had to swim in turns. Single people on one side. The couples went first in turns as one of the guides took the photos of them being all cute and sh*t. Then it was my turn to swim. Is it safe? err…you are legit swimming at the edge of the mighty Victoria falls so of course, it's not safe. Rivers also host crocodiles and hippos although I never saw any at the  island.  At the end of the day, it will depend on how daring you are.  Measures have been put  in place to ensure safety and it is important that anyone interested should book a guided tour. This is the only way to ensure your safety. I booked my tour with Jollyboy backpackers and I got trained guides. You might get locals offering to take you at a much lower rate than the guided tours but don't do it. They are not trained to handle you.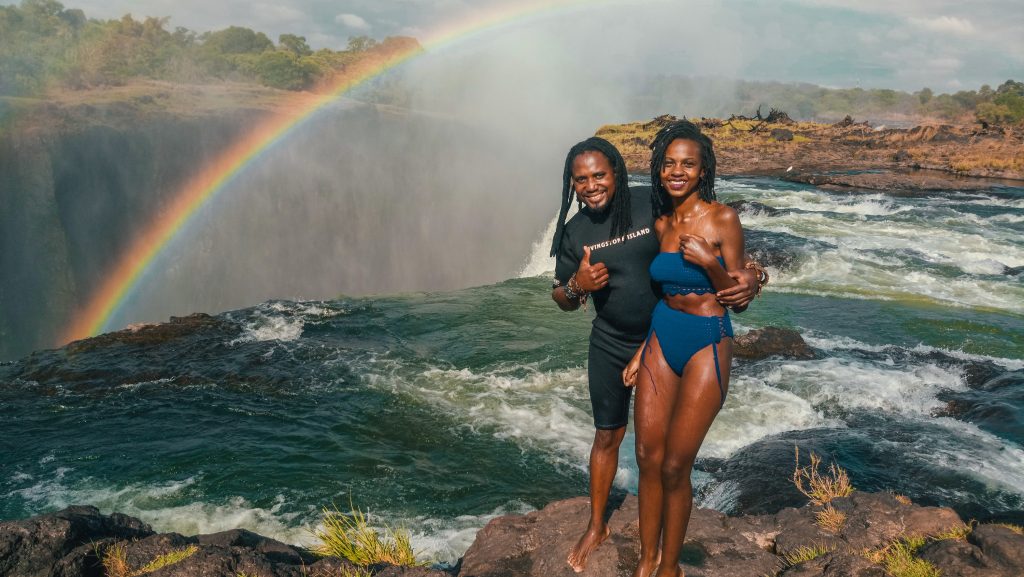 Omega  asked me to lie down on the rock and make sure I saw the bottom of the falls. He knew I was lying when I told him I could see the bottom and saw he urged me to move some more. There I was, moving forward on the edge of the 'smoke that thunders' trying to see if I'd see the bottom of falls that is 108 metres long by the way and I did exactly that. I saw the bottom and I was terrified and excited. If you see the photos they took of me, my butt is tightly clenched. I am surprised it did not hurt afterwards.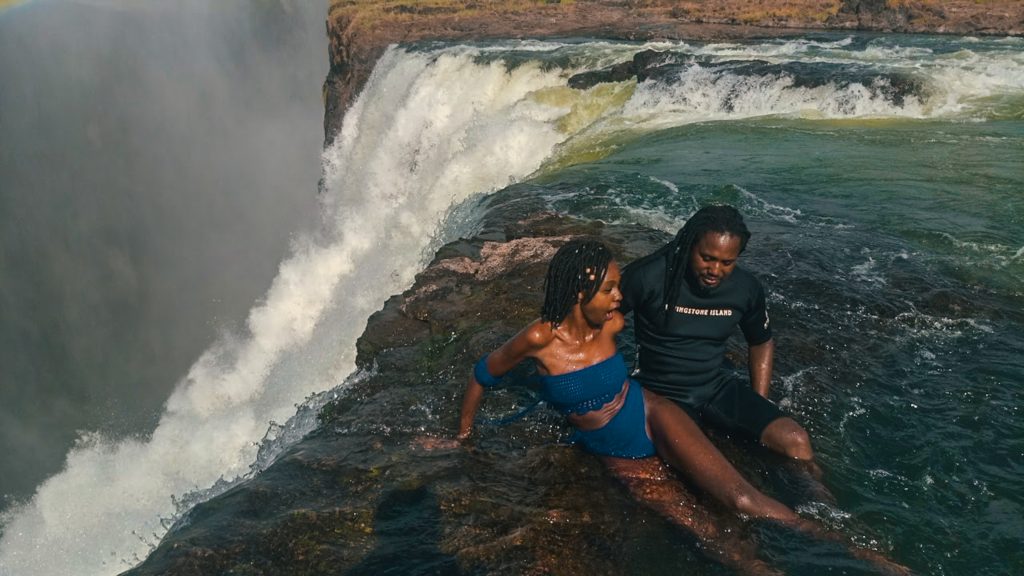 Has anyone died at the devil's pool?
Since the guided tours started operating in 1992, there has been no fatal accident according to the guides. Of course, there have been fatal accidents associated with Victoria falls but none are associated with the guided tours offered through Livingstone Island tour.  Please do not confuse this with the devil's pool in Australia that has had numerous fatal deaths.
Is it for everyone?
Like I said, it depends on you as person. Personally, I would not go if I did not know how to swim.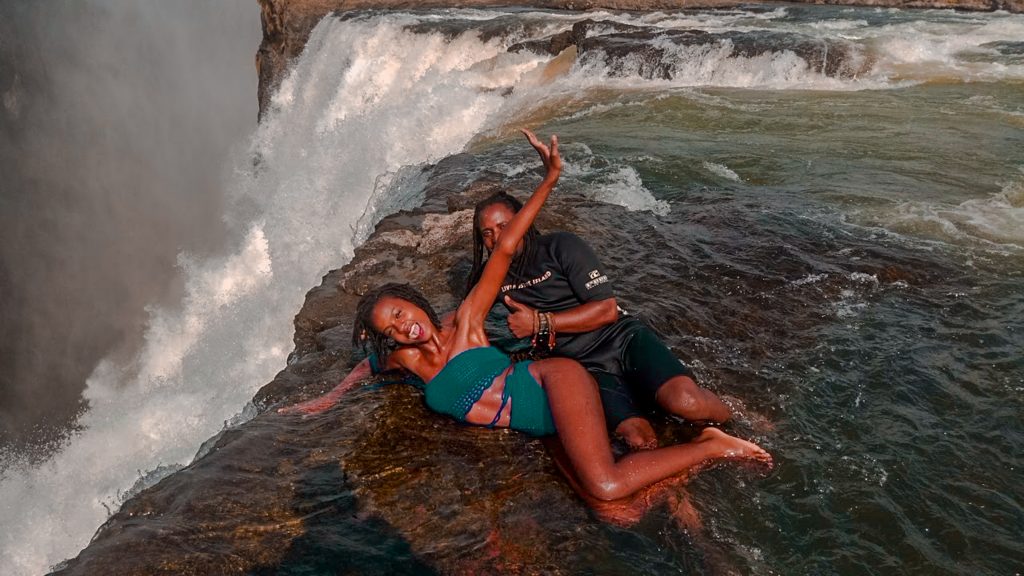 Best time to visit devil's pool?
For safety reasons, the devil's pool is closed during the 'high' season from February to July but then you have the option of swimming at the angel's pool. The best time to visit the devil's pool is between August and December however you will not get to see Victoria falls at its best.
Book in advance
This is the most important element for anyone interested in the swim. You can book with your hotel, hostel. travel agency or directly with tongabezi. The price remains as mentioned above and if it's higher find someone else to book with. Ensure you book a few days earlier because the activity sells out.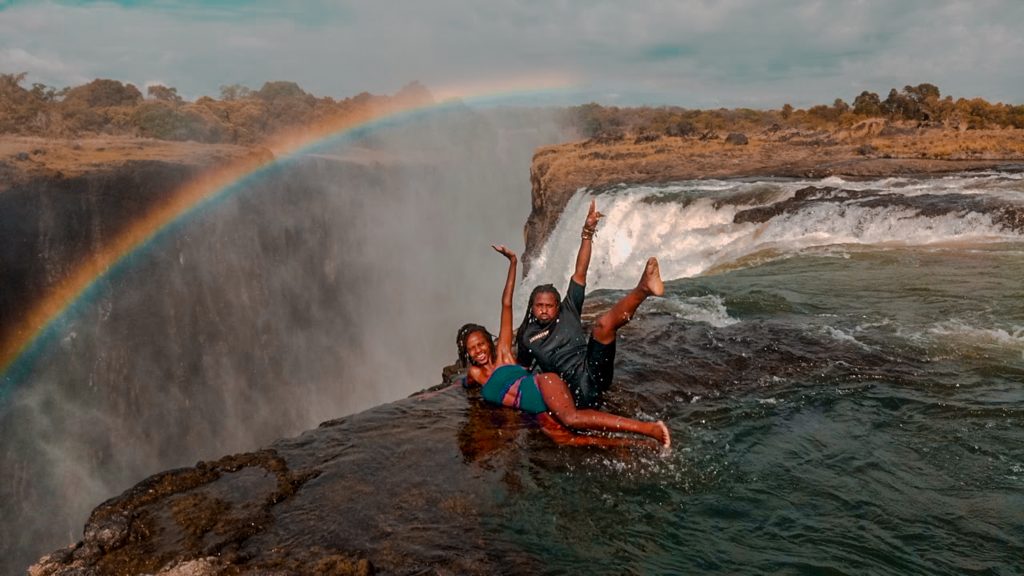 What to carry
A camera, A change of clothes, comfortable shoes, your visa in case you are coming from Zimbabwe and a fun spirit.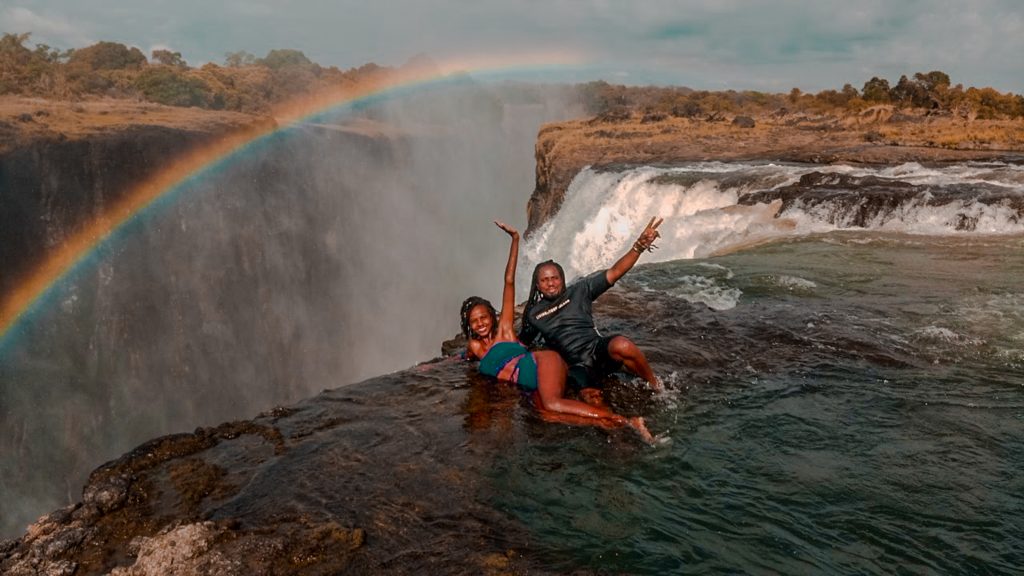 How much does it cost?
There are three types of tours:
The breakfast tour costs 90 USD
The lunch tour costs 170 USD
The High tea tour costs 140 USD
These costs includes a brief tour of the Island, two guides, boat ride, towels, meals and drinks depending on the package you choose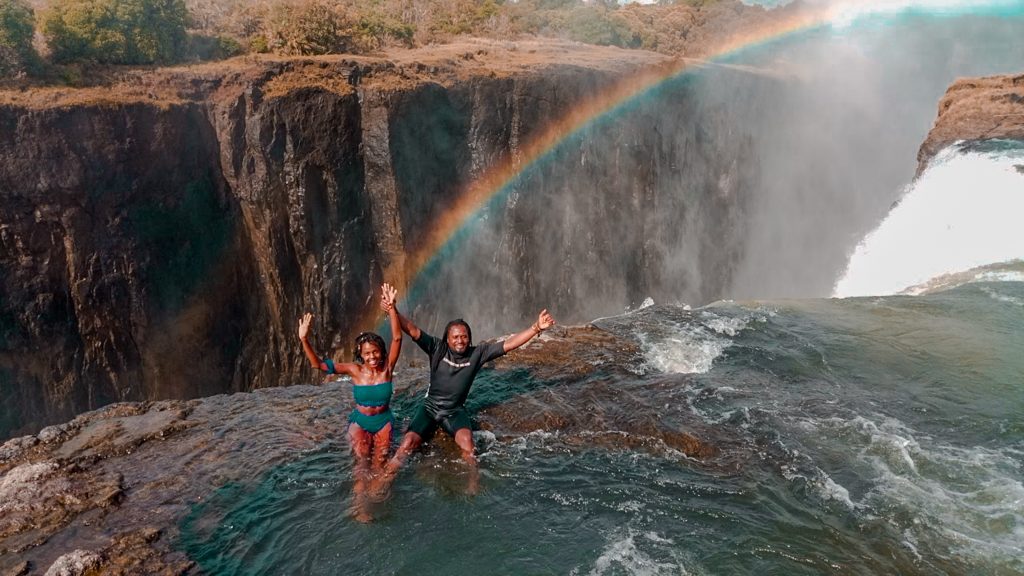 Would you swim in the devil's pool?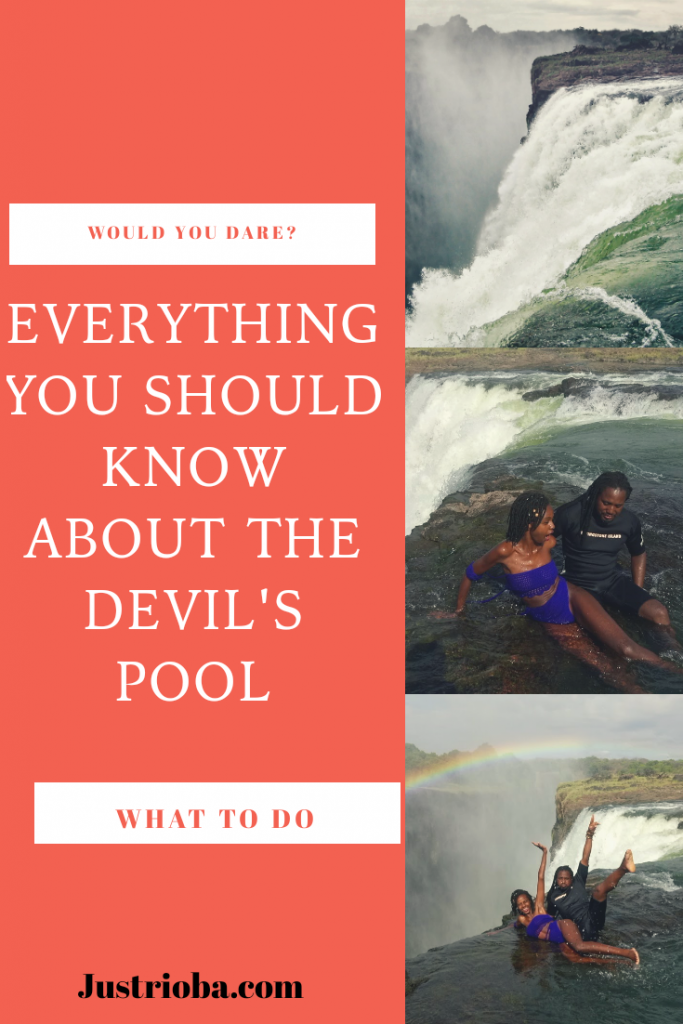 Like Justrioba on facebook and instagram for weekly travel updates!