Compared to Malawi, the transport system is Zambia in better. You can easily move around with their public transport system and if you are within Lusaka you can use Ulendo taxi app that launched recently. It's like uber, except it's a little bit pricier.
Catch up: Malawi to Zambia By  Road
How Many Borders are there between Zambia and Zimbabwe?
Depending on  your location, and where you are going. The borders between Zambia and Zimbabwe include:
Personally, I crossed into Zimbabwe from Zambia via the Victoria Falls border. This border has a bridge that links both countries with border posts at the towns of Livingstone, Zambia and Victoria Falls, Zimbabwe. I had initially travelled from Lusaka to Livingstone to see the wonder of the world that is Victoria Falls so it was  rather easy to cross the Victoria Falls border from Livingstone because the border is only 20 minutes away.
However, if you are coming from Lusaka, Zambia's capital, you will need to first travel to Livingstone.
How do you get from Lusaka to Livingstone?
By Bus
There are so many buses that operate the Lusaka Livingstone route and you can catch a bus as early as 6am. It's always a good idea to book your ticket in advance, say a day before. The bus tickets will cost anywhere between USD 10-20 per person.
This from Lusaka to Livingstone journey will last approximately 7 hours because the buses tend to make various stops along the way.
I used the Mazhandu family bus service although I always say if you find better bus companies, go with them.
Self Drive
Having your own car or Renting a car is of course better than traveling by bus. The roads between Lusaka and Livingstone are in perfect condition and the views along the way are scenic.  This is the best option because if you are traveling in a group you as could split costs while stopping at various towns along the way for sightseeing.  Google maps will come in handy.
Once you get to Livingstone…
There are a couple of activities to engage in Zambia's main tourism town before you decide to cross over to Zimbabwe. From bungee jumping to micro light flights, game drives, water rafting, to helicopter rides and sky diving. Livingstone is heavily packed with adrenaline activities and you better participate in some of them before crossing over because the Zimbabwean side does not have such acvities.
The border is less than 20 minutes from Livingstone town. You can catch a motorbike or a taxi to the border if you don't have a car.
I stayed at Jolly backpackers' hostel while in Livingstone. It's rather pricey compared to other hostels but then again, Livingstone is an expensive town.
Crossing the border
Once you get to the border, you will be stamped out of Zambia after which you will need to head to the Zimbabwe border post which is rather a distance especially if you have luggage. You can catch a taxi if you are on foot for less than 1 USD. After being stamped into Zimbabwe, you can catch another taxi to your accommodation in Victoria Falls town before deciding to explore this touristy side on the Zimbabwe side.
Enjoy a cold Zambezi before getting to see the falls from the Zimbabwe side. It cost me 30 USD to enter Victoria Falls from the Zimbabwean side as a Kenyan citizen.
In Victoria Falls, I stayed at Victoria falls backpackers.
As long as you have the required documents then crossing the border is pretty easy. I found it easy and less busy when David, my friend took me to cross this border one Sunday afternoon.
Documents required:
Passport that's valid for six months
Check if you need a Visa (Kenyan citizens do not need a tourist visa to Zambia)
If you are self driving. You will need:
Third party insurance
Ownership documents if the car is yours
Signed Affidavit or letter of permission to cross the border for a rented car
How to get to Bulawayo and Harare from Victoria falls
Flying is pretty easy and the flights offered by fast jet are rather affordable at USD 90 if you book early enough.
By bus
There are few bus companies that travel between Victoria Falls and Harare but they travel regularly. Bulawayo is in between so either way you will pass through the town. You can choose to break the journey in to and experience Bulawayo first before heading to Harare.
It's at least 12 hours from Vic falls to Harare. The buses are comfortable and also rather clean.
Self drive
I would recommend travelers to split this journey. You can stop over at Bulawayo and do some sightseeing or spend the night before proceeding to Harare the next day.
Zimbabwe's biggest national park called Hwange is just outside Bulawayo and they offer accommodation within the park. Other parks include Matobo National park,.
This principles apply more or less if you are traveling vice versa from  Zimbabwe to Zambia.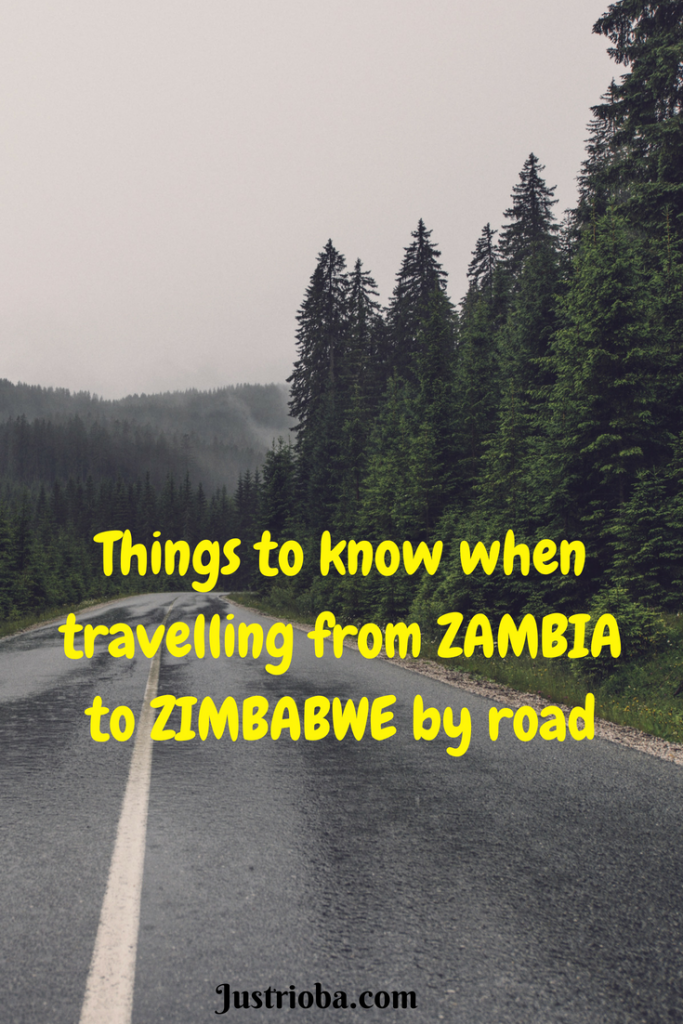 Interested in driving to Malawi from Nairobi?  Read this experience : Driving from Nairobi to Malawi