I've always been an advocate of African travel because our continent with its diversity has so much to offer. It's why I was motivated by my Nigerian Sister Funmi Oyatogun of TVP Adventures to create this guide for Kenyans that wish to explore the motherland. She created the exact same guide for her Nigerian family and I thought my Kenyan family could use the same.
Thank you Funmi! Keep Inspiring. One love!
As of  June 2018, Kenyans do not need a visa before travelling to 33 African countries with 17 of them being completely visa free and 16 being visa on arrival. As for the rest of the countries. we do require a visa or an e-visa.
In Summary Kenyans do not require a visa to get in to 17 countries. The countries are:
Uganda

Tanzania

Zambia

Zimbabwe

Burundi

Rwanda

Botswana

Namibia

Benin

Senegal

Gambia with clearance from the immigration officer

Ghana

Ethiopia

Swaziland

Lesotho

Mauritius

Malawi
Kenyans can travel to the following  16 countries and get Visas upon arrival:
South Sudan

Cape Verde

Mauritania (Must land at Nouakchott Oumtounsy  Airport)

Liberia

Togo

Sierra Leone

Somalia

Nigeria

Democratic Republic of Congo

Djibouti

Burkina Faso

Mali

Seychelles

Comoros

Madagascar

Mozambique
For the these three countries, we can apply for an E-visa
Gabon

Sao tome & Principe

Guinea Bissau
Finally, before traveling to the following 17 countries, you need to need to submit visa application before you travel.
Egypt

North Sudan

Algeria

Eritrea

Angola

Equatorial Guinea

Guinea

Tunisia

South Africa

Morocco

Ivory Coast

Cameroon

Congo Brazzaville

Niger

Chad

Central African Republic

Libya
Things you should know
Click/Tap on each country/icon on the map for more details for more details on each.

This guide is only for those that plan to travel African countries from Kenya. The guide is strictly for those traveling for tourism purposes.

Indirect flights are mostly cheaper compared to Direct flights, although the flight lasts longer with the former

As Kenyans we speak mostly English and Swahili. For none English speaking countries, we might need to have an English-speaking guide or use apps like Google translate and Duolingo to get by.

If you ever need to travel to any of these countries and you need an itinerary created on a budget, do not hesitate to reach out to me. I got you!

This info is as of June 2018, I will be updating this guide based on the feedback I have been getting from fellow Kenyans. 
Key:
 = Easy
 = Slightly hard
 = Difficult
Like Justrioba on facebook and instagram for weekly travel updates!
Pin it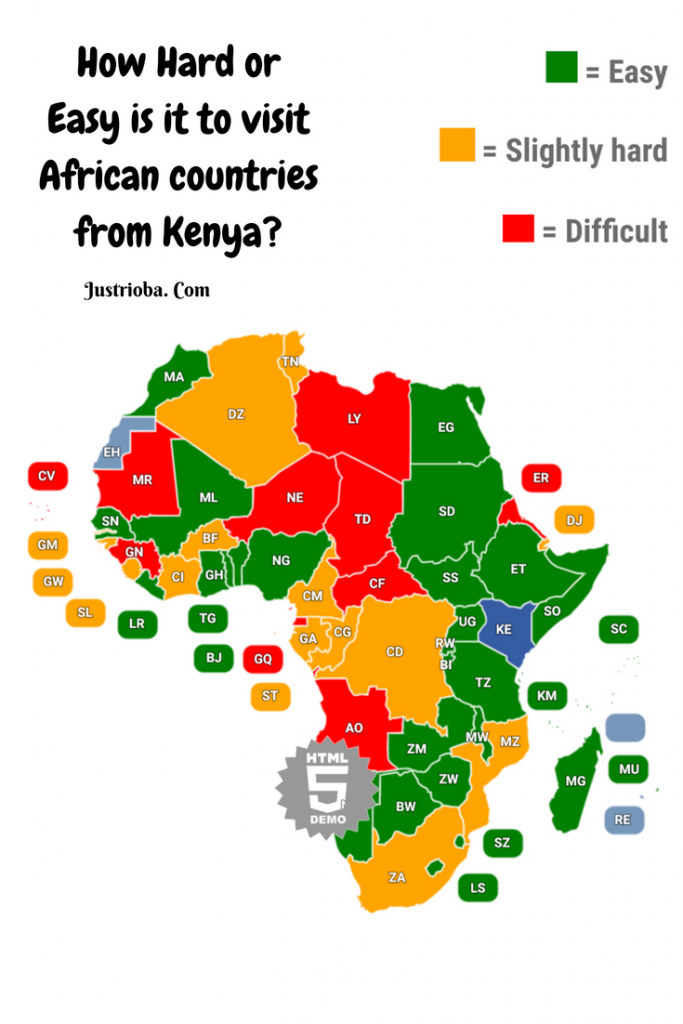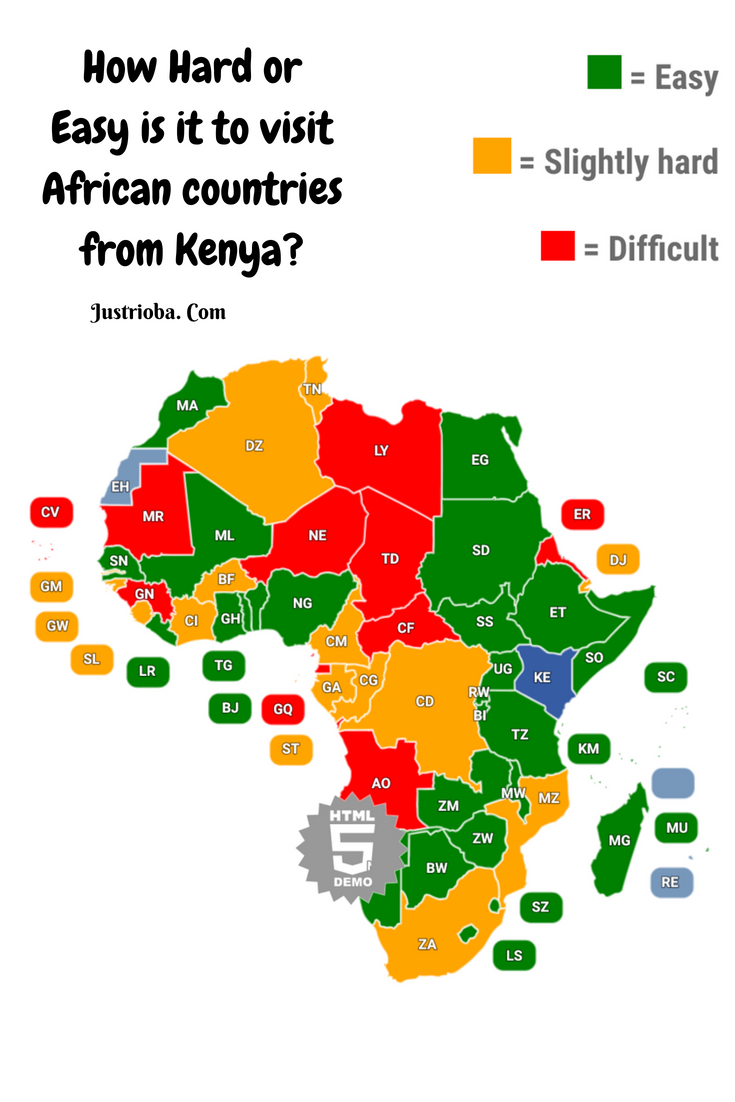 Feel free to subscribe to my blog