Twitter was on fire a while back and the discussion was baecations. I first saw the discussion on Black American Twitter and I decided to pose the baecation question to my audience on Instagram and Twitter.
People have been talking about baecations on the TL for a hot minute.

Assuming you're in a monogamous relationship.

I have to ask…have you ever been on a baecation? How did you two handle the collective travel finances?

— Mother of Passports (@justrioba) August 3, 2020
Now, everyone knows that other than having an epic time, finances play a herculean role in baecations thus making money the center of this heated argument.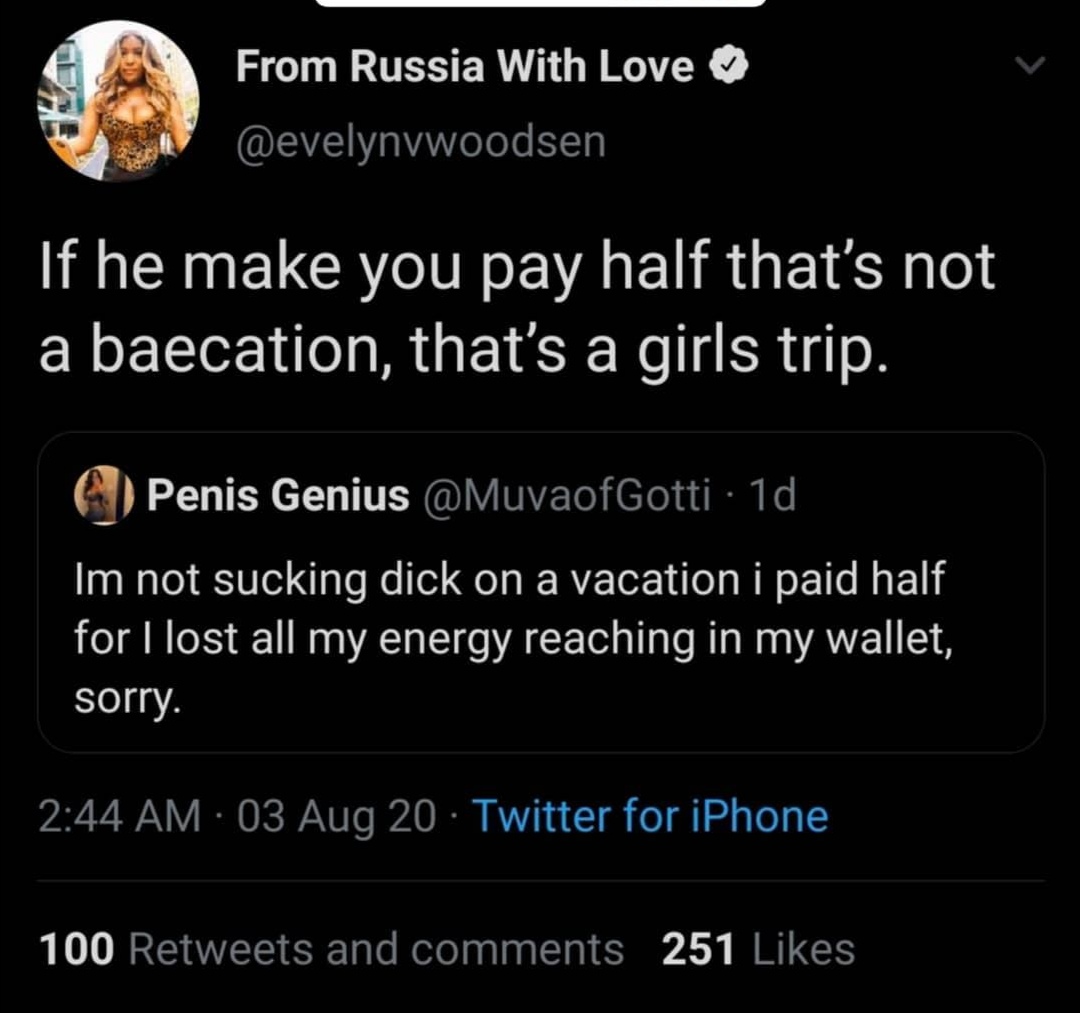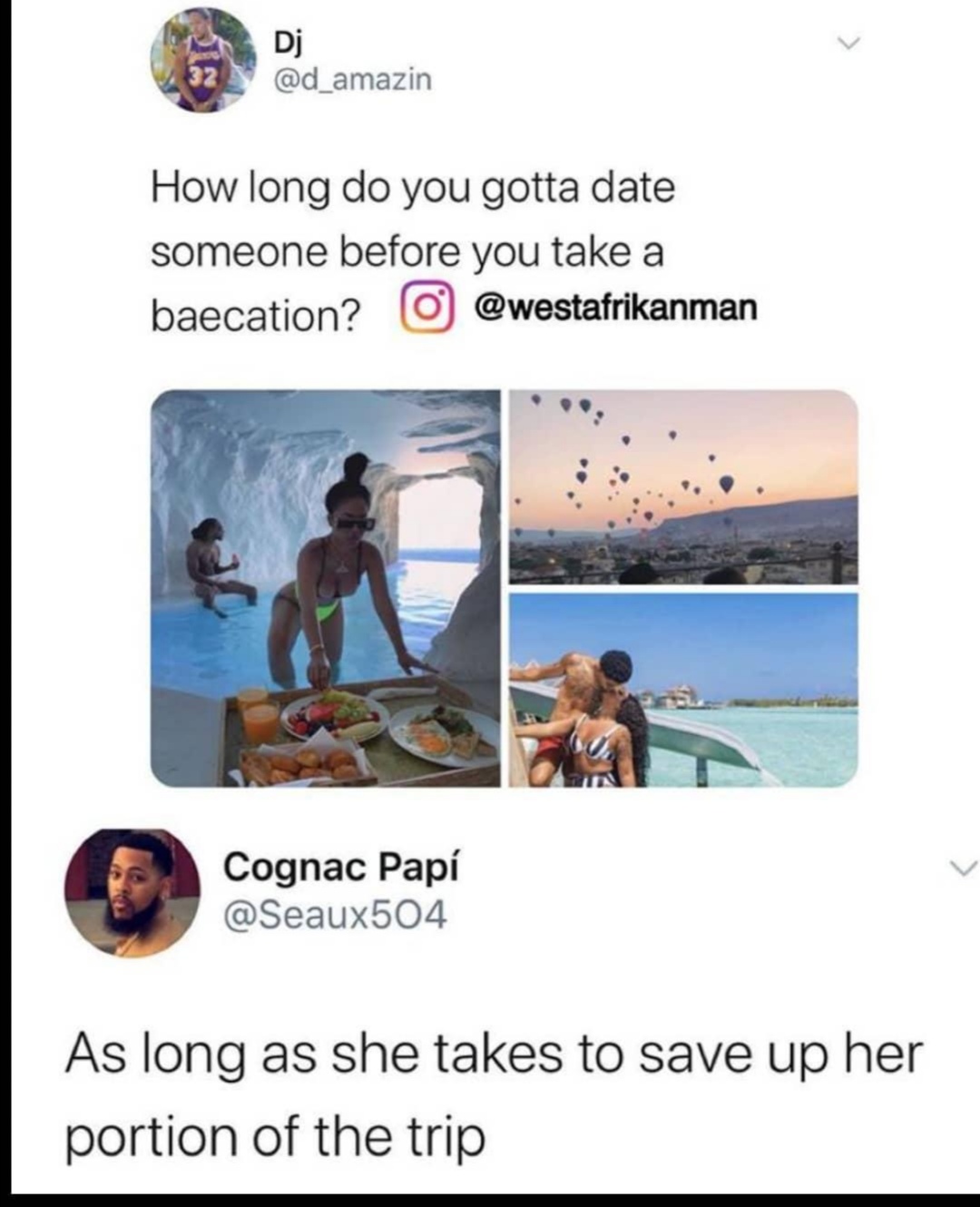 Discussing money and finances especially with your partner is a sensitive issue for some but its mandatory. I know it can be embarrassing. Red hot flush? Do you want to hide? I am single meaning I do not discuss finances with anyone but the mere thought of this scenario is giving me second-hand embarrassment. However, I know if you don't discuss finances before the trip. Here is how your baecation will most likely play out:
Before the trip: you're unsure who pays for the trip so you make assumptions.
During the trip: either you go dutch which you were not prepared for or they pay for everything then you'll be left tiptoeing around because the person paying has the power to make the decisions on where to eat, things to do, and things to see. It's their pocket. No? You're left walking around on eggshells. That's modern-day slavery if you ask me.
After the trip: An awkward plane/ride back home because you didn't enjoy the trip from all the tiptoeing or you're mad you were forced to go dutch on a trip you didn't financially and psychologically prepare for.
Bottom line? Unless a person flat out says they will be financially responsible for the trip, you have to ask. Planning is key. Different couples have different ways of how to approach baecations but based on the different responses I got, I learned that a baecation: all factors held constant is usually defined as a romantic getaway with your significant other or others.
From my audience's responses, I learned there are different types of couples when it trickles down to baecation finances.
1. The go Dutch couple
All costs involved split equally.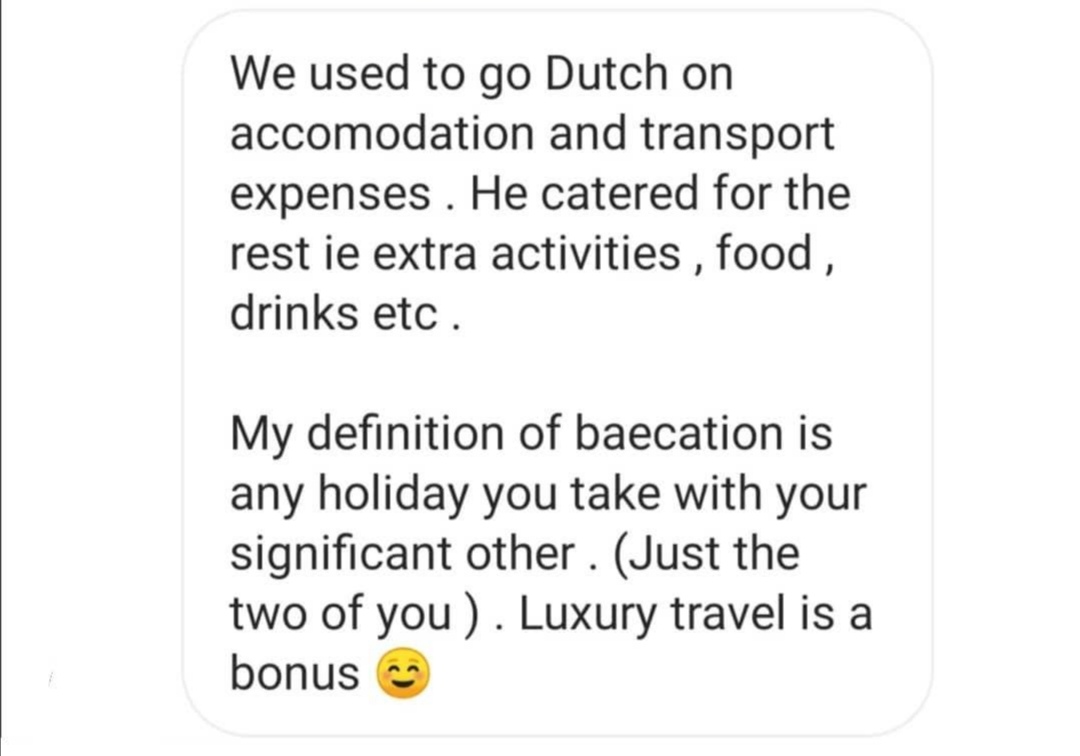 2. The depends on income couple
Finances will usually be split on a ratio of 80:30 or 70:30. The lion share being catered by the person that makes more money.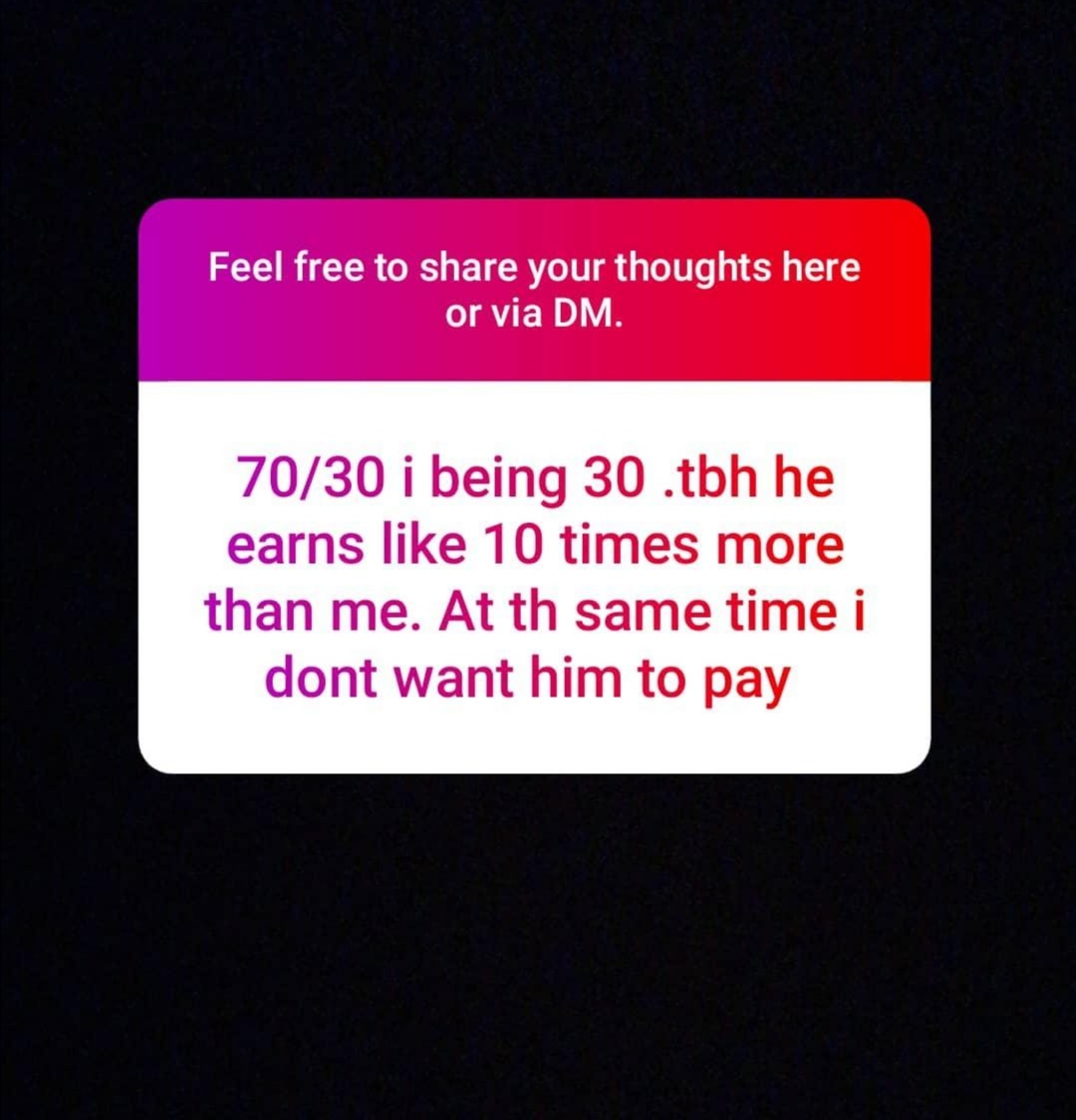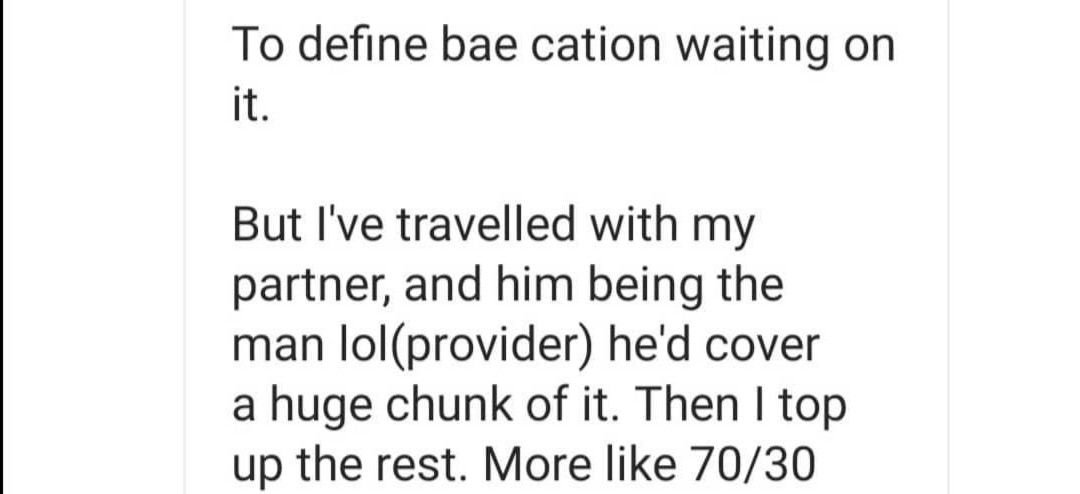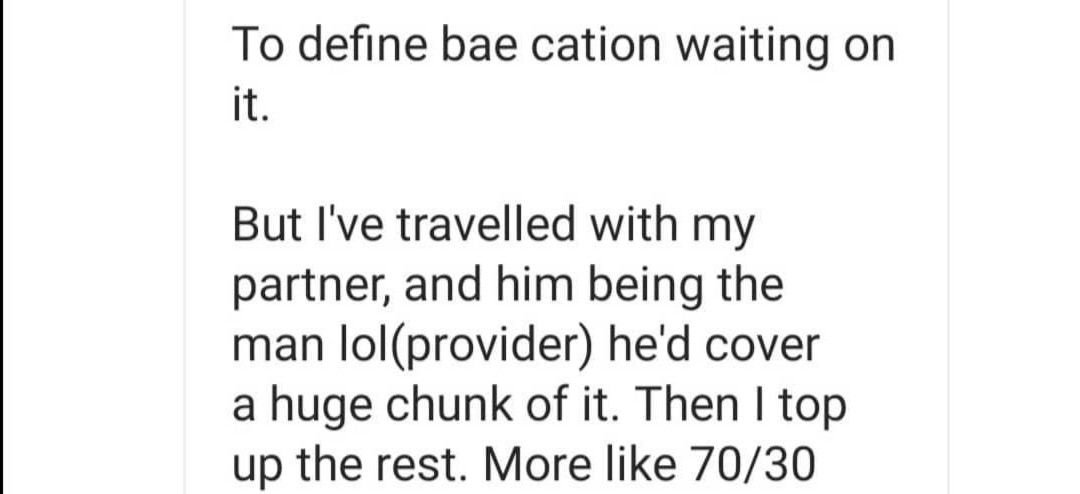 3. The honor the person with my presence couple
One person caters to every single cost involved while the other party just shows up to be spoiled.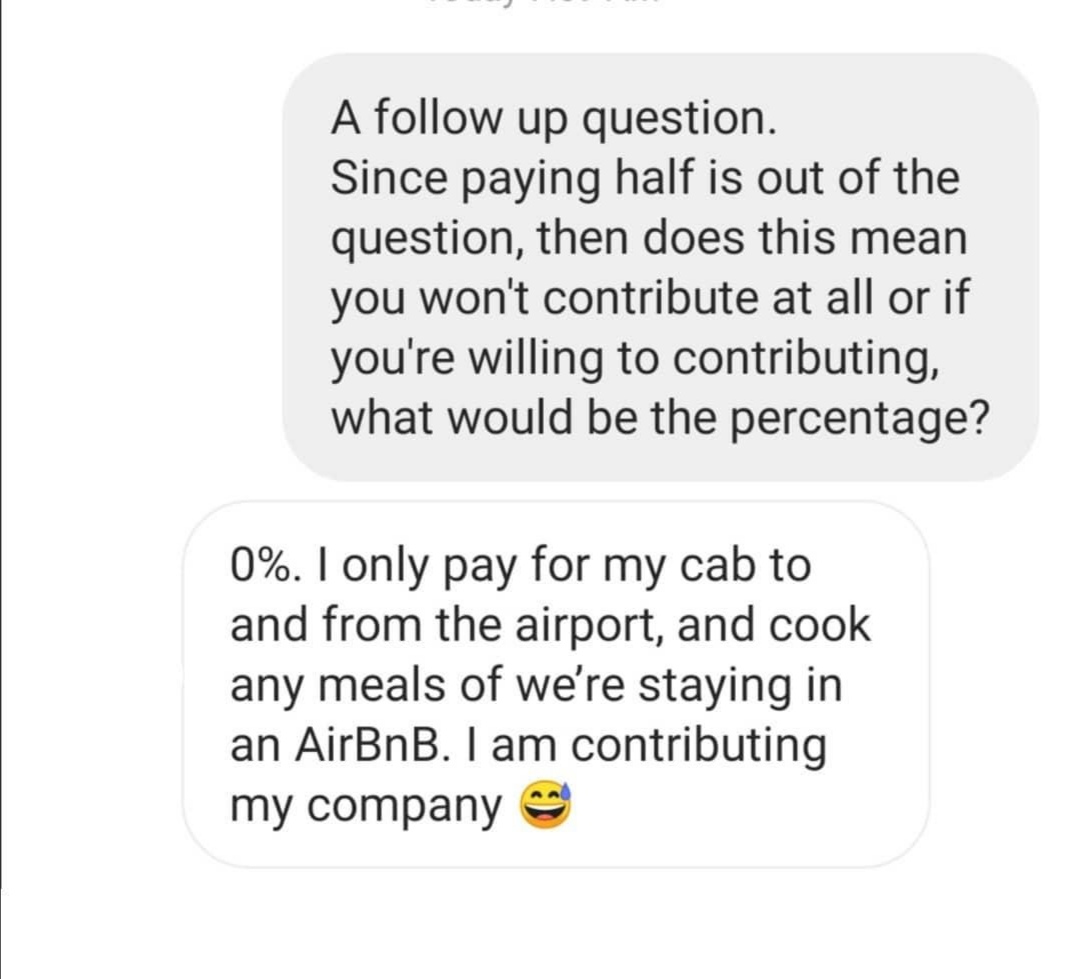 4.The travel kitty couple
This is the couple that has a joint account specifically dedicated to travel. They have an agreed amount of cash every party should contribute then agree on dates to travel. These couples also tend to spoil one another from time to time on special occasions like birthdays and anniversaries.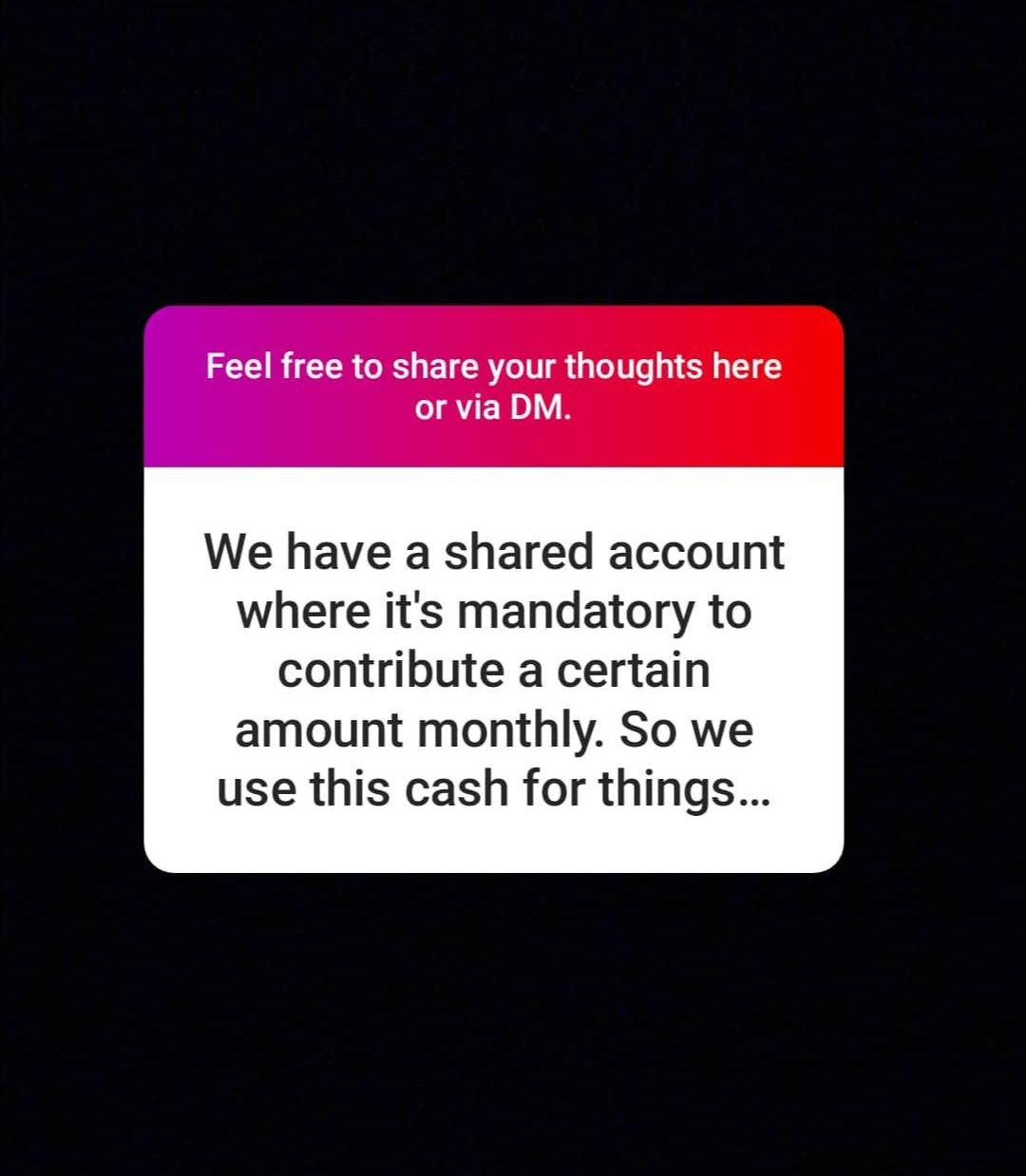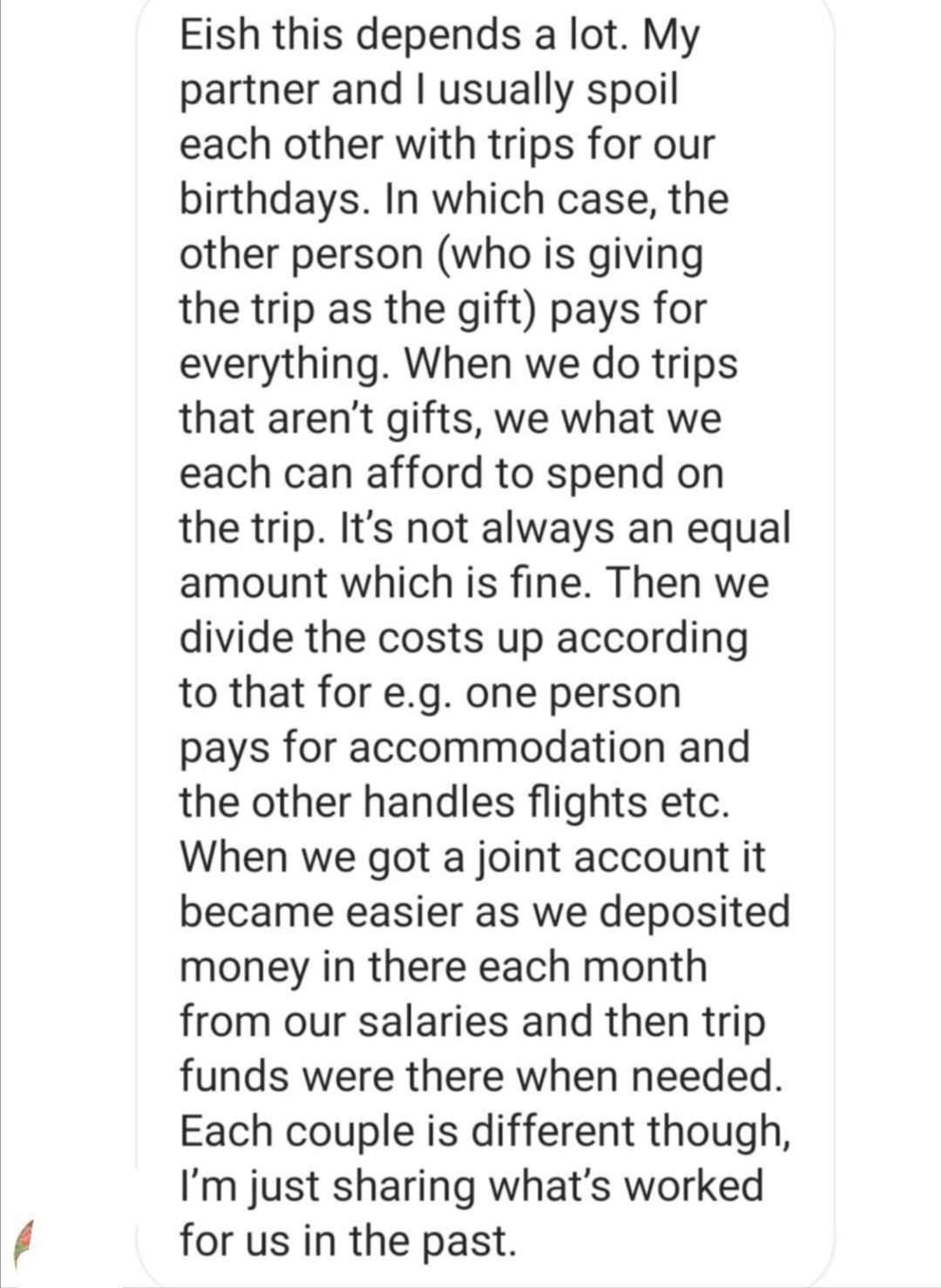 5. The depends on who asks couple
 In this case, the person that asks the other will cater to the expenses but if they plan together, they will split the costs.
Oh, before I forget, if you have the habit of dragging your boys or girls to a getaway with your person, that's not a baecation, it's just a regular hangout.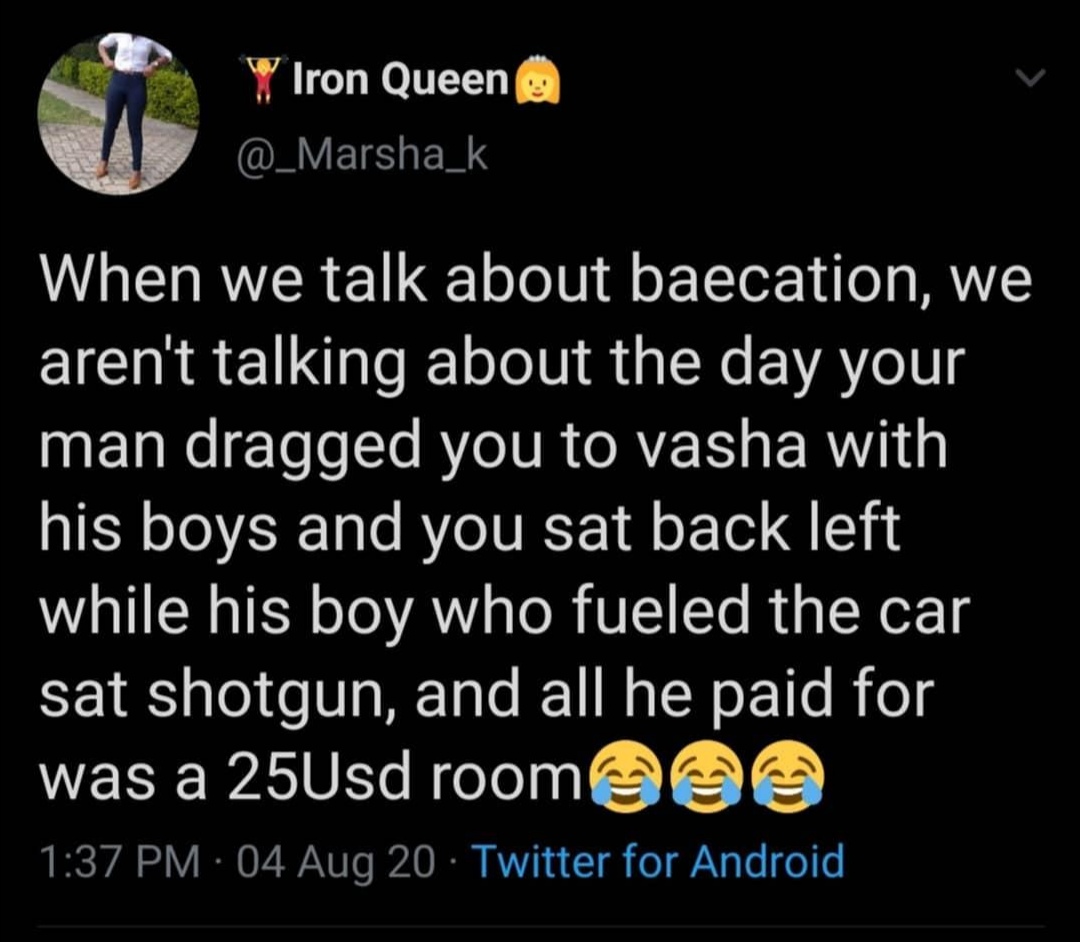 In a nutshell:
If your partner asks you to travel with them and you have not had the money discussion, please do not make assumptions. Communication is important. We need to learn to stop tiptoeing around money. I do not see how you can be comfortable sleeping next to someone in a foreign region but discussing money is where you draw the line.

Relationships differ which then means what works in your relationship might be destructive for another. Do what works for you as long as everyone is happy and content.

Don't live a life with no expectations. That's just sad. Communicate your expectations. Expecting to be spoiled and pampered does not mean you are not independent. Independence and getting spoilt can co-exist.
While we are here, here are some of the best 6 baecation or romantic getaway destinations around Kenya.
1. Takawiri Resort

Takawiri Island resort is right next to a white sandy beach lined with palm trees perfect for anyone trying to go on baecations away from the usual that is the Kenyan coast.
Read More: The Hidden treasure that is Homa Bay County

The one Watamu is a middle budget luxury hotel situated in Watamu, Kilifi county. It sits right by the Indian Ocean. The pools are incredibly gorgeous and depending on your budget, you can choose a room that is right next to the ocean.

4.Sarova Shaba Lodge is a luxury hotel located in Isiolo. It's the perfect getaway in the wild complete with the perfect sunsets. The rooms have a rustic charm and their staff are welcoming. Should you choose to drive there, you might enjoy the views of Mount Kenya
Read more: Staying at Sarova Shaba Game Lodge

The honeymoon house is a luxury house that in Lamu hosts between 2 to 6 people. It's dreamy, quiet, and incredibly romantic. It's the perfect spot for baecations on this list. Lamu island in itself is a romantic destination so staying at this house is an added bonus.
Read more: Things to do in Lamu
5. Rusinga Island lodge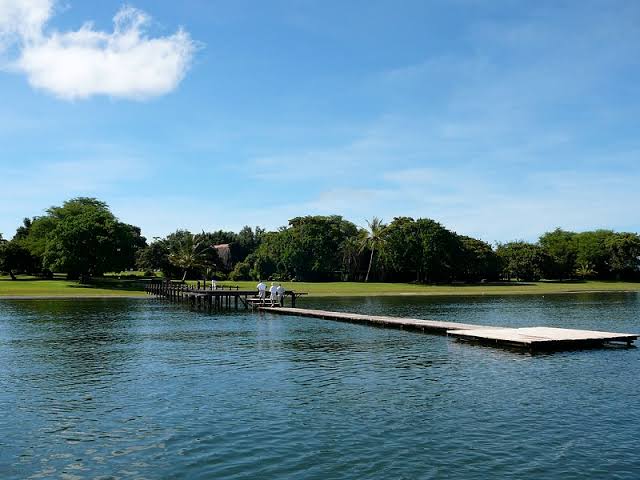 Just like Takawiri Island resort, Rusinga island is a luxury spot for anyone looking for some time away from the Kenyan coast. The hotel comes with a spa and massage parlor and a number of water sport activities from deep-sea fishing, canoeing, and jet skiing.
Read more: Staying at Rusinga Island lodge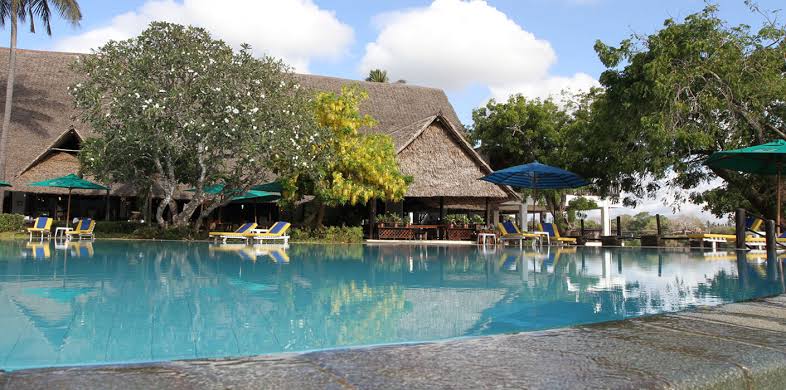 Mnarani club and spa is located in Kilifi. This hotel is decorated in a very chic way and offers everything you need for a romantic getaway. The best part for me was the spa!
Read more: Things to do in Kilifi
Have you stayed in any of these hotels before?
P.S  This post contains some affiliate links and booking directly via some of the links on this post helps me earn a commission which then helps me maintain this website. If you found this information useful, use the links attached to book accommodations for your future stay.